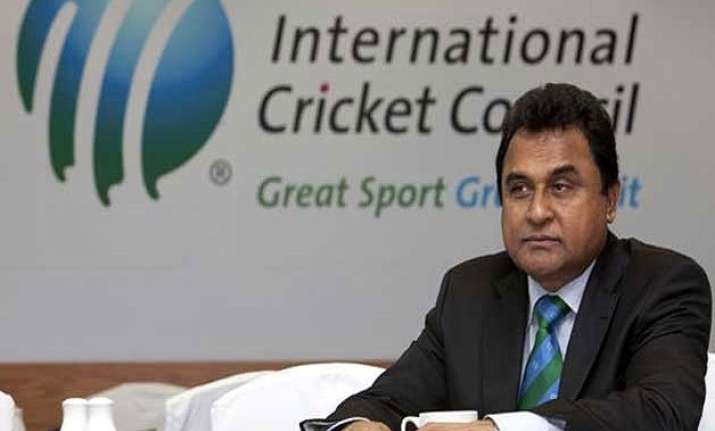 Melbourne: Peeved at not being given the opportunity to hand out the World Cup trophy to the champions, International Cricket Council (ICC) President Mustafa Kamal today left the Melbourne Cricket Ground even before the final between Australia and New Zealand finished.
It was ICC chairman N Srinivasan, who handed the World Cup to champion team's skipper Michael Clarke with tournament Brand Ambassador Sachin Tendulkar, ICC CEO Dave Richardson and Cricket Australia supremo Wally Edwards sharing the dais with the Tamil Nadu strongman.
According to reliable sources in the ICC, it was learnt that at an ICC meeting here yesterday, Kamal was categorically told that he won't be allowed to hand over the trophy.
It has been learnt that Srinivasan is extremely angry after Kamal voiced his concerns about "umpiring bias", which led to Rohit Sharma being given not-out to a Rubel Hossain delivery which apparently looked a "touch and go" decision.
Kamal, who is the Bangladesh Cricket Board (BCB) president had accused India of flexing its muscles, which had led to umpiring bias.
Srinivasan reportedly wasn't one bit amused after hearing Kamal's comments on record. While the former BCCI president didn't say anything in public, he did express his displeasure to the board members and questioned as to how can Kamal pinpoint on one wrong umpiring decision and take it as an isolated case.
Kamal, today, reportedly didn't sit in the ICC Hospitality Box and after talking to elite group of people in Bangladesh government (he is a union minister also), Kamal decided to leave the venue as he felt that it was an insult to his position.
The ICC constitution states that head of the body will hand out the trophy but since the position of chairman has been created, there is some amount of confusion as to who is the head of the world cricket's governing body.
The president is the ceremonial head while executive powers lie with the chairman.
However till 1996, the World Cup has been handed by various people and not necessarily the head of ICC. Kamal has another three months left in ICC.