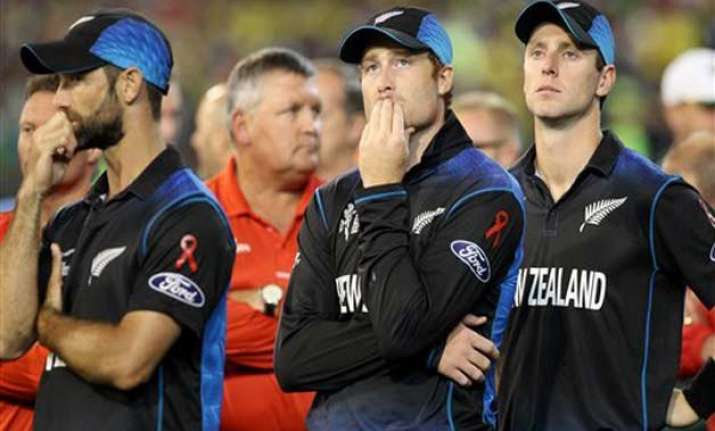 Wellington, New Zealand: The front-page headline of New Zealand's largest newspaper reads "You've done us proud," and that seems to sum up the nation's mood after the Black Caps thrilled and inspired during eight straight World Cup victories before losing to Australia in Sunday's final.
The New Zealand Herald on Monday dedicated its first five pages exclusively to cricket coverage, including some advice on how to cope with losing.
Yet the loss didn't have the same sting for New Zealanders as previous losses in its favored sport of rugby. When current world champions the All Blacks have lost in previous rugby World Cup campaigns, it has elicited a kind of collective national mourning.
But the cricket team's runaway success this year came as a pleasant surprise to fans who have suffered through decades of inconsistent and disappointing results. A few months ago, few people anywhere would have picked the Black Caps to be contesting the final.
Still, losing to Australia in any kind of sporting event is tough for Kiwis to take. New Zealanders have an acute sense of rivalry when it comes to their larger neighbors, and a victory against Australia at its hallowed Melbourne Cricket Ground would have been particularly sweet.
"Unfortunately, not the result the country was hoping for, but the Black Caps have still made us all incredibly proud over the past six weeks," tweeted New Zealand Prime Minister John Key, who attended the game.
Before getting soundly beaten by seven wickets in the final, the New Zealand team had pulled off two of the most exciting wins in the tournament, squeaking past Australia in pool play and South Africa in the semifinals, finishing both games with thrilling sixes.
New Zealand co-hosted the tournament, and its victories came in front of delirious home crowds. Schools across the country embarked on cricket-related projects, with some allowing students to watch the games live on school television sets.
The team's aggressive style of play, in particular by captain Brendon McCullum who made a habit of charging fast bowlers and smacking them all over the field in the opening overs, caught the imagination of many around the world. When McCullum was bowled without scoring in the first over of Sunday's final, it seemed to set the tone for the team's eventual defeat.
McCullum said after the match he had no regrets.
"We walk away from this tournament with our heads held high," he said.
Many New Zealanders took comfort in the good spirit with which the team seemed to play its games, contrasting that with a seemingly more hard-nosed approach, and occasional sledging, delivered by Australia.
"You showed how to play cricket with integrity, respect and passion," wrote the New Zealand Cricket Museum on Twitter.
Scotty Stevenson, a Sky Sport commentator, tweeted similar sentiments, making reference to the upcoming Rugby World Cup: "I hope, in this year of all years, all NZ fans take a lesson from the Black Caps in how to be humble in victory and gracious in defeat."
Long-suffering fans have had plenty of experience with defeat. Before losing the final on Sunday, the New Zealand cricket team had previously contested six World Cup semifinals, losing all of them. Fans needed to look back to the 1980s to find the last time the team could be genuinely considered among the world's best.
So when the team arrives back in Auckland on Tuesday it may not get the ticker-tape parade many had hoped for, but it is sure to get a huge welcome nevertheless.
"It seems strange to say this in the face of a loss," tweeted Black Caps allrounder Jimmy Neesham, "but I've never been prouder to be a New Zealander and a New Zealand cricketer."