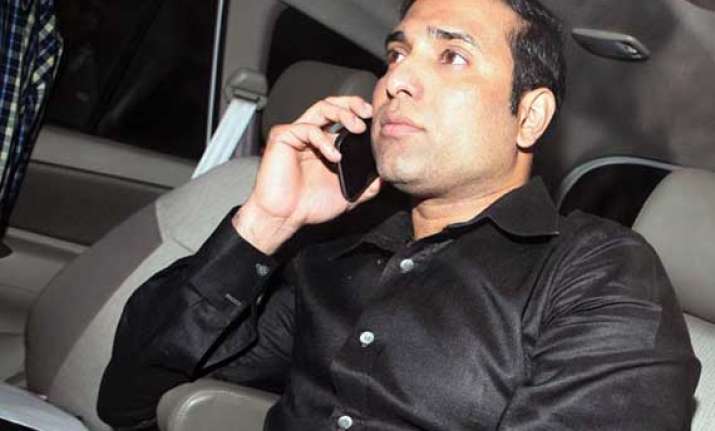 Kolkata: Izazul Sheikh, a resident of Malda in North Bengal, was arrested on Saturday by Salt Lake police here after Rs 10 lakh was credited to his bank account from cricketer VVS Laxman's account with a Hyderabad-based bank.
The manager of Bank of India in Salt Lake, noticed the suspicious transaction and informed local police, after which Izazul was tricked by bank clerks to come to the bank personally to withdraw the money.
VVS Laxman had lodged a complaint with Cyberabad police in Hyderabad at around 3 pm, after he detected that Rs 10 lakh was transferred from his account.
Within two hours, 28-year-old Izazul Sheikh was detained by police from the BOI branch  near kwality crossing in Salt Lake, where the money had been transferred.
Izazul Sheikh hails from Kaliachak, Malda. He often visits Kolkata and stays in hotels.  Police could not explain how he gained access to Laxman's account.
Arnab Ghosh, deputy commissioner at Bidhannagar police commissionerate said, Izazul could not explain how the money from Laxman's account was credited to his account through netbanking.
All netbanking transactions are password-protected.  The Bank of India manager  noted the suspicious transaction and informed Bidhannagar police station.
"They money was deposited in an account opened by Izazul Sheikh in the name of a company that does not exist", said Ghosh.
Izazul was called to the bank and asked to wait in the manager's cabin. He was told the cash was being counted. Meanwhile, the police team arrived and took him to the Bidhannagar commisionerate, where a fax had arrived from C V Anand, commissioner of police, Cyberabad that Rs 10 lakh has been siphoned off from VVS Laxman's account.
The last is yet to be heard in this puzzling case.