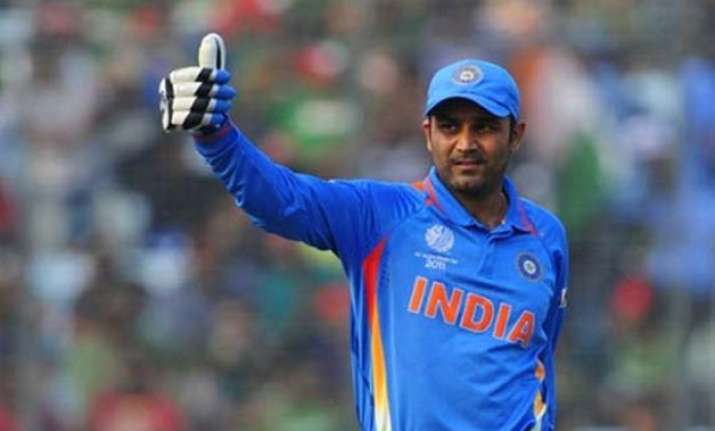 New Delhi:  Virender Sehwag, who today retired from international cricket after representing the country for 14-long years, said that he was privileged to have played in an era of greats like Sachin Tendulkar.
37-year-old Sehwag, who donned India colours from 1999 to 2013, said that he learnt a lot from the likes of Tendulkar, Rahul Dravid, Sourav Ganguly and Anil Kumble.
"I am lucky that played for the country with great players like Sachin, Dravid, Ganguly, Anil Kumble, V V S Laxman, Javagal Srinath, Zaheer Khan, M S Dhoni, Harbhajan Singh and Yuvraj. I learnt a lot from them, the way they played and the way they prepared for games," Sehwag said.
The only triple centurion Indian in Test cricket, Sehwag said he did not see his game only in terms of statistics, though he did possess at least a feat even a Tendulkar or a Sunil Gavaskar does not boast of.
"I don't see my career like 'I am the only triple centurion in Test cricket'. My role models were Sachin, Sunil Gavaskar and Kapil Dev. I grew up watching them play and I also learnt a lot from them," said Sehwag, who scored 8586 runs from 104 Tests (average 49.34) and 8273 runs from 251 ODIs.
He said he was happy to retire from international cricket.
"I played my game. My funda was to score on every ball and bowl a bit if I can. I want to hit every ball, it's see the ball and hit it. I always had positive mindest. That is how I played the game. Because of the positive mindset, I was able to score a lot of runs," said Sehwag, who last played in India colours in a Test against Australia in Hyderabad in March 2013.
"I have scored a lot of runs and I am pretty happy with my career. I can't say that I have achieved less or achieved more. I am happy to retire from international cricket.
I will miss cricket, the bat and the ball but I think it is the time to retire. Thanks to all my fans, the BCCI, my coaches, friends, colleagues and team-mates who supported me always," he added.