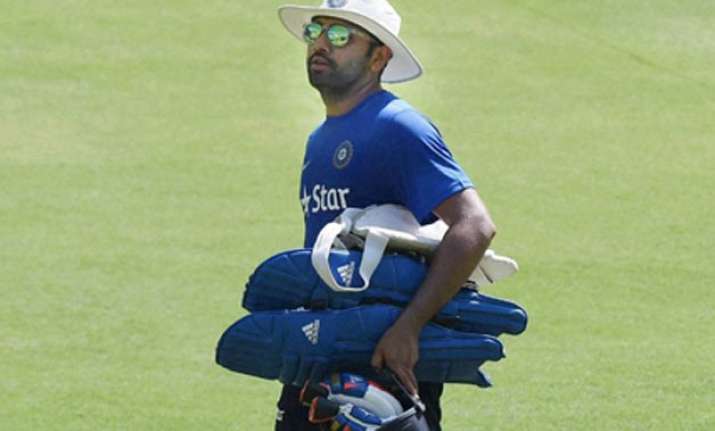 Indore: Controversy surrounding Virat Kohli's batting order and his displeasure over it does not seem to be settled yet as Rohit Sharma today said that the team's batting order depends on what 'Dhoni thinks about it'.
Amid the reports that captain MS Dhoni and  his deputy Virat  Kohli had a spat over the batting order, Rohit said, "It's (batting order) a thought we need to look into carefully. It really depends on what MS (Dhoni) thinks about it. I know Virat (Kohli) has scored most of his runs batting at No.3 and now Ajinkya (Rahane) has got in at No.3 and scored some runs."
"I don't know whether it's a permanent solution, time will only tell what will be the ideal batting line up for us. No. 3, 4 and 5 are very crucial positions in any format. Whatever is decided it will be best for the team," Rohit added.
In Kanpur ODI against South Africa on Sunday, Ajinkhya Rahane was sent at No.3 position in place of vice-captain Virat Kohli and Rohit said it is not a fixed batting order.
Virat Kohli, who has consistently batted at no. 3 and likes to do so, has given his best performances at this batting position. If reports to be believed, he was not happy with the change in his batting order and conveyed his displeasure to the captain.
After the defeat in the fist ODI against South Africa, Dhoni was also quick to put the blame on Test captain.
"We lost momentum between overs 34-40 during the chase. We were positioned very well. But I felt around 35-40 overs we failed to get a move on. That would have made things easier," said Dhoni in his post match conference in an indirect reference to Kohli.
Kohli and centurion Rohit Sharma were at the crease in those overs. Analysts say that it was Kohli's 11 runs in 18 balls that made a difference to the host nation.
India scored only 21 runs in the six overs when Virat Kohli was at the crease.