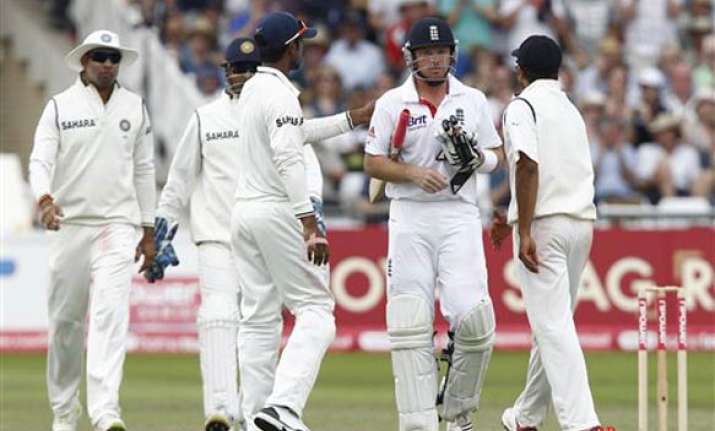 Nottingham, Aug 1 : Saved by India's decision to withdraw its run-out appeal to uphold the spirit of the game, England batsman Ian Bell said it was "naive and stupid" on his part to walk off the crease, assuming that tea break had been taken on day three of the second Test here. 

"It was being naive on my part to assume the ball was dead and walk off for tea, it was stupid," stated Bell whose stupendous 159 was overshadowed by the run-out drama at the stroke of tea yesterday.

Bell was controversially given run out when he left the crease after completing a run, assuming that the ball was dead and tea had been called.
The batsman was, however, called back after the Indian team, in a fine gesture, withdrew its appeal. 
"Morgan had clipped one off his pads right down to the boundary, the fielder had dived, it looked like having gone for four, the fielders body-language suggested so. I had touched down for the third (run) and turned and saw Asad (umpire Asad Rauf) pull out the jumper and looked like he was going to hand it over to the bowler," Bell said.
"My initial reaction was naive and to walk off for tea. I walked up to Morgan. I wasn't attempting a run and everything was meandering towards walking off for tea. It wasn't until we reached the boundary ropes, we realised something had changed.

"We felt something was going on. But not thinking it involved us. We were waiting to understand. Even then it was a shock (when I was given out)." PTI