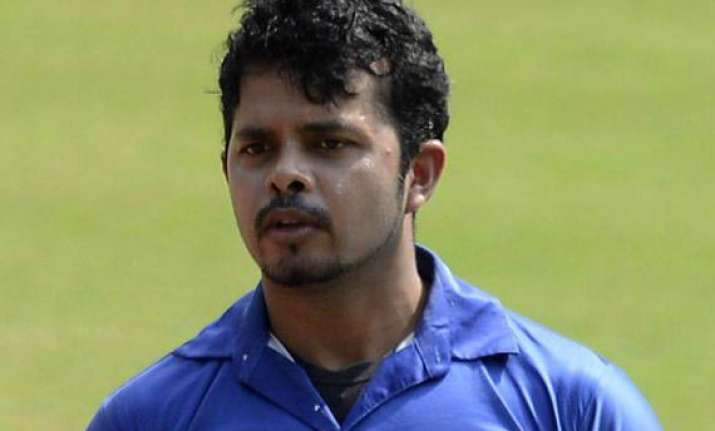 Mumbai, May 19: Several semi-nude and nude pictures of models have been found from tainted bowler S. Sreesanth's laptop seized by Mumbai Police crime branch on Friday from room no 1213 of Hotel Sofitel in Mumbai.  
Crime Branch sources said, the nude pictures were of  lesser known models who had attended five to six parties.
There were 45 photographs in Sreesanth's laptop, some of which were in "compromising positions", souces said.
There were some pictures of the bowler with some women.
Giving details of the movements of Sreesanth and his cohort Jiju Janardanan, the hotel rooms no 1213 and 1214 of Hotel Sofitel were booked from Kerala on May 13, by Tamarind Tours and Travels. Police said, neither the IPL management nor the Rajasthan Royals were apprised of this hotel booking.
Sreesanth stayed in Room 1213, while Jiju stayed in the adjacent Room 1214.  Meanwhile, Sreesanth also went to a hotel in Juhu and on May 15 went to ORG club on Khar Link Road, where he spent several hours, sources said.
From Room 1213 (Sreesanth's), crime branch recovered three diaries for the years 2011, 2012 and 2013, in which the bowler had made entries both in English and Malayalam, mentioning his day-to-day routine.  The diaries also have details of money taken for different activities, including modelling.
The diaries have names of two bookies from Kerala, and six bookies from Delhi, Mumbai, Ahmedabad and Jaipur alongwith their phone numbers, sources said.
At several points, Sreesanth has written SIR, Boss, BIGI with the names of bookies.
One laptop, one iPad, two cellphone chargers and Rs 75,000 cash were found from Sreesanth's room, officials said.
From Jiju Janardanan's hotel room, one laptop, a small diary, some documents, bank papers, bank withdrawal slips, packets of 555 cigarettes and keys were recovered by crime branch officials.
From Jiju Janardanan's  laptop , several photographs, contact numbers, details of money transactions and foreign trips, names of women and their phone numbers were found.
The Kila court in Mumbai has given permission to Mumbai Police to take mirror images of both the laptops for further investigation.
Based on the details found from the diaries and laptops of Sreesanth and Jiju, the crime branch will now tighten its noose on the bookies, seek custody of the cricketers, and file charges in court.