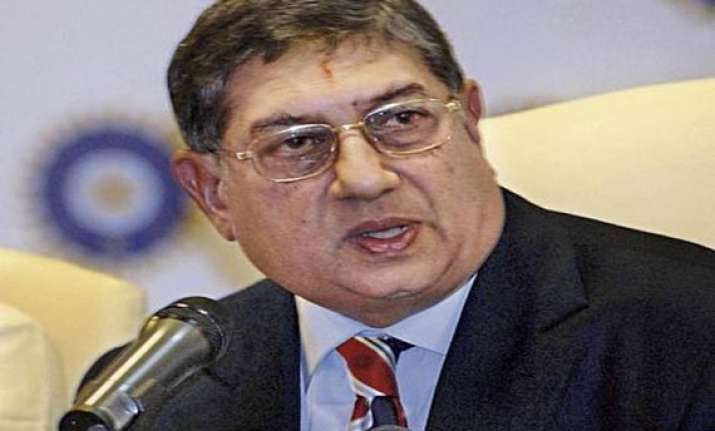 Mumbai, May 25 : Embattled BCCI president N. Srinivasan, who queitly flew down to Mumbai from Madurai today, told mediapersons that he had no intention to resign, nor can he be bulldozed to resign.
"I have done nothing wrong. I have no intention to resign. I cannot be bulldozed or railroaded into resigning. I know some sources are applying pressue now, so there is no question about it."
Asked about the arrest of his son-in-law Gurunath Meiyappan by Mumbai police, Srinivasan said : "BCCI will strictly follow the rules. Law will take its course", and walked away.
There are reports in media that Srinivasan may go to Kolkata this evening, where a meeting with BCCI bosses Arun Jaitley and Rajiv Shukla at the Hotel Taj Bengal has been planned.
The occasion is a party thrown by Cricket Association of Bengal on the eve of IPL6 final at the Eden Gardens on Sunday between Mumbai Indians and Chennai Super Kings.
There are also reports of Shashank Manohar being tipped to become executive president in the event of Srinivasan's resignation.
However, sources in the BCCI say that a section of the Board may be grouping up against the beleaguered chief and seek his suspension if not immediate removal following the embarrassing arrest of his son-in-law by Mumbai Police on charges of betting on
IPL
games.
Last night's arrest and a litany of accusations of conflict of interest against Srinivasan over the years have pushed him to a corner though he is defiant despite the latest developments.
Sources said some Board officials are planning to initiate the process to oust him by at least getting him suspended.  Some would prefer to replace him by former BCCI President Shashank Manohar, who has a clean image as an interim arrangement.