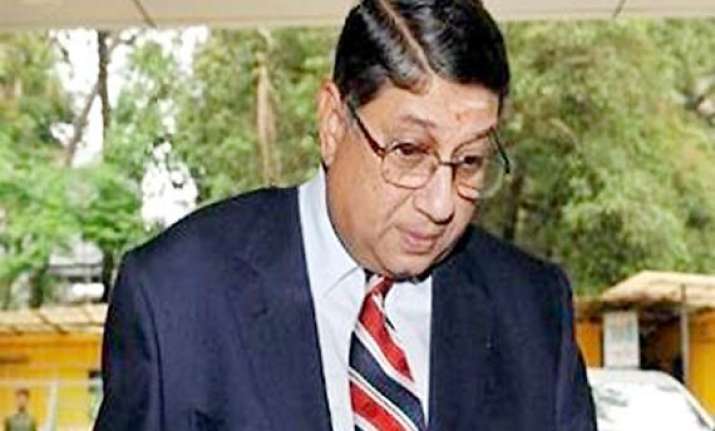 New Delhi, May 30: The voices of dissent against embattled BCCI president N Srinivasan are becoming louder by the day with officials from the Goa and Assam cricket associations joining the chorus of demand for his resignation in the aftermath of the IPL spot-fixing scandal.
Srinivasan might have claimed that the board is firmly behind him but the tide seems to be turning against him in the last couple of days.
Srinivasan's son-in-law Gurunath Meiyappan, who is team principal of Chennai Super Kings, the IPL franchise owned by the BCCI boss, is currently behind bars for alleged involvement in betting.
"He has to resign, there is no other option. How can you continue when your son-in-law is involved, he is involved with CSK, it is just not possible to have an impartial probe till he resigns," said Goa Cricket Association vice-president Shekhar Salkar.
"For the sake of BCCI's credibility, in my personal opinion, he should resign till the probe is on. If it is declared that he did nothing wrong and he is proved innocent than he can come back as BCCI President. But at least till the probe is complete, he should step down," he added.
His views were seconded by Assam Cricket Association president Gautam Roy.
"In the interest of fairness, he should step aside till the investigation is on. That is my personal opinion," Roy said.
A three-member BCCI commission, comprising two retired judges, is probing the allegations against Meiyappan separately and Srinivasan has stated that he would have no role in its functioning and the report it would come out with.
"Punishment for spot-fixing or corruption should be life ban because a few rotten apples are spoiling everything. Unless BCCI takes stern action it won't be long before everybody does this because the money involved is huge," said Salkar while demanding a thorough probe.
Wednesday night, BCCI treasurer Ajay Shirke had also sought Srinivasan's ouster saying, "If I was in his place, I would step away from the inquiry. I mean step down till the inquiry is done."
"The credibility of the board and the perception in which it is operating is taking a beating and increasingly so. Given the continuous media speculation and the resulting damage to the image of the board, it is important that this is put to rest", he said.
The demand for Srinivasan "staying away" from the probe has also come from BCCI bigwigs such as Madhya Pradesh Cricket Association chief Jyotiraditya Scindia, IPL chairman Rajeev Shukla and BCCI vice-president Arun Jaitley.
Former board presidents have also had their say with Sharad Pawar and Shashank Manohar also calling for his resignation.
A defiant Srinivasan has, however, held fort and insisted that he has done no wrong.