Follow us on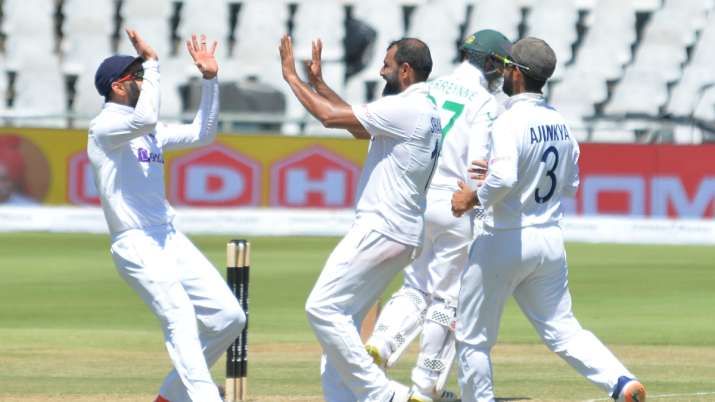 India vs South Africa, 3rd Test, Day 3 Highlights: South Africa 101/2 at stumps, chasing 212
9:30 PM | South Africa 101/2 Stumps | Target 212: Jasprit Bumrah provides India with the breakthrough on the last ball of the day as India somehow manage to start the fightback. Elgar was caught in the leg-side trap. Umpire gave him not out but Kohli decided to take the review. The sinko metere showed a spike and India received their second wicket of the innings. India need eight more wickets to win while South Africa need 111 runs. 
9:15 PM | South Africa 95/1 | Target 212: Keegan Petersen racing towards fifty. India need to find a way to break this partnership as the game is drifting from their hands. South Africa need just 117 runs to win the Test and series. Bumrah and R Ashwin are into the attack for the visitors. Bumrah is bowling with three slips and a gully. 
9:00 PM | South Africa 70/1 | Target 212: Jasprit Bumrah is back into the attack after a short break. Keegan Petersen is showing the intent while Dean Elgar has taken the back seat. SA need 132 runs to win the match while India need nine more wickets. 
8:50 PM | South Africa 65/1 | Target 212: Dean Elgar survives a scare as Umpire adjudged him out LBW but review saves the southpaw. The ball was seen going over the wicket in hawkeye. Virat Kohli is frustrated to see it. India still searching for a breakthrough. 
8:30 PM | South Africa 53/1 | Target 212: R Ashwin and Shardul Thakur are into the attack, searching for second wicket. South Africa are 53/1 in 17 overs chasing 212. Dean Elgar is batting on 17 while Keegan Petersen is on 15 in just 26 balls. 
 
8:00 PM | South Africa 39/1 | Target 212: Jasprit Bumrah bowls a beautiful outswinger against Elgar, the batsman edges it but the ball fell short of the first slip. Elgar is the key wicket for India to win the game. Shami and Bumrah are hitting the right lengths, thus they are given extended spells. 
7:42 PM | South Africa 23/1 | Target 212: Shami provides India with the breakthrough as he removes Aiden Markram for 16. Markram goes for an expensive drive, gets a thick edge and India vice-captain KL Rahul takes a superb catch in the third slip. Keegan Petersen has joined captain Elgar in the middle. 
7:30 PM | South Africa 15/0 | Target 212: Aiden Markram and Dean Elgar are off the mark with Markram showing signs of aggression with a beautiful drive through the extra cover region. Mohammed Shami and Jasprit Bumrah are steaming in with the new red cherry and both bowlers are eager to make an early breakthrough. India doesn't have enough runs on the board and early wickets before Stumps will keep them alive in the decider Test match. 
7:10 PM | South Africa chase 212 | We are back for South Africa's chase and it will be Jasprit Bumrah who will start proceedings. The opening pair of Dean Elgar and Aiden Markram are out in the middle and it will be Bumrah to Markram. Here we go!
6:52 PM | India all out for 198, SA chase 212: Pant's century guides India to 198. The wicket-keeper batsman scored an unbeaten 100 in 139 balls with the help of six boundaries and four maximums. India captain Virat Kohli was the second-highest scorer for the visitors with 29 runs under his belt. For the host, Marco Jansen picked a four-wicket haul while Kagiso Rabada returned with figures of 3/53. India set 212 runs target for South Africa to chase in the fourth innings.
6:44 PM | India 195/9 after 66 overs Century for Pant! What an extraordinary innings by Pant. He completes his ton in just 133 balls with the help of six boundaries and four maximums. He single-handedly took India's lead past 200. Pant now has three centuries outside Asia. 
6:30 PM | India 189/9 after 64 overs Marco Jansen gets his 3rd wicket of the innings as Mohammad Shami pulls one straight up in the air. van der Dussen completes the formality by taking an easy catch. India lose 9th wicket. Lead by 202. 
6:20 PM | India 187/8 after 62 overs Rishabh Pant is fighting for every run as India lead by 200 runs with two wickets in hand, Pant moves into the 90s. He is converting ones into twos. South Africa's Rabada and Jansen are on the attack. 
6:05 PM | India 180/8 after 59 overs Umesh Yadav departs for 4 from 14 balls as Kagiso Rabada picks his third wicket of the match. India lose their eighth wicket. Pant is batting on 87 while the lead is 193 runs. 
6:00 PM | India 180/7 after 58 overs Risabh Pant has learnt a thing or two about batting with the tailenders as marches towards his century. India will be looking at a lead above 250. Pant smashed Olivier for a six over long-on and followed it up with a pull shot for a boundary. He moves into the 80s. 
5:50 PM | India 170/7 after 56.1 overs Lungi Ngidi is on fire as he picks his 3rd wicket of the innings, all of them coming in this session. Shardul Thakur edges one to the keeper and Verreynne takes a simple catch behind the wicket. India lose their seventh wicket. The visitors are leading by 183 runs with just three wickets in hand. Umesh Yadav has joined Pant in the middle. Pant is batting on 77. 
Drink Break!
Duanne Olivier introduced into the attack. No sign of Kagiso Rabada yet. 
5:30 PM | India 162/6 after 52.3 overs Another wicket for Lungi Ngidi as R Ashwin goes for a big shot ends up edging the ball to Marco Jansen in the gully. Two quick wickets for South Africa. India have the lead of 175 runs. Shardul Thakur has joined Pant in the middle. India need a partnership and they are again looking at the lower order for help. Jansen and Ngidi are bowling with tight field of two slips and a gully. 
R Ashwin joins Pant in the middle. The 94 runs partnership between Kohli and Pant was the second-highest 5th wicket stands for India in South Africa. 
5:10 PM | India 152/5 after 48.2 overs Big blow for India! Virat Kohli falls for 29 after facing 143 balls. Outside off delivery by Lungi Ngidi, Virat goes for a cover drive, ends up edging it to the second slip. Aiden Markram takes a stunning catch to help Ngidi take his first wicket of the match. This has opened a door for SA to make comeback into the match. All eyes will be on Pant now. 
Back to back sixes for Pant! Sweeps it towards cow corner for a six and follows it up with a straight hit down the ground. Mid-off was up so Pant decides to take full advantage of it. Kohli is happy with Pant hitting the ball all over the park. Pant has decided to take on Maharaj. 
5:00 PM | India 136/4 after 47 overs Lungi Ngidi and Keshav Maharaj are hitting the right length from the start of the session. Just six runs from the first four overs post-lunch. Virat Kohli is batting on 29 in 140 balls while Pant has scored 51 runs in just 71 deliveries. The southpaw is striking the ball at 77 while Kohli has strike rate just above 20. 
4:40 PM Hello and welcome to the live coverage of the second session. India will want Kohli and Pant to continue their fightback. The visitors have the lead of 143 runs with six wickets in hand. Pant will look to convert this fifty into a big innings while Virat will be eyeing his 71st international ton. The duo will look to push India's lead towards 300. On the other hand, South Africa will be eyeing quick wickets in the first few overs of the second session. Marco Jansen and Kagiso Rabada are bowling perfect lines but are unable to provide SA with breakthroughs.  
4:00 PM | Lunch | India 130/4 after 43 overs: After losing two quick wickets in Cheteshwar Pujara and Ajinkya Rahane, Virat Kohli and Rishabh Pant joined hands and prevented a collapse to push South Africa, slightly on the backfoot. Rishabh Pant was excellent as he took a brave route, countering the South African attack with Kohli playing the second fiddle. In the process, Pant, scored his third Test match half-century against South Africa, his ninth in his career and has carried his bat through along with Kohli. India scored 73 runs losing two wickets in the morning session. The partnership is worth 72 off 147 balls and the Indian dressing room would hope, the partnership prospers under the blue sky of Newlands.  
3:55 PM SIX! Pant on the charge and the ball goes into the stands for a six. The mid-on was placed but Pant as usual just backed his abilities to clear the wide long-on rope. 
3:50 PM | India 120/4 after 41 overs The fifth-wicket partnership between Kohli and Pant is now worth 62 runs. Kohli is making leaving the outsideoff balls beautifully while Pant is making sure that the Proteas bowlers do not get settled. He moves into the 40s in just 50 balls. Marco Jansen and Keshav Maharaj are on the attack. South Africa desperately in search of a wicket. 
3:40 PM | 50 partnership up between Pant and Kohli. The wicket-keeper batsman is playing his natural game while captain Kohli is taking the backseat. 
Keshav Maharaj introduced into the attack. Can he break this 52 runs partnership between Kohli and Pant? 
3:30 PM | India 103/4 after 36 overs: Hundred up for India as Kohli and Pant steady India's ship after two quick wickets by South African pacers. Pant is batting on 35 in 40 balls with the help of four boundaries while Virat is on 19 in 103 deliveries. Dean Elgar is bowling Kagiso Rabada and Marco Jansen. 
3:20 PM | India 96/4 after 34 overs: The partnership is now 38 off 90 deliveries and both Pant and Kohli seem to have got their eye in. Lungi Ngidi and Duanne Olivier are operating from both ends and are occasionally using the bumper that both batsmen are judicially leaving. Both Kohli and Pant are not taking any unwanted risks are playing to the merit of the ball. The lead has crossed 100.
3:00 PM | India 90/4 after 31 overs: Kohli and Pant have managed to stop South Africa from picking more wickets and the Indian skipper is looking determined. While Kohli is banking on ground shots, Pant is not afraid of taking on the South African attack. 
2:55 PM | India 85/4 after 29 overs: Rishabh Pant is playing his natural game. He has faced 26 balls in which he has hit three boundaries. The southpaw is striking the ball at 77.78. 
2:40 PM | There can't be a better time for Virat Kohli to score his 71st international century. The talisman can help India register their first-ever Test series win in South Africa. 
2:30 PM | India 70/4 after 23 overs: India are on the backfoot straightaway as Keegan Petersen with a stunner packed off Pujara and Rabada removed Ajinkya Rahane, who looked clueless against a peach of a delivery. India are in real trouble now with Rishabh Pant joining skipper Virat Kohli. The scorecard hasn't moved much and South Africa have taken an early advantage. Pant, though if off the mark with two boundaries and the wicket-keeper is counter-attacking in his own style. 
Hello and welcome to Day 3 of the decider and after a pulsating Day 2 in Newlands, Cheteshwar Pujara and Virat Kohli will resume the fightback with the lead at 70 runs. This is going to be a test of character for the Indian batters as they are on the cusp of scripting history.
It's bright and sunny in Newlands and Cape Town is set in what is going to be a blockbuster day. Both teams on even terms, fighting to seize the advantage. 
REPORT: India lead pacer Jaspirt Bumrah's five-wicket haul followed by a gritty batting performance by Cheteshwar Pujara and captain Virat Kohli helped India make a comeback into the third Test match against South Africa here at the Newlands, Cape Town on Wednesday. At stumps, India's score read 57/2-- with the visitors extending their lead to 70 runs. Kohli (14*) and Pujara (9*) are currently unbeaten at the crease.