INDIA 151/7 (20 OVERS)
PAKISTAN 152/0 (17.5 Overs)
Brief scores: India: 151/7 in 20 overs (Virat Kohli 57, Rishabh Pant 39; Shaheen Afridi 3/31); Pakistan 152/0 in 17.
5 overs (Babar Azam 68 not out, Mohammad Rizwan 79 not out); Result: Pakistan beat India by 10 wickets
We are not pressing the panic button: Kohli after India's loss against Pakistan
Indian captain Virat Kohli on Sunday had no qualms in admitting that his team was "outplayed" by Pakistan in the ICC T20 World Cup here but said his players are not the ones to press the panic button.

Pakistan produced a clinical effort to crush India by 10 wickets for their first win in a World Cup match in 13 attempts.

Chasing 152 for victory after putting India in, Pakistan completed the task in 17.
5 overs, leaving the Indian team and its millions of fans stunned.

"We did not execute the things that we wanted to but credit is certainly due - they (Pakistan) outplayed us today," Kohli said at the post-match presentation ceremony.
 
11:03 PM: Result: Pakistan beat India by 10 wickets
10:00 PM: India Match Report
Skipper Virat Kohli wasn't at his fluent best but his 57 off 49 balls was the saving grace in India's middling score of 151 for seven against Pakistan in their opening Super 12 match of the ICC T20 World Cup on Sunday.

His 29th half-century in T20 Internationals wasn't as good as some of his other innings but considering that he diffused a potentially troubling situation created by Shaheen Shah Afridi's (3/31 in 4 overs) menacing opening spell, this knock was significant.

Shaheen also did his bit at the death, removing the Indian skipper in the penultimate over.

Kohli got support from Rishabh Pant (39 off 30 balls) during a 53-run stand but had to do the bulk of heavy lifting in a pressure cooker scenario, something he has been accustomed to for the past one decade.

His innings had five fours and a six as India managed a score which would give the bowlers at least something to fight for on a track that can't exactly be called batting-friendly.
7:10 PM: Virat Kohli opined that his side doesn't mind batting first asserting that toss is not in his control. India has left out senior spinner R Ashwin and there is no Shardul Thakur also. The other two players missing out are Ishan Kishan and Rahul Chahar. 
7:01 PM: India vs Pakistan Toss Live T20 World Cup: Pakistan win toss; opt to bowl
Pakistan captain Babar Azam has opted to field first after winning toss against Virat Kohli-led India in Super 12 match of T20 World Cup in Dubai on Sunday.
Kohli opted for Varun Chakravarthy over R Ashwin as spinner while Ravindra Jadeja is the other spinner. Check out the playing XI of both the sides below:
7:00 PM: Toss Update: Pakistan won the Toss, opt to bowl first against India. 
6:54 PM: Ready for the play, It's India vs Pakistan.
6:54 PM: Virat Kohli ready to lead India against Pakistan.  
6:50 PM: Toss in 15 minutes. The Indian team is in a huddle and this going to be a test of character for the Men in Blue. The pressure is immense and Virat Kohli will hope the coin lands in his favour.  
6:43 PM: Fans reaction on India Pakistan T20 match.
5:50 PM: The Indian team has left their hotel and are on the way to Dubai international stadium.
5:20 PM: Both teams are en route to the stadium and the atmosphere is buzzing with fans gearing up for a Super Sunday.
5:17 PM: Fans choose peace over rivalry, India Pakistan T20 world cup.
4:50 PM: Mentor Dhoni takes charge of Team India
4:40 PM: Football legend Sunil Chhetri sends best wishes to Team India
4:05 PM: Check out Virat and Rohit's cool look as India begins World Cup campaign.
3:45 PM: It's 5-0 in favour of India!
3:34 PM: Mohammas kaif message for India Pakistan T20 world cup "Treat it as a game not war"
3:31 PM: Shoaib Akhtar advice to Babar Azam before the match 
2:30 PM: IND vs PAK: Fans engage in meme war, Check out latest India-Pakistan trends
Fans are out with some amazing memes for an iconic India vs Pakistan T20 World Cup clash. Let's check out the latest trends running out on the internet for this evening match that will start at 7.30 pm on 24th October 2021 in Dubai.
1:40 PM: T20 World Cup 2021: 5 reasons why India can beat Pakistan in iconic clash in Dubai
Virat Kohli's men in blue will cross swords with Babar Azam's Pakistan on October 24, Sunday at the Dubai International Stadium.
The epic clash will be the campaign opener for both the sides in the ICC Men's T20 World Cup 2021. While India will play their first-ever T20I match at this UAE venue, the blue brigade are still the favourites heading into the upcoming match against the old rivals.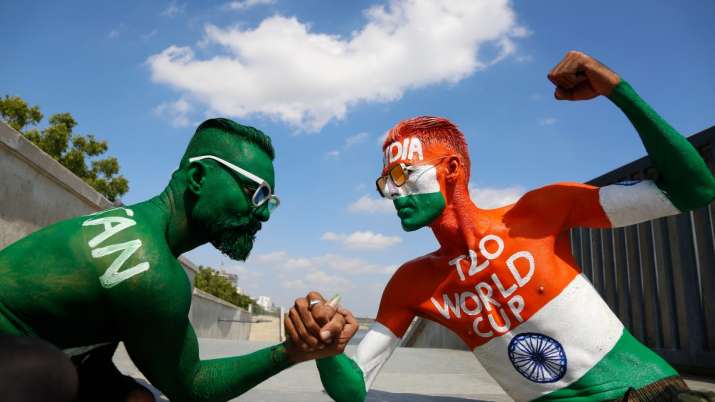 India's experienced top order 
With Indian skipper Virat Kohli having already declared India's top order batting combination, the men in blue have three genuine match-winners to start their proceedings.
The in-form KL Rahul with the experienced Rohit Sharma speaks volumes for the opening pair. The white ball specialist- Virat Kohli at number three gives India a rock solid and experienced trio with the willow.
Besides, Rahul and Sharma's demonstrated run form in India's warm up matches backed with Kohli's special batting armour when it comes to Pakistan, gives enough reasons for the men in green to be wary of the Indian line-up. 
1:20 PM: Twitter explodes with memes ahead of india vs pakistan match at T20 world Cup
12:36 PM: Azhar Mahmood wishes Pakistan players for a match against India. 
12:30 PM: Dinesh Karthik curiously awaits for the biggest rivalry match of the tournament: India vs Pakistan
12:00 PM:  Kohli expresses his confidence in terms of execution of plans in T20 World Cup 
7:01 PM: IND vs PAK T20 WC: Kohli expects better pitches than IPL during World Cup
India captain Virat Kohli expects that the pitches on offer for the T20 World Cup will be better compared to the ones that were on offer during the recently concluded IPL where stroke-making became difficult for batters.
The Indian captain, who also led RCB for the last time in IPL, had plied his trade on all tracks and feels that ICC will present them with better strips which actually was work on progress during the IPL.
Asked if he sees nature of tracks changing, the Indian captain agreed.
"I believe so. Looking at the IPL final, I believe that quality of pitches definitely is going to be far better in this T20 World Cup," Kohli said on the eve of the big game against Pakistan.
The normal rules for ICC events will also play its part in improved playing conditions. India will play four out of its five group league games in Dubai with the match against Afghanistan being held in Abu Dhabi.
"Also being an ICC tournament, we know that standard of pitches is going to be maintained up to a certain degree which is consistent across all venues.
"I knew that to protect the pitches for a tournament like World Cup, there had to be some compromise in playing conditions when we played the IPL. We all understood that and wicket in the IPL final (between CSK and KKR) was very very good," he explained.
Kohli also agreed that dew factor will be prominent as the tournament progresses.
"Dew factor will be prominent as we head into this time of the year in Dubai. That is also going to help the pitches play much better.
"I believe Abu Dhabi and Dubai are going to be best pitches out of all the venues. Sharjah more or less will stay more or less true to its nature, which is slow and low and I don't myself too many high scoring matches ....," Kohli concluded.
5:06 PM: IND vs PAK: Imran Khan shared his experience of 1992 World Cup triumph, says Babar
Former Pakistan captain and the country's current Prime Minister Imran Khan has interacted with the team ahead of the ICC T20 World Cup, skipper Babar Azam said here on Saturday.
Imran shared with the team his experience of leading Pakistan to their maiden World Cup triumph in 1992.
"Before coming, we had a meeting and in that he (Imran) had shared his experience, about what was his mindset in the 1992 World Cup, what was his and the team's body language," Babar said on the eve of his team's clash against arch-rivals India.
4:26 PM: IND vs PAK T20 WC: Kohli warns detractors; won't give fodder to create controversy on quitting captaincy
India captain Virat Kohli on Saturday refused to get into any debate on the rationale behind his decision to quit national T20 captaincy after the ongoing T20 World Cup, saying he won't provide fodder to controversy seekers.
Eyebrows were raised when Kohli announced on his social media that he would relinquish captaincy after the mega event in the UAE.
2:17 PM: Pakistan announce their 12-man squad a day ahead of the match. Let's take a look: 
Pakistan (Playing XI): Babar Azam (captain), Mohammed Rizwan, Fakhar Zaman, Mohammed Hafeez, Shoaib Malik, Asif Ali, Imad Wasim, Shadab Khan, Harris Rauf, Hasan Ali, Shaheen Shah Afridi, Haider Ali.
2:10 PM: MS Dhoni fan Bashir Chacha from Pakistan spotted at Dubai stadium with a jersey "WELCOME BACK DHONI". The famed Pak cricket fan stopped watching India-Pakistan matches from the stadium after Dhoni retired from international cricket last year. 
When Harbhajan and Shoaib Akhtar were involved in friendly banter hours ahead of the big day.
Amid all the razzmatazz building around the big clash, former India Test opener Aakash Chopra suggested not to forget the other matches today.
READ: Cursory look at India vs Pakistan WC matches in cricketing history
India will open their T20 World Cup 2021 campaign against the arch-rivals Pakistan on October 24, Sunday. Regarded as one of the fiercest sports rivalries in the world, the two cricketing nations will square off in the marquee series at the Dubai International Stadium, UAE. Ahead of the iconic clash this weekend, let's have a look at India-Pakistan cricket competitiveness over the years in the prestigious world cup campaigns. 
 
History is a witness to substantiate that India are favourites against the neighbouring country heading into the upcoming clash on Sunday. Stating India as 'winners' against the 'men in green' in the World Cup campaigns would be an understatement as the blue brigade have 'conquered' over Pakistan in all world cup matches across all formats, leaving the latter with zero wins.
 
Till now, the two counties have squared off in seven ODI World Cup matches, all of which have been won by India. Let's relive India's scintillating journey against Pakistan in the 50-over World Cup ahead of the upcoming prestigious T20 clash on Sunday. 
 
India's winning streak in the ODI World Cup started back then in 1992 in Sydney, where India attracted a convincing 43-run win courtesy of India's remarkable bowling. After putting 216 runs on the board, India gave Pakistan a tough chase and kept scalping regular wickets. Manoj Prabhakar and Kapil Dev did the trick with the ball, both of whom claimed two wickets each with an economy of less than three. The waves turned in India's favour when Srinath knocked over Miandad with a splendid yorker. With the bat, the master blaster, who was just 18-years then, smashed a half century and was adjudged as the player of the match. 
READ: T20 World Cup 2021: A look at India vs Pakistan quick stats in T20Is
The T20 World Cup 2021 has kicked off and one of the mouth-watering contests between India-Pakistan is round the corner. Virat Kohli led India and Babar Azam guided Pakistan will cross swords at the Dubai International Stadium on October 24, Sunday. As the two teams gear up for the shortest format of the game scheduled to be played this weekend as a part of the T20 World Cup 2021, we look at the quick stats to rekindle the buzz ahead of the India-Pakistan contest. 
Head to head 
Most runs/ Top run-getters