Follow us on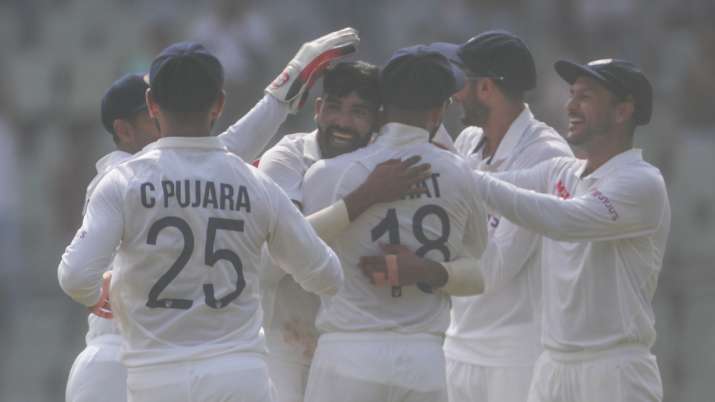 India vs New Zealand Live Score 2nd Test Day 3
Hello and welcome to India TV's LIVE Coverage of the second Test between India and New Zealand at the Wankhede Stadium in Mumbai. 
New Zealand 140/5 in 45 overs And that stumps! New Zealand must be left deeply disappointed with their batting performance and the remaining two days seems a mere formality now as the target of 540 runs is too far fetched despite the fact that 180 overs of play is still remaining. 
New Zealand 129/4 in 36.5 overs RUN OUT! Brilliant fielding effort by substitute fielder by KS Bharat, who enforced the run out of Tom Blundell (0) with an accurate throw to Wriddhiman Saha behind the stumps. On a hindsight, Blundell at blame for trying to take a non-existing single. 
New Zealand 128/4 in 34.3 overs OUT! And that's the big wicket of Daryl Mitchell, who departs after scoring a sound 60. The batter has himself to blame for the wicket as he came down the track and mistimed Axar Patel's wide delivery straight to Jayant Yadav at the boundary.  
He'll be filthy with himself for that shot. Came down the track again, instead of going straight he was looking to go over extra cover, can't get properly to it because it's wider outside off, splices it and the ball goes straight to Jayant Yadav on the boundary, who accepts it gleefully. He had just hit a six last ball, didn't need to go again. Fine inning nonetheless.
New Zealand 109/3 in 30 overs Daryl Mitchell fires Umesh Yadav for consecutive boundaries to reach his half-century in just 77 balls.
New Zealand 86/3 in 27 overs Kiwi middle-order batters Mitchell and Nicholls are putting up a fight with the former feeling more comfortable in the middle. The duo has added 31 runs for the fourth wicket so far with Mitchell being the aggressor with four boundaries and a six.  
New Zealand 63/3 in 18 over After taking 1st wicket before Tea, Ashwin returned to dismiss opener Will Young (20) and Ross Taylor (6) in quick succession to decimate the NZ top-order. The onus has now fallen on Kiwi's T20 World Cup hero Daryl Mitchell and Henry Nicholls to see out the final session without any further trouble. Big ask, must say given how Ashwin is getting the best out of the pitch.
New Zealand 13/1 in 4 over at Tea Now that's bizarre! The spider cam is stuck while hanging low in the middle of the field; forcing the umpire to call a Tea break. 
New Zealand 13/1 in 4 over OUT! Ashwin traps Latham lbw at the end of his second over. Umpire Nitin Menon showed no hesitation to raise his finger there.
New Zealand 7/0 in 1 over Tom Latham and Will Young start New Zealand chase and are certainly crucial for the visitor if they want to save this Test match with more than two days of Test left. Mohammed Siraj starts with the new ball.
India 2nd innings summary India declared their second innings at 276 for seven to set New Zealand an improbable victory target of 540 on the third day of the second and final Test here on Sunday. First-innings centurion Mayank Agarwal top-scored with a 62, while Cheteshwar Pujara and Shubman Gill made 47 each. Axar Patel smashed 41 off 26 balls with four sixes and three fours. For the visitors, left-arm spinner Ajaz Patel followed up his historic 10-wicket haul with four more scalps in India's second essay.
India 276/7 in 70 overs: OUT! Ajaz Patel removes Jayant Yadav (6) for his 14th wicket of the match and Virat Kohli signals declaration from the pavilion. New Zealand have been asked to chase down a huge 540-run target.
India 238/6 in 66.2 overs: OUT! Wriddhiman Saha departs after scoring just 13. The veteran 'keeper batter becomes Ravindra's third victim of the day. Saha skipped down the track and wanted to launch it over long-on, but finds an alert Jamieson on the long-on.
India 238/5 in 66 overs Axar Patel steps out of the crease to hit Patel for a huge six over long-on. The maximum also takes India's 2nd innings lead to 501 runs. 
India 217/5 in 61.2 overs: OUT! Kohli's hard-earned innings of 36 comes to an end much to the disappointment of the Wankhede crowd. Spinner Rachindra Ravindra played down the Indian captain with a ball that spun away from Kohli.
India 211/4 in 61.2 overs: OUT! Ajaz Patel at it again! Picks his 13th wicket of the match. The spinner had last-match star performer Shreyas Iyer stumped at 14 this time. Wriddhiman is the new man in.
India 197/3 in 59.4 overs: OUT! Shubman misses out on a much-deserved half-century and finally a wicket by a New Zealand bowler, whose name isn't Ajaz Patel. In fact, spinner Rachin Ravindra picks his first wicket of the series. The left-arm orthodox bowled in short and low but Gill couldn't keep it down; hitting it straight to Latham at short cover.
India 169/2 in 51 overs Kohli and Gill are finding boundaries with more comfort post lunch as the first five overs yielded 27 runs. Gill smashes a boundary and a six after the break while Kohli stepped out to smack Somerville for a maximum over the cow corner in the last over. The duo also forged 50 runs for the 3rd wicket as well.
Day 3 Lunch session Mayank Agarwal and Cheteshwar Pujara added insult to New Zealand's injuries with a 107-run opening stand as India took complete control of the second Test by reaching 142 for 2 at lunch on the third day. India's overall lead is now a mammoth 405 runs and only one team can win this game from here with two days and two sessions left. At the break, Shubman Gill, who hadn't come out to open after being hit on the wrist during the New Zealand innings, was batting on 17 with Virat Kohli (11) by his side.
India 142/2 in 46 overs India finish another session of the second Test on the top. Shubman Gill (17*) and Virat Kohli (11*) took over from Pujara and Agarwal after the duo added 108 runs for the opening wicket. Ajaz Patel continues to do all the damage to the Indian side but India remain firm favourite for win as they stretch their lead to 405 runs.
India 131/2 in 42 overs After adding 107 runs for the opening wicket, both Mayank (62 runs off 108 balls) and Pujara (47 off 97) were sent back to the pavilion by first innings star Ajaz Patel, who is now picked all 12 Indian wickets in the match.
India 100/0 in 28.2 overs Mayank is batting again after getting a bandage taped over his arm. Southee continues to test him with bouncers on the same line. 
India 100/0 in 28.1 overs Mayank Agarwal has hurt his right arm while attempting to play a hook shot against Tim Southee. The opener is visibly in a bit of pain and is getting Team India's physio attention. Play has been halted for the time being.
India 100/0 in 27.2 overs India reach 100 with that single early in the over by Agarwal; also brings up the 100-run stand between Pujara and Agarwal.
India 99/0 in 26 overs: 50! Mayank Agarwal reaches his fifth Test career fifty with a six. He breaches the milestone in just 90 deliveries on a surface that has tested the might of batters.
India 211/4 in 61.2 overs OUT! Ajaz Patel at it again. The spinner had Shreyas Iyer stumped at 14. Wriddhiman is the new man in.
India 86/0 in 24 overs Aggressive approach by Pujara early morning as he slams three boundaries in as many overs; all coming against Patel.
December 5, 9:30 PM Day 3 action resumes. Mayank (not out at 38) takes strike against New Zealand's first innings star Ajaz Patel.
India 69/0 in 21 overs: A wonderful day for Ajaz Patel and a terrible day for New Zealand batters. India has the lead of 332 runs at the end of Day 2. 
Shubman Gill Injury Update
India 59/0 in 19 overs: Spin from both ends by New Zealand. Ajaz Patel is holding one end while William Somerville has been brought into the attack from the other. 
India 50/0 in 15 overs: Pujara and Mayank gave India a steady start. New Zealand spinner Ajaz Patel created history, came out to bat and is bowling again now. 
India 30/0 in 10 overs: India in total control. New Zealand bowlers are tired and Indian batters- Mayank and Pujara making the most of the opportunity. 14 runs from the last five overs. 
India 16/0 in 5 overs: Pujara opens India's innings in the absence of injured Shubman Gill. Last time Pujara opened for India was in 2015 against Sri Lanka when he scored a century. With a lead of over 250 runs, Mayank and Pujara are giving India a steady start. 
Mayank and Pujara are at the crease. Mayank is on strike. Southee will open the attack for the Kiwis. 
New Zealand bundled for 62 runs. Ashwin sends Somerville for a duck and Axar does the finishing job for India after he castles Jamieson 
New Zealand 53/8 in 20 overs: Double WICKET! Ashwin sends Blundell and Southee to the pavilion in one over. A bowl spinning into the pads, Blundell gets a little edge and is easily pocketed by Pujara at the leg slip. Southee also finds a fielder at short leg on a delivery that gets a feather touch from his willow. 
IND vs NZ 2nd Test, Day 2 Session 2: A session entirely dominated by the Indians. No sooner the Kiwis walked to the pitch for their first innings, the visitors' lost Will Young in 4 overs. Mohammed Siraj, who scalped the first three wickets defined NZ openers and Ross Taylor's way to the pavilion. With Siraj setting the foundation, India's spin trio- Axar, Ashwin and Jayant also scalped a wicket each. 
TEA. Action resumes in Mumbai at 3 PM. 
New Zealand 38/6 in 16.4 overs: WICKET! Jayant Yadav removes Rachin Ravindra. The tossed up bowl from Jayant finds an outside edge from Ravindra's willow and Kohli gets an easy catch in his laps at the slips. 
New Zealand 31/5 after 14 overs: WICKET - Ravichandran Ashwin into the attack and he removes Henry Nicholls straightaway to leave New Zealand in tatters. Tossed up delivery, Nicholls lunged forward but the ball sneaked past the gap between bat and bat to castle the timber. New Zealand in all sorts of trouble and Ashwin has taken a wicket straightaway in his very first ball. It will be a test of character for the rest of the New Zealand batsmen.  
New Zealand 27/4 after 9 overs: WICKET - Axar Patel joins the party and New Zealand are in deep trouble. Daryl Mitchell departs. Good delivery from Axar as the ball came in and there wasn't much turn but Mitchell lunged forward and missed the ball and was caught right in front. New Zealand reviewed it but in vain.   
New Zealand 21/3 after 6 overs: WICKET - Siraj is bowling thunderbolts and cleaned up Ross Taylor with a peach of a delivery. Such good seam position, angled in, squared up Taylor and the ball just moved away marginally to knock down the off pole and the Indians are ecstatic. This is turning out to be a fantastic session for India with New Zealand in all sorts of trouble. He almost had Henry Nicholls but narrowly missed on a hat-trick. India did take the review but the ball was pitching just outside leg.   
New Zealand 15/2 after 4 overs: Double Wicket - Mohammed Siraj has given India an early breakthrough as he removed Will Young, who was caught beautifully by Virat Kohli at second slip and then removed Tom Latham to give India a fantastic start. Ajaz Patel took a 10-wicket haul but Siraj with early wickets has nullified the build-up and India are truly on top. Kohli stationed a fielder at deep square leg, Siraj digged in short, Latham went for the hook but failed to control and hit it straight down the throat of Shreyas Iyer. New Zealand rocked early.
New Zealand 1/0 after 1 over:  Ajaz Patel became only just the third bowler in history to take all 10 wickets after Jim Laker and Anil Kumble to bowl out India for 325. Will Young and Tom Latham open the innings for New Zealand with Latham off the mark with a single. Umesh Yadav starts proceedings with the new ball and starts off with a loosener. 
India 325 all out: Ajaz Patel - 47.5-12-119-10 Ajaz Patel has taken 10 wickets and what a feat this has been from the New Zealand spinner. Siraj was the last man and he couldn't deny the left-arm spinner from equalling Anil Kumble's record. He picked his eighth wicket by trapping Axar Patel and then accounted the wicket of Jayant Yadav before Siraj skied one and Raichin Ravindra settled nicely under the catch to hand his team-mate a 10-wicket haul. 
India 310/7 in 104 overs: Jayant Yadav and Axar Patel trying to gather some runs on the board for India after Mayank's departure. 19 runs from the last four overs and one ball. 
India 325 all out: 47.5-12-119-10 Ajaj Patel has taken 10 wickets and what a feat this has been from the New Zealand spinner. Siraj was the last man and he couldn't deny the left-arm spinner from equalling Anil Kumble's record. He picked his eighth wicket by trapping Axar Patel and then accounted the wicket of Jayant Yadav before Siraj skied one and Raichin Ravindra settled nicely under the catch to hand his team-mate a 10-wicket haul. 
India 291/7 in 99.5 overs: WICKET! Ajaz Patel gets Mayank- the big fish. A length delivery by Ajaz, Mayank attempts to play it and nicks off to the keeper. Departs immediately after scoring 150. 
IND vs NZ 2nd Test, Day 2 Session 1: Starting on the overnight score of 221, Saha and Mayank walked down to the pitch. However, the Indian batters got outplayed by the spin on their own tracks when Ajaz Patel toppled two wickets in consecutive balls. Ajaz dismissed Saha in an lbw while bowled R Ashwin leaving India in choppy water. It was Axar Patel who consolidated with Mayank Agarwal and wove an unbeaten 61-run partnership to steer the host. 
LUNCH. Action resumes in Mumbai at 12:10 PM. 
India 280/6 in 97 overs: Clearly, Axar and Mayank are troubling the Kiwi bowlers who were otherwise off to a fine start. 11 runs aggregated from the last five overs. 
India 269/6 in 92 overs: Indian batters- Mayank and Axar are now troubling the Kiwi attack who otherwise had a fine start to the day's play. 50-run partnership coming up between the two. batting with utmost resilience. The duo is hardly giving any chances. New Zealand, however, are desperately looking for a wicket. Eight runs from the last five overs. 
India 261/6 in 87 overs: Mayank, Axar batting with utmost resilience. The duo is hardly giving any chances. New Zealand, however, are desperately looking for a wicket. Nine runs gathered from the last five overs. 
India 252/6 in 82 overs: Axar Patel and Mayank Agarwal batting sensibly and keeping the scoreboard ticking. The duo is rotating the strike and aggregating runs on the board. Nine runs gathered from the last five overs. 
India 241/6 in 77 overs: The new batter Axar Patel is settling in and consolidating India's innings alongside Mayank Agarwal. The two are carefully tackling spin after India lost two crucial wickets of Saha and Ashwin soon at the start of play on Day 2.  17 runs gathered from the last five overs. 
India 224/6 in 72 overs: 2 WICKETS! Ajaz Patel strikes twice in successive deliveries. First, he sends Saha to pavilion in an lbw. The delivery skid through, struck low on the pads and defined Saha's way to the pavilion. Next he castled Ashwin who had just walked the crease. The slowed delivery accompanied with quite some turn castles Ashwin and beats the off-stump. AJAZ gets 6 WICKETS! Overall, three runs from the over. 
India 221/4 in 71 overs: Maiden over to start the proceedings on Day 2. Southee getting a bit of swing. 
Saha on strike. Southee opens the attack with the ball for New Zealand on Day 2 of Mumbai Test. 
@9:30 AM: 
@9:15 AM: Huddle Talk
Day 2 Session Timings: (Source Twitter @BCCI) 
Session 1: 9:30 AM-11:30 AM
Lunch: 11:30 AM - 12:10 PM
Session 2: 12:10 PM -14:40 PM
Tea Time: 02:40 PM - 03:00 PM
Session 3: 03:00 PM - 05: 00 PM
98 Overs for the day 2  
If 98 Overs are not bowled, it can be extended to 05:30 PM. 
India vs New Zealand 2nd Test Day 1 Match Report: Mayank hammers century, India score 221/4
Under pressure to prove his worth, Mayank Agarwal made the best statement possible with a superb hundred as India recovered from a sudden top-order collapse to reach 221 for 4 in two extended opening day sessions against New Zealand in the second Test here on Friday.
Agarwal (120 batting, 246 balls), who is all but certain to sit out once Rohit Sharma and KL Rahul come back during the next series (if South Africa then away, if West Indies then home), added to a happy headache for coach Rahul Dravid, on a day when vice-captain Ajinkya Rahane had to be "dropped" because of a hamstring niggle.
Worse, Cheteshwar Pujara and Virat Kohli failed to trouble the scorers and it was a hundred that came under pressure with India being 80 for 3 and 160 for 4 at different stages of the game. Had the Indian team management been forced to play Rahane, the axe was likely to fall on Agarwal and it's never a great feeling to go out there in such a situation.
He was jittery to begin with as a streaky boundary through slips came early on but once he marched down the track to loft Ajaz Patel (29-10-73-4) for a straight six, his nerves had all but vanished. The boundaries --- 14 in all and four sixes, all off Patel showed his class as he got his fourth hundred in Tests.