Follow us on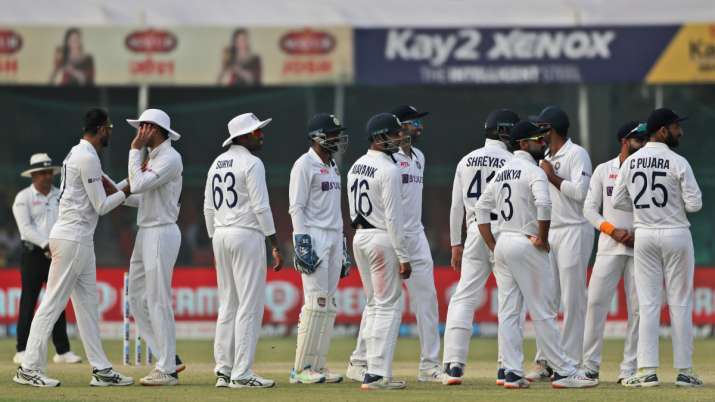 IND vs NZ Live Score 1st Test, Day 5 Live Match Updates
New Zealand 155/9 in 89.2 overs: WICKET! Jadeja strikes again. This time sends Southee to pavilion. Southee lbw b Jadeja 4(8) [4s-1]
New Zealand 147/8 in 86 overs: WICKET! Jadeja sends Jamieson to the pavilion. With the new ball, Jadeja bowls a length delivery and strikes Jamieson on the pads. Jamieson lbw b Jadeja 5(30)
New Zealand 143/7 in 83 overs: India weaving a complete spin web including along with tight fielding to bundle the visitors. The spin trio- Ashwin, Jadeja and Axar look lethal in the final session. 
New Zealand 138/7 in 78.2 overs: WICKET! Ashwin's spin castles Blundell! The ball spins, hits the top of the leg stump and amazes Blundell. Blundell b Ashwin 2(38)
New Zealand 135/6 in 73 overs: Rachin Ravindra and Tom Blundell just ticking the balls away to deny India a defeat in Kanpur. The duo is having a tough time in tackling India's spin attack.
New Zealand 128/6 after 65 overs: WICKET - Axar Patel strikes immediately after Tea break to leave New Zealand five down. The left-arm spinner traps Henry Nicholls, who took a review but he knew he was dead plumb. With two quick wickets, India are sensing an opening and have put New Zealand on the backfoot. Can they pick the rest five wickets, remains to be seen.  
TEA BREAK! Action resumes at 2:40 PM in Kanpur. 
New Zealand 125/5 in 63.1 overs: WICKET! Jadeja sends Taylor to the pavilion. The length delivery from Jadeja skids into Taylor's pads and beats him on the front foot defence. Ross Taylor lbw b Jadeja 2(24)
New Zealand 123/3 in 60 overs: A very close call, goes in Taylor's (batsman) favour and gets a life. Taylor looks a little sceptical against the spin. Just five runs from the last five overs and four deliveries. 
New Zealand 118/3 in 54.2 overs: WICKET! Ashwin strikes, Latham departs. A slight change in variation brings India a much-needed wicket. Ashwin bowls a quicker and wider delivery that tempts Latham to cut but the horizontal bat finds an under-edge onto the stumps. Latham b Ashwin 52(146) [4s-3]
10 runs from the last four overs and two balls. 
New Zealand 108/2 in 50 overs: India tries change of bowling- brings Ishant Sharma into the attack. New Zealand's Williamson and Latham are rotating the strike well. Nine runs from the last five overs.
New Zealand 99/2 in 45 overs: Williamson and Latham carefully tackling India's spin attack. The duo is trying to completely come over the ball and suppress it. Umesh Yadav is getting some swing in this session. 12 runs from the last five overs. 
New Zealand 87/2 in 40 overs: Even though skipper Kane Williamson has joined Tom Latham on the pitch, the intent of New Zealand is the same. They are absorbing all the balls and keeping their scoreboard ticking. Eight runs and a wicket for New Zealand from the five overs after lunch. 
New Zealand 79/2 in 35.1 overs: WICKET! India finally get the breakthrough! Umesh Yadav strikes to remove Somerville and breaks the 76-run partnership. The short ball by Umesh, Somerville attempts a pull shot but finds Gill who came running from fine leg to grab the ball. Somerville c Shubman Gill b Umesh Yadav 36(110) [4s-5]
India vs New Zealand 1st Test Day 5, 1st session: New Zealand clearly dominated the opening session of the final day in Kanpur. Somerville and Latham walked the pitch on their overnight score of 4/1 and stood rock-solid on the pitch. The Indian bowlers were badly searching for wickets as the duo knit a 76-run stand between them. 
LUNCH TIME! Action resumes in Kanpur at 12:10 PM. 
New Zealand 79/1 in 35 overs: Somerville and Latham keep it easy-going for New Zealand. The duo is compressing New Zealand's trail. 16 runs gathered from the last five overs. 
New Zealand 63/1 in 30 overs: Somerville and Latham look at total ease on the pitch now. India badly looking for a breakthrough. New Zealand makes five runs from the last five overs. 
New Zealand 58/1 in 25 overs: 50-run stand comes up between Somerville and Latham. The duo is giving Indian bowlers a heavy headache as they are in fine touch. Kiwis amassed just six runs from the last five overs. 
New Zealand 52/1 in 20 overs: India did get some close chances but the ultra edge showed straight lines and disappointment for the Indian players. Somerville and Latham are inching towards a 50-run partnership. 18 runs from the previous five overs. 
New Zealand 34/1 in 15 overs: Somerville and Latham serving as a thorn in the flesh for the Indian bowlers. The duo has adjusted well to the pitch and the Indian bowlers are struggling to find a wicket. New Zealand batters gathered 16 runs from the last five overs. 
New Zealand 18/1 in 10 overs: Somerville and Latham are facing India's bowling combination- Ravi Ashwin and Umesh Yadav with confidence. The Kiwis duo is keeping the scoreboard ticking. Somerville gives an edge on Umesh Yadav's ball but it fell short of slip and thus he gets a life. 13 runs gathered from the last five overs. 
Ishant Sharma is back on the field while he still seems to be nursing his finger. 
New Zealand 5/1 in 5 overs: Fine over for Ashwin yet not a good start for India as Ishant Sharma walks off the field after injuring his finger. Ishant dislocated his finger while making a stop in the opening over on Day 5.
Suryakumar Yadav is on the field as the substitute fielder.
Latham and Somerville are at the crease. Latham is on strike. Ashwin will open the attack with the ball for India on Day 5. 
KS Bharat will keep wickets in Wriddhiman Saha's absence on Day 5.
@9:26 AM: Indian players warming up before the play begins on Day 5. 
@9:08 AM: A closer look at Green Park's turf on Day 5 of the ongoing first Test in Kanpur.  
https://twitter.com/BLACKCAPS/status/1465163017792806915
@8:50 AM: Indian players engage in huddle talk before the start of Day's 5 play in Kanpur. 
IND vs NZ 1st Test Day 4: New Zealand 4/1 at stumps, need 280 runs to win Kanpur Test
Debutant Shreyas Iyer showed his ice-cool temperament under pressure to stand tall with a fine half-century which placed India in a commanding position as they set up a stiff victory target of 284 for New Zealand on the fourth day of the opening Test here on Sunday.
India declared at 234 for 7 for an overall lead of 283 and gave the Black Caps four tricky overs to face under fading light during which they managed four runs and lost opener Will Young to Ravichandran Ashwin.
With that scalp, Ashwin became the joint third-highest wicket-taker in Indian cricket with Harbhajan Singh (417 wickets).
The highest ever fourth-innings chase by a visiting team in India is 276 by Viv Richards' West Indies against the Dilip Vengsarkar-led India in 1987 at the Feroz Shah Kotla, which placed statistics on the home team's side.