Follow us on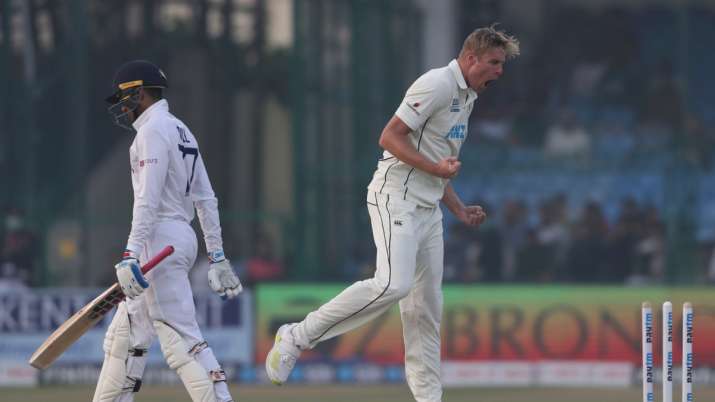 IND vs NZ 1st Test Day 3 Highlights
It's the stumps on Day 3 of the ongoing first Test between India and New Zealand in Kanpur. India are 14/1 at stumps and lead by 63 runs. 
India 2/1 in 1.1 overs: WICKET! Shubman Gill departs for just one run! Jamieson bowls a back of a length delivery attempting an outswinger. Gill makes a futile attempt and gets an inside edge over the bails. Shubman Gill b Jamieson 1(3)
Mayank and Shubman Gill are at the crease. Mayank is on strike. Southee will open the attack.
INDIA's 2nd Innings
Innings Break - India lead by 49 runs
New Zealand 296/10 in 142.3 overs: WICKET! Ashwin scalps Somerville's wicket and wraps up New Zealand's innings. The Kiwi batter misses the slog-sweep and the ball hits the off stump from round the wicket. Ashwin takes a total of three scalps. 
New Zealand 284/9 in 139 overs: WICKET! Ashwin sends Jamieson to the pavilion. The slower ball from Ashwin tempts Jamieson to go for a big hit but ends up mistiming it. Jamieson departs after being caught at the deep midwicket by Axar Patel. Jamieson c Axar b Ashwin 23(75) [4s-1]
New Zealand 284/8 in 138 overs: Jamieson, Somerville keeping the scoreboard ticking. The duo is confidently tackling the spin attack of Axar Patel and Ravichandran Ashwin.
New Zealand 279/8 in 133 overs: New Zealand tail enders-Jamieson, Somerville standing tall against the Indian spinners. Jamieson looks in fine touch and is rotating the strike well. Nine runs from the last five overs and two balls. 
New Zealand 270/8 in 127.4 overs: WICKET! Axar cleans up Southee. A flat ball angling in takes a slight turn and disturbs the wickets and defines Southee's way to the pavilion. Fifth fifer for Axar in only his fourth Test match. 
12 runs conceded from the last four overs. 
New Zealand 258/7 in 123.4 overs: WICKET!  Blundell out Bowled! Axar strikes once again, this time soon after the tea. A short length delivery remained too low on the ground that Blundell couldn't play it even on the back foot. Blundell b Axar 13(94)
Overall, a total of nine runs given after the tea. 
Tea, Day 3. Action returns at 2:40 PM in Kanpur. 
India vs New Zealand 1st Test Day 3, 2nd session: If New Zealand dominated the first session on Day 3, India snatched the second session of play on Day 3 of the ongoing first Test in Kanpur. Excellent session for Rahane and Co. as Indian bowlers toppled four wickets and changed the complexion of the match. It was primarily a spin dominated session led by Axar Patel who scalped three crucial wickets of- Latham, Taylor, Nicholls. Jadeja outplayed Rachin Ravindra. The session brought India back into the game. Clearly, New Zealand batters are feeling the weight of the pressure. 
New Zealand 245/6 in 116 overs: Pressure mounting up on New Zealand batters after quick fall of wickets. Just four runs from the last five overs and two balls. 
New Zealand 241/6 in 110.4 overs: WICKET! Jadeja removes Rachin Ravindra. The ball turned by a good margin and Rachin was completely outplayed. The ball hit the off stump to set Rachin's way to the pavilion. 
New Zealand 232/5 in 107 overs: After three big wickets of Latham, Taylor and Nicholls, India have brought themselves back into the game. The session post-lunch has been terrific for the hosts and especially Axar Patel who has grabbed the big fishes of New Zealand.
New Zealand 227/5 in 102.1 overs: WICKET! Latham out Stumped! Axar Patel is breathing fire, takes three big wickets after lunch. Axar pitched the ball short on seeing Latham advancing the pitch. Latham ran out of the crease to play the ball, missed it and the ball was well collected and stumped by Bharat behind the wickets. 
Time for drinks!
New Zealand 226/4 in 100 overs: The duo- Axar and Ashwin building pressure on New Zealand batsmen- Latham and Blundell. The pitch is now offering a significant turn but the ball is keeping quite low- bringing trouble for the batsmen. 
New Zealand 218/4 in 96.5 overs: WICKET! Axar Patel defines Nicholls's journey to the pavilion. A slightly outside off delivery, spinning into the left-hander, Nicholls attempts a sweep and misses it. Axar strikes twice for India. Nicholls lbw b Axar 2(9)
New Zealand 214/3 in 94.3 overs: WICKET! Axar Patel defines Ross Taylor's way to the pavilion. Length delivery around off gets a significant edge from Taylor's willow. Bharat safely grabs it behind the stumps. Ross Taylor c (sub)Srikar Bharat b Axar 11(28) [4s-1]
Overall, India conceded six runs at the end of 95 overs. 
New Zealand 209/2 in 90 overs: Taylor and Latham consolidate New Zealand innings after the lunch. The spell comprising Umesh Yadav and Axar Patel's bowling is turning out to be tight for the Kiwis. Deliveries are inviting regular appeals and keeping the match gripping. 12 runs from the overs after the lunch.   
India vs New Zealand 1st Test Day 3, 1st session: The turf at Green Park, Kanpur had a different offering this morning. A comparatively low bounce besides offering a little turn, the pitch seemed a haven for the Indian spinners. Lethal bowling from Ashwin got India the first wicket of Young following which Latham and Williamson carried forward NZ innings. However, just at the stroke of lunch on Day 3, Umesh Yadav removed Kane Williamson and the Indian players returned for an early lunch with happy faces. 
LUNCH BREAK! Action returns at 12:10 PM in Kanpur. 
New Zealand 197/2 in 85.3 overs: WICKET! Umesh Yadav strikes, gets the big fish- Kane Williamson just minutes before lunch. Angling in delivery immediately skid off and struck Williamson on the back pad. NZ take a review but lose it as the LBW show that the ball is safely hitting the stumps. Williamson lbw b Umesh Yadav 18(64) [4s-2]
New Zealand 192/1 in 83 overs: Tight bowling from the spin web comprising Ashwin, Jadeja and Patel. However, Williamson and Latham look set on the pitch and well acclimatized to the conditions. Eight runs from the previous five overs but the search for the second wicket is still on for the Indian bowling line-up. 
New Zealand 184/1 in 78 overs: Fine bowling spell from Ashwin and Jadeja. Quite frequent close-necked appeals especially from Ashwin's bowling. India desperately looking for the second wicket. The spinners gave away just eight runs from the last five overs. 
New Zealand 176/1 in 73 overs: Back to back appeals by India and Ravi Ashwin. Extremely fine bowling from Ashwin. Latham struggling to connect the bat on the spin bowling. 16 runs from the last five overs without any loss of wicket. 
New Zealand 160/1 in 68 overs: India's long wait for the wicket ends as Ashwin finally gets the first blood. He dismissed Young for 89 who looked confident on the pitch. New Zealand batters are struggling against Ashwin's spin while are looking at comparatively ease with Ishant Sharma's bowling. 17 runs conceded from the last five overs. 
New Zealand 151/1 in 66.1 overs: WICKET! Ashwin breaks the opening partnership and gets the first wicket for India. The ball outside off stump didn't turn much, kept low and found a faint edge of Will Young's bat. The low catch was safely pocketed by substitute keeper Srikar Bharat. Will Young c (sub)Srikar Bharat b Ashwin 89(214) (4s-15)
New Zealand 143/0 in 63 overs: New Zealand openers- Latham and Young wary of Ashwin's spin. The Kiwi batsmen are careful of the low keeping bowl that is coming with the spin on the abrased turf. Looked comparatively at ease while facing Ishant's bowling. 14 runs conceded from the first six overs of the morning. 
New Zealand 129/0 in 58 overs: Maiden over by Ishant Sharma to start the proceedings on Day 3. KS Bharat is out with the gloves in the absence of Saha who is suffering a neck issue. 
Wriddhiman Saha is out due to a neck niggle. Srikar Bharat replaces him as the wicketkeeper. 
Indian skipper Rahane engages in a conversation with the Indian coaching staff ahead of the day's play. 
Dravid, Rathour and Ravi Ashwin have a closer look at the turf. 
IND vs NZ 1st Test Match Report: Young, Latham fightback after Iyer's maiden Test ton
Tim Southee bowled an incisive morning spell to take five wickets which was then brilliantly complemented by openers Will Young and Tom Latham as New Zealand dominated India to reach 129 for no loss on the second day of the opening Test here on Friday. The only highlight for India in an otherwise disappointing day was Shreyas Iyer's (105 off 171 balls) debut hundred. 
Playing his 80th Test match, Southee (5/69) took his 13th five-wicket haul on an unresponsive track to send India packing for 345 after they started the day at 258 for 4.
Young then held centre-stage in his fourth Test appearance as he looked composed and unperturbed during his unbeaten knock of 75 off 180 balls.
Latham (50 batting off 165 balls), the seasoned campaigner, survived three on-field decisions (two leg before and one caught behind), negated by DRS, and decided to frustrate the two Indian spinners with a gritty defensive game.
The Green Park track became better for batting on the second day and the turn that was on offer was minimal. The variable bounce wasn't also there for the better part of the 57 overs that they batted. Since it was slow turn, the Black Caps duo mostly plonked their front-foot and neutralised the turn. And when they played on the back-foot, there was enough time to manoeuvre on both sides of the wicket.