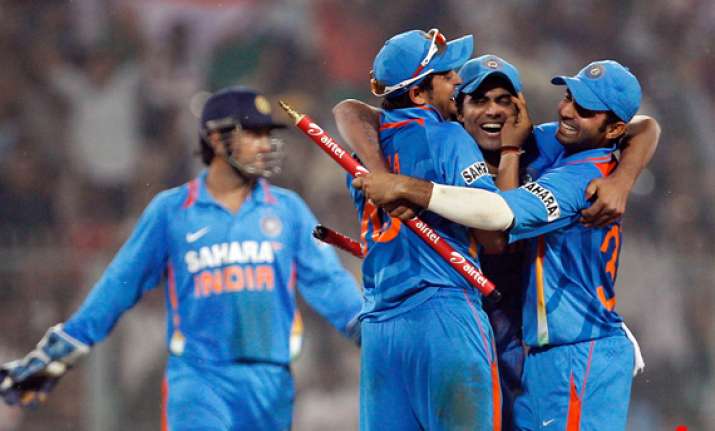 Kolkata, Oct 26: A clinical India on Tuesday jumped two positions to third spot in the Reliance ICC ODI Championship table after its 5-0 series whitewash of England with a 95-run victory in the fifth and final match.

Mahendra Singh Dhoni's side had started the series in fifth position on 112 ratings points and after winning all the five ODIs, it has moved into third position on 118 ratings points.

Alastair Cook's side, on the other hand, slipped from fourth position to fifth after dropping from 112 ratings points to 106. It now leads sixth-placed Pakistan by just five ratings points whose five-ODI series against Sri Lanka starts in Dubai on November 11.

However, India will slip to fourth if South Africa wins the third and last ODI against Australia in Durban on Friday.

A South Africa win will put Hashim Amla's side in second place on 120 ratings points, one ratings point ahead of India, while in case of Australia's victory the Proteas will stay in fourth position but will drop to 115 ratings points.

Meanwhile, Zimbabwe's historic victory over New Zealand in Bulawayo on Tuesday has earned it three ratings points. Zimbabwe, which successfully chased a 329-run target to win by one wicket, has moved up to 47 ratings points.

On the contrary, New Zealand has dropped three ratings points and is now on 87 ratings points -nine ratings points ahead the West Indies.