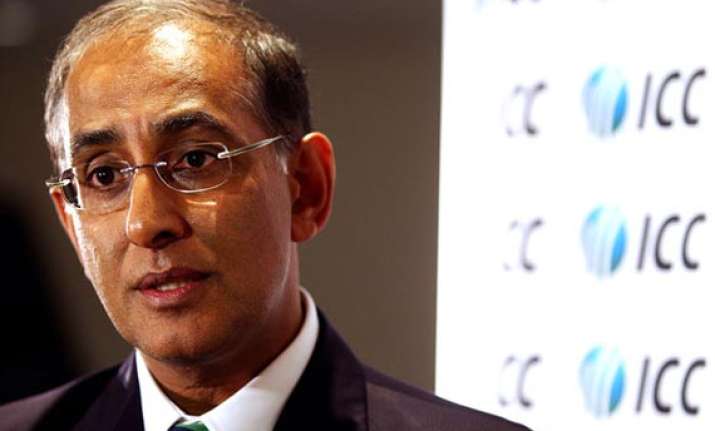 Cape Town, South Africa: South Africa's cricket board suspended chief executive Haroon Lorgat from some of his duties on Tuesday pending an ICC inquiry into his conduct and also reluctantly agreed to a shortened home series against India, with both decisions taken under pressure from India's powerful cricket bosses.
The two boards announced that Lorgat, a former International Cricket Council chief executive, would be investigated over his "role" in recent comments made by David Becker, a former legal adviser to the world body and Cricket South Africa who was critical of the Board of Control for Cricket in India and its leadership.   
In a joint BCCI-CSA statement, the boards said Lorgat, who was appointed by CSA in July despite heavy Indian opposition, had been withdrawn from business related to the ICC and also "from having involvement in any aspect of CSA's relationship with the BCCI, including but not limited to the upcoming tour."   
After initially declining further comment, CSA said later Tuesday that Lorgat had volunteered to be withdrawn from dealings with the ICC and BCCI, but still would fulfill his duties in South Africa.   
Despite an ICC-appointed inquiry being announced, the world body has so far made no public comment and left the two boards, led by India, to release details. The ICC merely posted their statement on its website.   
The joint statement also suggested that India agreed to tour South Africa, an important financial windfall for the host country, only after Lorgat was dealt with.   
"The agreement to tour was concluded by the two boards after various concerns were raised ... about the alleged conduct of CSA's chief executive, Mr. Haroon Lorgat, and recent comments made about the ICC board by a former legal adviser to CSA, Mr. David Becker," the statement said.   
It was not made clear what involvement Lorgat may have had in Becker's public criticism of India, but the BCCI and CSA said any findings against Lorgat "will be binding on CSA."   
CSA's new chief executive has a long history of bitter disagreements with the BCCI stretching back to his time at the ICC, and CSA was surprisingly open in conceding it had battled against BCCI opposition when Lorgat was appointed.   
CSA President Chris Nenzani said then that their officials had been summoned to a meeting with the BCCI to explain Lorgat's appointment, where Indian bosses made clear their "concerns" over South Africa's choice.   
South Africa also initially announced India's end-of-year tour would consist of three tests, seven ODIs and two Twenty20s over two months from November through to January, but India immediately expressed its unhappiness with that schedule.   
Following meetings in London over the past few days, CSA has given in and agreed to only two tests and three ODIs, and Lorgat was sidelined from having any involvement in the Indian tour.   
The BCCI and CSA said the ICC was considering its legal options with regard to Becker, but it will set up an independent investigation to see if Lorgat played a role in Becker's public statement criticizing the dominance of India and, specifically, BCCI President Narainswamy Srinivasan.   
In a statement released to the media this month, Becker said India was flouting ICC guidelines by, among other things, ignoring the agreed Future Tours Program and deciding unilaterally where and how many games it wanted to play.   
"When the ICC allows one of its directors to blatantly disregard an ICC board resolution, it becomes more than questionable governance -- it becomes improper," Becker was quoted as saying in his statement.   
In response, the BCCI and CSA said: "The ICC and CSA have already refuted the comments made by Mr. Becker, and the ICC is now considering its legal options in respect of the same. In addition, the ICC will convene an investigation by an independent third party (to be appointed by the ICC) into the content and distribution of the media comments, subsequent attempts to have them withdrawn, and, in particular, the role of Mr. Lorgat in relation to these matters."   
The boards said the third-party investigation "will be carried out in private." No time frame was given.   
The two boards also said the exact dates of India's shortened tour to South Africa, likely to be in December, would be announced later, while the South African Cricketers' Association said a reduced series between two of cricket's leading teams would be meaningless.   
"It's a very sad day when international cricket becomes more about what happens off the field than what happens on it," SACA chief executive Tony Irish said.