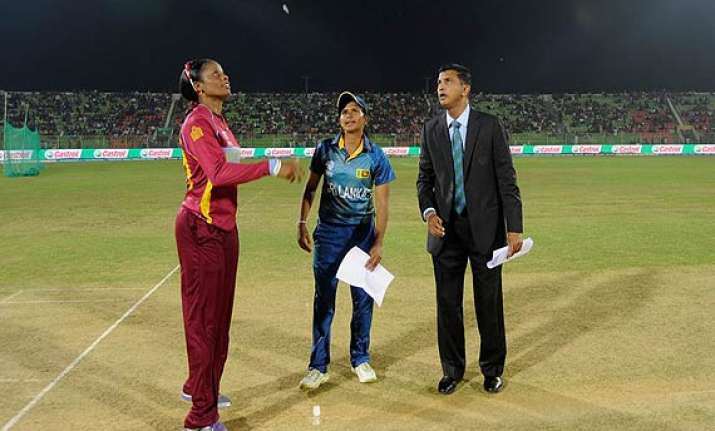 Sylhet (Bangladesh): Coach Sherwin Campbell is backing the West Indies to win the ICC Women's World Twenty20 after they qualified for the semifinals.
The Caribbean side trounced Sri Lanka by eight wickets Friday to record their third straight win and storm to the top of Group B.
"We have made it to the semifinals for the third time in a row and now we have to believe we can go all the way and win it. That is the reason we came here to Bangladesh and that is what we really want," said Campbell Saturday.
"But before that we have a game against India and we will play them just as hard as we played the earlier matches. There will be no easing up, no room for complacency. We want to win all our matches."
Led by a four-wicket haul from spinner Shanel Daley, the West Indies bundled out Sri Lanka for 84 in the 17th over and then strolled to 87/2 in just 15 overs with Stafanie Taylor stroking an unbeaten half-century.
The West Indies also made the semifinals two years ago in Sri Lanka and in 2010 when the tournament was staged at home. They were good enough to reach the final of the 50-over World Cup in India last year and Campbell believes the current winning streak is what the team needs in the build-up to the final stages of the competition.
"Three wins on the trot is great and the right kind of momentum for this team. We are playing some fantastic cricket and this win just reassured us of that," the former West Indies opener said.
"We were very good in the warm-up matches against Australia and South Africa and we also had a great performance when we beat England in the first tournament match. We slackened off a bit when we beat Bangladesh earlier this week and I was happy to see the way we raised our standards and recorded this big victory over Sri Lanka."
Campbell was full of praise for Daley whose spell made the difference against Sri Lanka. Sri Lanka were coasting at 41/1 in the fifth over before Daley intervened, triggering a sudden collapse that saw the last nine wickets tumble for 43 runs.
"Daley struggled a bit in the earlier matches but she's a quality bowler and a fighter so I was not too worried about her. I knew her time would come and she delivered in a meaningful way today. She is back to her best and with the other bowlers also performing, we have a formidable attack in these conditions," said Campbell.