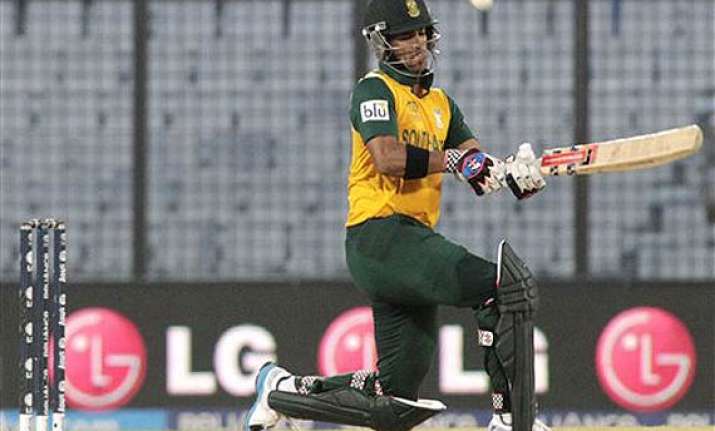 CHITTAGONG,Bangladesh
: 
Dale Steyn
produced a gem of fast bowling to help South Africa secure a two-run win over New Zealand on Monday in the World Twenty20.
Steyn returned with figures of 4-17 as South Africa restricted New Zealand to 168-8 after they scored 170-6.  
Needing seven runs to win the last over, New Zealand could score only four runs against Steyn.
Ross Taylor
was the highest scorer with 62, while
Kane Williamson
made 51.
Imran Tahir
finished 2-27 for South Africa.  
Earlier,
JP Duminy
hit 86 not out for South Africa and Hashim Amal scored 41. 
 Corey Anderson and
Tim Southee
claimed two wickets apiece.
South Africa Innings=  
Quinton de Kock
c Ronchi b Mills 4  
Hashim Amla
c & b Anderson 41  
Faf Du Plessis
c N McCullum b Southee 13
   AB de Villiers b N McCullum 5
   JP Duminy not out 86
   David Miller c & b Anderson 6
   Albie Morkel b Southee 13
   Dale Steyn not out 1
   Extras: (1w) 1.
   TOTAL: (six wickets) 170.
   Overs: 20.
   Fall of wickets: 1-16, 2-32, 3-42, 4-97, 5-131, 6-159.
   Did not bat: Morne Morkel, Imran Tahir, Lonwabo Tsotsobe.
   Bowling: Kyle Mills 4-0-29-1, Mitchell McClenaghan 4-0-30-0 (1w), Tim Southee 4-0-46-2, Nathan McCullum 4-0-24-1, Corey Anderson 3-0-28-2, Kane Williamson 1-0-13-0. 
New Zealand Innings=  
Martin Guptill
c de Kock b A Morkel 22
   Kane Williamsonc de Villiers b Steyn 51
   Brendon McCullum st de Kock b Tahir 4
   Ross Taylor run out 62  
Colin Munro
c Amla b Tahir 7
   Corey Anderson c Miller b Steyn 7
   Luke Ronchi c de Kock b Steyn 5
   Nathan McCullum c Du Plessis b Styen 4
   Tim Southee not out 0
   Extras: (2lb, 4w) 6.
   TOTAL: (eight wickets) 168.
   Overs: 20.
   Fall of wickets: 1-57, 2-66, 3-117,4-140, 5-148, 6-164, 7-168, 8-168.
   Did not bat: Kyle Mills, Mitchell McClenaghan.
   Bowling: JP Duminy 3-0-30-0, Lonwabo Tsotsobe 4-0-29-0 (1w), Dale Steyn 4-0-17-4, Morne Morkel 3-0-50-0 (1w), Albie Morkel 2-0-13-1, Imran Tahir 4-0-27-2 (2w).
   Umpire: Aleem Dar, Pakistan, and S Ravi, India.
   TV umpire : Paul Reiffel, Australia. Match referee: Javagal Srinath, India.