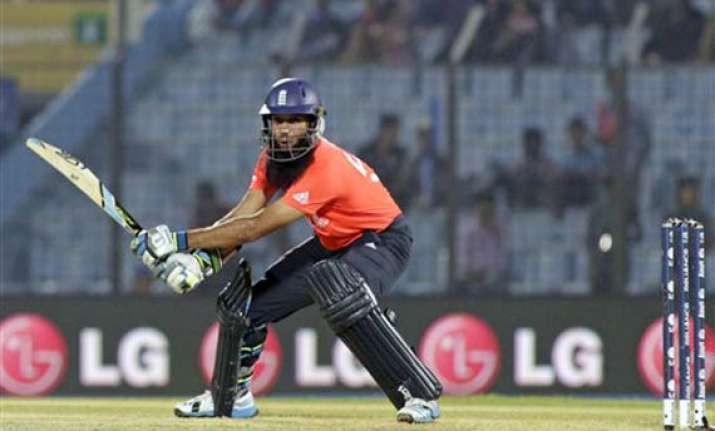 CHITTAGONG, Bangladesh: Scoreboard Saturday in the World Twenty20 match between England and New Zealand at Zahur Ahmed Chowdhury Stadium:
England
   Michael Lumb c Anderson b McClenaghan 33
   Alex Hales c Anderson b Mills 0
   Moeen Ali c McClenaghan b Anderson 36
   Eoin Morgan c McCullum b Southee 12
   Jos Buttler b Anderson 32
   Ravi Bopara not out 24
   Chris Jordan c Southee b McCullum 8
   Tim Bresnan not out 17
   Extras: (4lb, 6w) 10
   TOTAL: (for 6 wickets) 172
   Overs: 20.   
Fall of wickets: 1-1, 2-73, 3-76, 4-103, 5-129, 6-148.   
Did not bat: Stuart Broad, James Tredwell, Jade Dernbach.   
Bowling: Kyle Mills 4-0-36-1 (2w), Mitchell McClenaghan 4-0-22-1, Tim Southee 4-0-46-1 (2w), Corey Anderson 4-0-32-2 (1w), Nathan McCullum 4-0-32-1 (1w).
New Zealand

   Martin Guptill c Jordan b Dernbach 11
   Kane Williamson not out 24
   Brendon McCullum not out 16
   Extras: (1lb) 1
   TOTAL: (for 1 wicket) 52
   Overs: 5.2.   
Fall of wickets: 1-29.   
Did not bat: Ross Taylor, Colin Munro, Corey Anderson, Luke Ronchi, Nathan McCullum, Tim Southee, Kyle Mills, Mitchell McClenaghan.   
Bowling: Moeen Ali 1-0-7-0, Jade Dernbach 2-0-13-1, Tim Bresnan 1-0-10-0, Stuart Broad 1-0-16-0, Chirs Jordan 0.2-0-5-0.   
Result: New Zealand won by 9 runs on Duckworth/Lewis method   
Toss: New Zealand