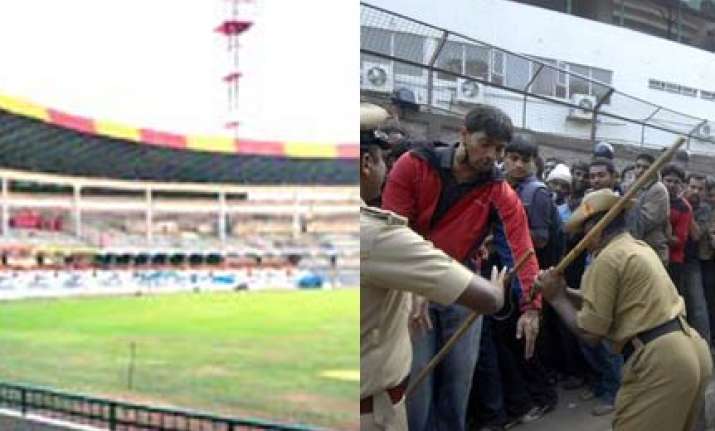 Bangalore, Feb 26 :  International Cricket Council CEO Haroon Lorgat today criticised the police lathicharge on fans seeking tickets for the India-England World Cup clash here,saying the fiasco was unfortunate and the governing body would not like to see such scenes again.
"Those are scenes that we would not like to see. None ofus would like to see that," Lorgat said at a press conference at the M Chinnaswamy Stadium.
The ICC CEO's statement came in the wake of the clashes between fans and the police in Bangalore which sparked an outrage over the lack of tickets for the public in the mega-event.
With most of the tickets reserved for sponsors, ICC and overseas visitors, the local fans have been left to jostle for very few. Add to this, the online ticket sales have also not gone about smoothly with the website roped in to handle the work crashing down several times because of the excessive load.
The ICC had written to the BCCI asking it to resolve the matter but the Indian Board claimed it was only honouring the commitments made to the governing body.
Lorgat said it was regretful that very few tickets have been put on sale for the local fans but admitted that the supply would never be able to meet the demand in a huge country such as India.
"What is unfortunate is that too few go to the public as a general sale," he said."No matter what sort of capacity we provide the truth is that we won't have enough seats for the demand that we have on our hands," he reasoned. PTI