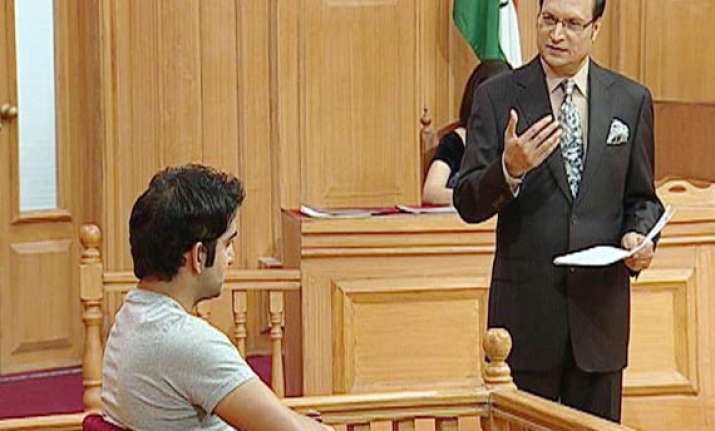 New Delhi, July 16: Team India's dashing opener Gautam Gambhir lashed out at former Pakistani skipper Shahid Afridi saying that he was still behaving like a 16-year-old immature boy.
 
Replying to questions in Rajat Sharma's talk show Aap Ki Adalat, Gambhir said, he had dedicated the World Cup Win in Mumbai to the victims of 26/11 terror attacks, after which Afridi had commented that Indians are not as large-hearted as the Pakistanis.
 
"It looks like Afridi is behaving still in the same manner when he debuted at the age of 16 in international cricket. He is still immature. It was my personal wish to pay tributes to the 26/11 victims", said the opener.
 
On his verbal skirmish with Afridi in 2007 after which Gambhir was banned, the Indian opener said, I now realize that I should not lose my temper  on small issues. It was a personal thing. He had hurled abuses at me, which I do not want to mention here."
 
About Pak wicketkeeper Kamran Akmal, Gambhir said, he had this habit of making loud comments during play and raising frivolous appeals.
 
"Not only Kamran, but most of the Pakistanis have this habit of appealing. Most of the wicketkeepers are unlike Kamran. Dhoni never shouts while keeping the wicket."
 
On the upcoming India-Pakistan series to be held in March next year, Gambhir said: "I always feel happy making runs against Pakistan. Not only me, the entire nation becomes aggressive during an India-Pak match. It's fun playing against Pakistan. India-Pak matches are as  important for international cricket as the England-Australia Ashes."
 
Pressed by Rajat Sharma as to what he intended to do in March, Gambhir replied: "I can try, but I cannot promise. India's record is far better than Pakistan's."
 
Gambhir dwelt extensively on the controversy relating to his injury. He rubbished Bishen Singh Bedi's remark  that he tried to hide his injury during the IPL tournament.
 
"With due respect to Mr Bedi, I want to say his facts are wrong. I had no injury during the IPL, just a little niggle, and every player do have such a niggle.
 
"While taking runs in the World Cup final, I fell down and had this niggle. I spoke to our physio and he had told me I could play the IPL.
 
"During the last IPL league match against Mumbai Indians on the 22nd, I again fell and this pain aggravated.
 
"On 23rd, I got the MRI done in Mumbai and got the report the next day.
 
"On 25th, the day of the crucial playoff match, my physio cautioned me not to play, but I wanted to play for Kolkata Knight Riders because of personal reasons.
 
"This was the first time in 3 years that KKR had entered the playoff stage and I did not want to miss that as its captain.
 
"After the match, I was asked at the press conference about my injury, and I said I will discuss with my physio.
 
"So, I did not let down Team India which I was to captain for the West Indies tour. Had I wanted to hide my injury, I would not have sent my MRI report to BCCI on the 25th.
 
"The fact is, I was not injured during the IPL, I got the injury on 22nd and the physio told me to take 4 to 6 weeks rest, which was essential. But some people did try  to unnecessarily create a controversy out of this."
 
Gambhir revealed that he had an excellent rapport with his senior opener Virender Sehwag and that's why their opening partnership had always yielded results.
 
"Sehwag has been gifting me bats, and I always score well with those bats.  It's kind of a lucky charm", said Gambhir.
 
The Team India opener disclosed that he wanted to help the Indian armed forces in any way it desired.
 
"Had it not been for cricket, I would have been in the Army today. For me, army is my first passion. I want to voluntarily support any association connected with the Army.  Our jawans in the Army, Navy and Air Force are our real heroes, because they are protecting us."
 
Gambhir described Shaheed Bhagat Singh as his icon. "I do not read books fully, but I have finished an entire book on Bhagat Singh."
 
On his historic 97 runs in the World Cup final in Mumbai, Gambhir said: "I regret and shall continue to regret for the rest of my life that I could not make the three runs to complete my ton. But then, had I made my 100, India could have lost, like Sri Lanka did, despite Mahela's century.
 
"From the World Cup victory, I came to realize it is one sport - cricket - which united this country. There were so many scams going on, but the World Cup helped us realize our dream", said Gambhir.
 
Do not miss Gautam Gambhir in Rajat Sharma's Aap Ki Adalat to be telecast on India TV on  June 16 (Saturday) at 10 am and on June 17 (Sunday) at 10 am and 10 pm.