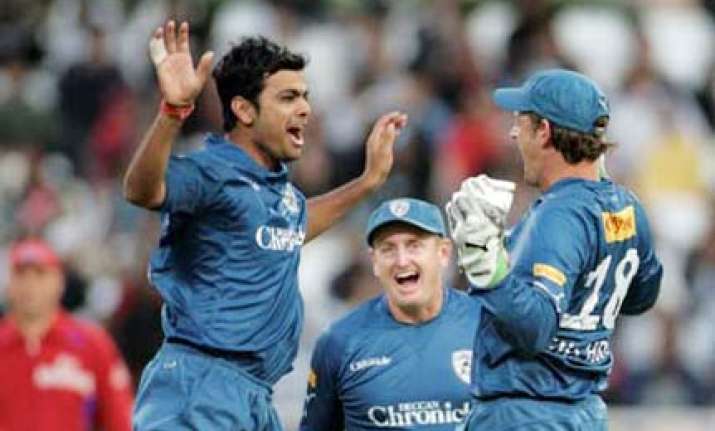 As the Board of Control for Cricket in India (BCCI) prepares for projected earnings of $1 billion in IPL's third season, taxmen are looking for their share of the pie, having already made Rs 110 crore, says a Times of India report.
The Central Board of Direct Taxes (CBDT) has set up a watchdog headed by a chief commissioner in Mumbai to keep a close eye on IPL transactions. he Rs 110 crore in the first 15 days of IPL-3 is from tax deducted at source on payments made by the organizer and its franchisees.
A senior CBDT official said by the end of the IPL-3 season, the department expects to mop up close to Rs 200 crore in direct taxes from games related revenue.
From service tax, the Central Board of Excise and Customs has estimated an income of more than Rs 100 crore — that could take net revenue collection from IPL-3 close to Rs 300 crore. hree meetings of the I-T committee on IPL have been held in Mumbai where all receipts and payments by both BCCI and its franchisees were discussed.
Till date, BCCI has paid Rs 167 crore during the fiscal year 2009-10, ending March 31. Its payment during IPL-3 alone has been to the tune of Rs 66 crore. The four franchisees that are assessed in Mumbai have made a payment of Rs 25 crore during the IPL. The department is yet to get a detailed account on the payments made by four other franchisees that are assessed in Chennai, Hyderabad, Delhi and Bangalore. CBDT has asked chief commissioners of these jurisdictions to report payments made by these franchisees.
In IPL-1, the government had earned Rs 90 crore through TDS while BCCI had refused to pay tax on its income as it claimed to be a charitable organization. However, the I-T department disputed the sports body's claims and said any commercial activity such as the IPL needs to pay tax on income.
Currently, BCCI's plea seeking exemption on its income is pending before a tax tribunal. Though IPL-3 is likely to generate close to Rs 4,500 crore as estimated by its commissioner Lalit Modi, the I-T department hopes revenues from related activities as advertisements on television and earnings by sports companies may be at least half as big as the direct revenue of the IPL tournament. The games broadcaster, Sony, is likely to generate income upwards of Rs 800 crore.