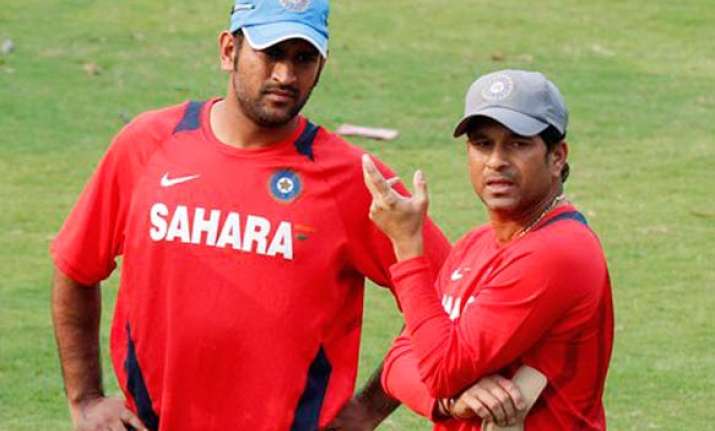 Bangalore, Feb 26: It is being touted as the big Group B clash of the World Cup but Indian captain Mahendra Singh Dhoni today said tomorrow's match against England is no more or no less crucial than any other game his side would play during the event.
"What is important is for each and every game, we prepare likewise whether its Bangladesh or England or Australia because that is what I feel is important rather than giving that one game extra importance. It is very important to have same preparation level throughout the tournament," Dhoni said.
"I think it is a crucial game but at the same time the preparation level remains the same," he added.
Asked whether India would start favourites against England, Dhoni said no such tags matter in the final analysis.
"In every game you have to start from scratch, a fresh start which means you have to do all the good things that you have done in the past. A lot has been talked about carrying the momentum but every game is different and you have to start well," he said.
England captain Andrew Strauss feels hard-hitting batsman Kevin Pietersen would be a key player tomorrow but Dhoni said India's strategy would be team-centric instead of being individual-centric.
"It is not about one individual. When you are preparing for a match, you have to have strategies for the whole squad. At least you have to have plan for the eleven members. Of course there are players in each squad, who can change course of the game.
"But I still feel its important to have strategy for the whole team because it will be very tough if you are targeting one individual. As in any international team most of the players are very talented," he said.
Dhoni revealed pacer Ashish Nehra is a doubtful starter for tomorrow's match. "As per the physio's report, he is 80 per cent fit at the moment."
The Indian captain said holding nerves would also be crucial in the crunch match.
"We are not celebrating yet, that's for sure. Of course, we had a good start in the opening game, where we batted really well and after that spinners did a good job in the middle overs. Again, I think it's about the team that will start well and hold the nerves for a consistent period of time," he said.
On the pressure of playing in front of home fans, Dhoni said he learnt to handle it long back as none of India's matches are without pressure.
"There is one thing with the Indian cricket team. Since I made my debut in 2004, I have never played a series where we are not under pressure, whether it might be winning the game easily or playing against the tough opponents.
"Most of the guys are used to it especially being part of the
IPL
as you have to perform under pressure for the franchise. Pressure goes hand-in-hand with the Indian team," he said.
Dhoni hinted India might not play two spinners in tomorrow's game.
"It is a tough one because if you play just two seamers, your bowling becomes quite similar. Of course you have variations when it comes to spin department but if you are playing three seamers and one spinner then the part-timers can also do the job. Of course it is tempting and challenging decision to make. So, let us see and hopefully the best eleven will get selected," he said.
On whether he expects Sachin Tendulkar to get a big score here, Dhoni said "When it comes to Sachin you always expect big things. As far as his practising is concerned he always does it in a different way. If he needs to put an extra effort then he really does that and he does not leave the practice arena until he is happy with himself. As scoring big runs are concerned he has been doing it for the last twenty years."
Asked about the pressure of captaining a team, which has been touted as the favourite, Dhoni said, "When you are part of the Indian cricket team and if you are the captain, it's a job filled with extra responsibility."
"Pressure always comes when you start playing for your country, first you want to seal a permanent place and then be consistent. When you are part of the team the pressure follows you like shadows, you just have to look for positives and give your best," he added.
Dhoni said the recent incident of police lathicharge on fans seeking tickets for the match was unfortunate.
"When you are talking about ticketing aspect it is a difficult one as we have no clue how it works. I would be doing injustice if I speak on that but it is unfortunate that some of the fans had to go through it.
"But again when the Indian team don't perform you have to go through a lot of criticism. So, I feel that it's part and parcel of the game," he said. PTI