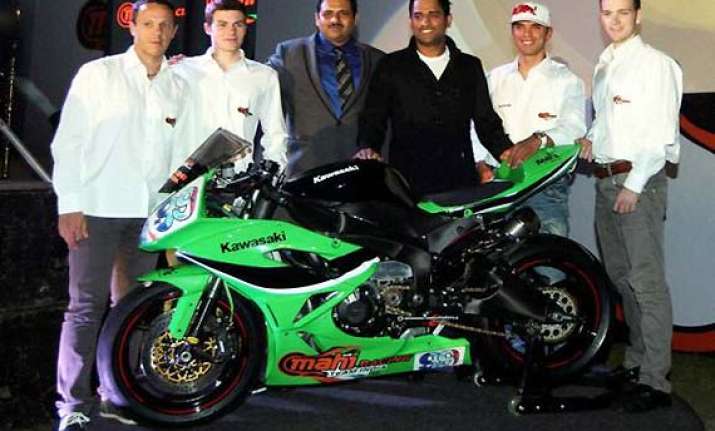 Hyderabad, Nov 22: Mahi Racing Team India, launched by skipper Mahendra Singh Dhoni, is planning to set up racing academies in Delhi and South India, even as it aims to win the 2013 season of World Superbike Championship.
"Dhoni has already announced plans to start racing schools. Once the 2013 race season is over we plan to set up racing academies in Delhi and also one in South India," Mahi Racing Co-owners, Telugu film actor Akkineni Nagarjuna and Nandish Domlur, told reporters here today.
N-Motorsport, promoted by Nagarjuna, his son Naga Chaitanya and Domlur, had earlier announced a partnership with Mahi Racing.
Dhoni's bike racing team, which will compete through the full season in 2013 beginning at Phillip Island in Australia, has the line-up of triple world champion Kenan Sofouglu and former world champion Fabien Foret.
Signed by Kawasaki as its official factory team, with technical direction in the hands of Andrew Stone, Mahi Racing riders will be testing the Ninja ZX-6R bikes.
"We will be a strong and competitive force in World Superbike championship and will be the team to watch the next season," Domlur said.
"We are keen to groom Indian bikers and provide them a good platform to perform at the global level," Nagarjuna said.  "Our endeavour is to promote this sport in India and identify the talent and look forward to have Indian riders in the next 3-5 years."
The Telugu superstar said it was out of his passion and interest in motorbike racing that he joined hands with Mahi Racing. "I have a lot of interest in bike racing." "Our goal is to build awareness about motorsports and raise it to the level of cricket, badminton, tennis and other sports in India."
Nagarjuna pointed out that Hyderabad has already produced tennis and badminton stars and "we would like to see a racing star from here".