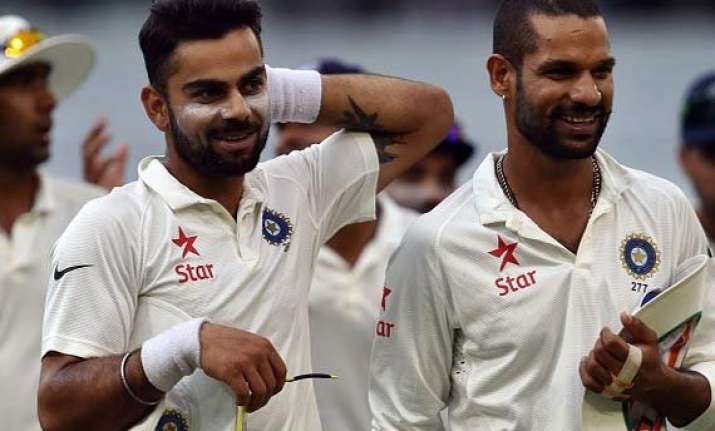 New Delhi: The "unrest" in the Indian dressing room during the second test revealed by the skipper MS Dhoni, was reportedly due to a row between Shikhar Dhawan and Virat Kohli.
Indian batting line up was torn apart in the first session of the fourth day and the visitors could only set the target of 128 which Australia chased down with 4 wickets in hand to trail 0-2 in the 4 test series.
In a post match press conference, Dhoni revealed about the there was some "unrest" resulting from "lack of communication" with the in-form Virat Kohli before batting collapse.
The drama inside the dressing room was triggered by overnight unbeaten batsman Shikhar Dhawan injuring his elbow during a practice session but revealing the extent of discomfort just before the day's play was to start.  The Indians had to send Virat Kohli ahead of him but the batsman was informed of the change less than seven minutes before the visitors took the field.
According to the sources, Kohli was reportedly furious on the fact that he had to start the proceedings for the day for India ahead of Dhawan, and lashed out at the left-handed batsman after getting out cheaply.
But the atmosphere of the dressing room got heated up when Dhawan too snapped back by saying that he takes pride in playing for the country and no way would he fake an injury. Reportedly, Dhawan also said he would rather sit out if he is not performing, than doing so.
Ravi Shastri, team director of Indian cricket team, intervened to calm things down which soon got a panic wave as the team lost three quick wickets within a span of 11 balls. However, Dhawan came out to bat after the fall of the seventh wicket and went on to score 81 runs, for a losing cause.
The third Test of the series is scheduled to start from December 26 at MCG.