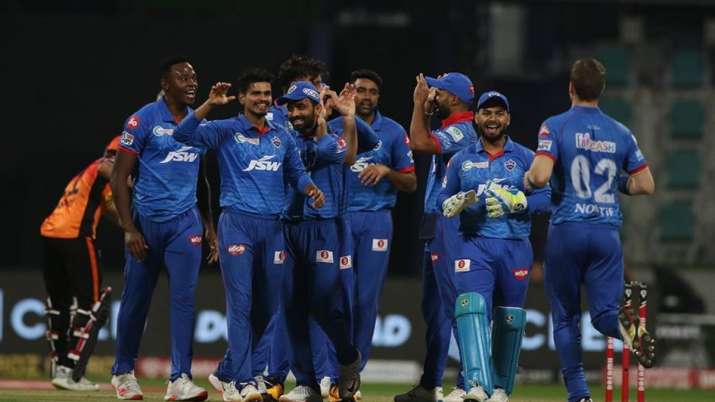 Highlights, Delhi Capitals vs Sunrisers Hyderabad IPL 2020 Qualifier 2
DC vs SRH: 
Hello and welcome to the live coverage of
IPL
2020 Qualifier 2 Delhi Capitals vs Sunrisers Hyderabad Live on indiatvnews.com. The winners secures a place in the final of IPL 2020 when they face Mumbai Indians. Delhi Capitals had lost to MI in the Qualifier 1 of the tournament, while Sunrisers Hyderabad defeated Royal Challengers Bangalore in the eliminator to proceed further in the tournament. Delhi Capitals faced a humbling defeat and one can expect significant changes in the side as they face a do-or-die match against SRH, who have beaten them on both the occasions in the current edition. SRH, meanwhile, are upbeat after they produced an all-round performance to beat RCB. Here, you can find ball-by-ball updates from IPL 2020 Qualifier 2 Delhi Capitals vs Sunrisers Hyderabad Live Online on indiatvnews.com.
Highlights, Delhi Capitals vs Sunrisers Hyderabad IPL 2020 Qualifier 2: DC (189/3) beat SRH (172/8) in Abu Dhabi, enter final
23:17 IST: Delhi Capitals enter maiden final. What an effort from Delhi Capitals. The wicket of Wiliamson was the game-changer, but Kagiso Rabada's 19th over put an end to all hopes of SRH. 
23:14 IST: Kagiso Rabada takes the purple cap again, ending the game with 29 wickets. Jasprit Bumrah has 27 wickets. It all comes down to the final! 
23:14 IST: Anrich Nortje to bowl the final over.
23:11 IST: Rabada to Goswami, OUT! Third wicket in the over! Goswami goes for the pull shot, but again, no timing. Caught at deep midwicket.
23:09 IST: Rabada to Rashid, OUT! Caught again! This time on the long-on. No timing in the shot and an easy catch for the fielder. Rabada on a hat-trick!
23:08 IST: Rabada to Samad, OUT! Crossed-seamed and litle full this time but Samad fails to generate much power here. Caught by substitute Keemo Paul at long off. 
23:07 IST: Rabada to Samad, SIX! This has gone a long way. Poor delivery from Rabada -- a full toss -- and Samad simply guides it away over square leg.
23:06 IST: 30 needed off the final 12 balls. Kagiso Rabada to bowl the 19th over.
23:05 IST: Ashwin to Rashid, FOUR! Ashwin provides a bit of room and Rashid exploits it. Goes for the off side this time and gets a four square of long-off.
23:04 IST: Ashwin to Rashid, SIX! Rashid finds the distance! Goes over the long off boundary and times it just well to clear the man.
23:00 IST: Stoinis to Williamson, OUT! IS THAT THE MATCH? Williamson takes the aerial route again but fails to clear the deep point boundary this time. 
22:59 IST: Stoinis to Williamson, FOUR! This is absolutely brilliant from Williamson. The batsman is finding space with ease. On length, and Williamson places it brilliantly towards deep backward point.
22:56 IST: Shreyas Iyer looks in pain, as he grabs his left shoulder almost immediately after throwing the delivery from long-off. Hopefully it's not a serious injury.
22:52 IST: Timeout! SRH needs 51 runs in 24 balls. Williamson has brought SRH well and truly back in the game, and Abdul Samad has pitched in well with some good hits as well. Match poised for an exciting finish.
22:50 IST: Ashwin to Williamson, FOUR! Makes space for himself but Ashwin bowls wide. Almost stretches himself, Williamson, and the ball remains in air for quite some time but falls in space. Races towards square boundary.
22:46 IST: Nortje to Samad, FOUR! Is this the over which changes the game? Another slow ball and on the same line, Samad goes for a drive but gets a thick edge. The ball lofts over third man for a boundary.
22:45 IST: Nortje to Samad, FOUR! Nortje keeps the line wide off off-stump, bowls a little slower but Samad generates power to cut it square.
22:44 IST: Nortje to Samad, SIX! Samad joins the action! Dispatches it with a magnificent pull over deep square leg. 
22:41 IST: Axar to Williamson, FOUR! Wanted to drive it through covers but gets a thick outside edge and the ball races behind the wicketkeeper for a four.
22:40 IST: Axar to Williamson, 1 run, 50 for Williamson! Another important innings from the New Zealand skipper but the job is far from done yet. Williamson needs to stay till the end.
22:34 IST: Stoinis to Williamson, FOUR! Full toss down the leg side and Williamson sends it away over fine leg boundary. This one was too easy for the batsman. 100 comes up for SRH.
22:32 IST: Axar to Williamson, FOUR! Axar bowls a lot wider, anticipating that Williamson would come down the track again. However, the Kiwi batsman positions himself to play the square cut and successfully pulls it off. Excellent batting.
22:30 IST: Axar to Holder, OUT! Holder tries to come down the track too, but couldn't get the timing right. Holder is caught at long-on. Big wicket!
22:29 IST: Axar to Williamson, SIX! Comes down the track again, and this time, he hits a lot more straight.
22:26 IST: Rabada to Williamson, SIX! That's an absolutely brilliant pickup shot. Takes advantage of Rabada pace as he bowls the length delivery, and dispatches it over the midwicket boundary for a huge six!
22:20 IST: Dubey to Williamson, SIX! Comes down the track, makes space for himself as the ball comes inside with the flight and dispatches the delivery for a six over long-on!
22:12 IST: Axar to Williamson, FOUR! Need more of those, SRH. Williamson goes towards the fine leg.
22:11 IST: A similar start from Kane Williamson and Jason Holder as the one against RCB in the eliminator. The difference? Target here in 190, not 131.
22:03 IST: Nortje to Holder, FOUR! Goes on the backfoot and cuts it square. Holder gets his first boundary of the innings.
21:58 IST: Stoinis to Pandey, OUT! TWO IN AN OVER! Throws it away, Manish Pandey. This one is slightly full, not ideal for the shot Pandey decided to play. He lofts it towards mid-on but fails to clear Nortje.
21:55 IST: Stoinis to Garg, OUT! BOWLED! A little full from Stoinis and Garg commits to play the drive towards long-on. Completely misses as the ball comes inside with the seam.
21:54 IST: Stoinis to Pandey, FOUR! Pulls it away! Pandey has made a strong start. Length delivery and the batsman get into the position and sends the ball to square leg boundary.
21:47 IST: Nortje to Garg, SIX! Short-pitched from Nortje and Priyam Garg hooks it over the long leg boundary! 
21:45 IST: Nortje to Pandey, FOUR! A little full from Nortje and Pandey has lofted straight over the bowler's head! Good start to the over from the batsman.
21:41 IST: Rabada to Pandey, FOUR! Wide of off stump and Pandey guides it past mid-off for his first boundary.
21:39 IST: Rabada to Warner, OUT! BOWLED! WHAT A YORKER! Onto the pads and deflects towards the stumps! Rabada gets the wicket off his first delivery!
21:36 IST: Ashwin to Garg, SIX! Gets down on one knee and smacks it over midwicket.
21:34 IST: David Warner and Priyam Garg open for SRH. Ravichandran Ashwin to bowl the first over.
21:14 IST: DC finish on 189/3 IN 20 overs! Sunrisers Hyderabad made a good comeback after dismissing Shikhar Dhawan, as DC batsmen failed to score a boundary in the last two overs. Still, Shimron Hetmyer gave DC a late boost with an unbeaten 42 off just 22 deliveries.
21:09 IST: Sharma to Dhawan, OUT! An impressive innings comes to an end. Dhawan out on 78 off 50 deliveries. The left-hander goes for a shot on the leg again but misses the delivery. Big appeal for LBW and the umpire raises the finger. No review from Dhawan.
21:08 IST: Sharma to Dhawan, DROPPED! Rashid Khan has dropped the catch! It has been that sort of a day for SRH where nothing has gone right so far. Cross-seamed delivery and Dhawan smacks it towards deep square leg for a single.
21:08 IST: STAT ALERT: Dhawan has reached 600 runs in IPL this year. Second player after KL Rahul to score 600 runs.
21:06 IST: Holder to Hetmyer, FOUR! That's a perfect placement. Hetmyer has found the gap between deep midwicket and long on, where no fielder from either position could reach the ball in time.
21:04 IST: Holder to Dhawam, FOUR! Gabbar joins the party. Attempts a yorker but this goes a full toss. Dhawan uses his wrists to flick it past deep point.
21:02 IST: Holder to Hetmyer, FOUR! DROPPED! How costly is this going to be? Holder goes even more wide and Hetmyer fails to connect it well. Nadeem stretches ahead as much as he could at deep square leg but fails to stop the boundary.
21:01 IST: Holder to Hetmyer, FOUR! Into the slot and very wide outside off stump. He has slapped it over mid-off. What a start!
20:56 IST: Natarajan to Hetmyer, SIX! Natarajan goes for a short ball way outside off and Hetmyer opens his arms, goes over square leg for a brilliant hit! 150 up for DC.
20:50 IST: Nadeem to Hetmyer, 1 run. Quick and full. Hetmyer readjusts but could only guide it past cover for a single. 12 off the over.
20:49 IST: Nadeem to Hetmyer, FREE HIT! Already 11 off this over..
20:48 IST: Nadeem to Hetmyer, FOUR! Slower and Hetmyer waits for the delivery to smack it over covers. Good start from the Windies batsman.
20:43 IST: Holder to Iyer, OUT! This was a gift. Holder keeps it full and Iyer looks to clear the mid-off but there is no timing on the shot. Gives an easy catch to Manish Pandey at mid-off.
20:42 IST: Holder to Iyer, DROPPED! It was a very difficult chance for Williamson at covers but he does save two runs.
20:37 IST: Timeout! The run-scoring has slowed after Stoinis' wicket, but DC still look to be in driver's seat for a strong finish here. Shreyas Iyer looks set and should be going for the biggies as we approach the final phase of the first innings.
20:34 IST: Nadeem to Iyer, FOUR! Placed it towards cow corner and the two fielders at long-on and deep midwicket chase the ball, got stuck in confusion and eventually let the ball pass without an effort. Nadeem not happy.
20:28 IST: Shikhar Dhawan (6) has now equalled the most 50+ scores for a Delhi franchise in a single season! He equals Rishabh Pant, who has scored the same number of 50+ scores in the 2018 season.
20:20 IST: Nadeem to Dhawan, SIX! 50 FOR DHAWAN! What a way to bring it! Dhawan has slapped it over the cow corner. A little too full from Nadeem.
20:14 IST: Rashid to Stoinis, OUT! BOWLED! That's a poor choice for a shot. Rashid pulls back the length a little, a conventional leg-spin delivery and Stoinis attempts to flick it without any significant foot movement. Fails completely.
20:12 IST: Natarajan to Dhawan, FOUR! Natarajan attempts a yorker again but fails to nail this one. Into the slot and Dhawan has flicked it to perfection towards the midwicket boundary.
20:04 IST: Rashid to Dhawan, OVERTHROW! SIX RUNS! This was short from Rashid and Dhawan pulls it towards cow corner. The batsmen go for a risky second and Rashid collects the ball at mid-pitch. However, his throw to wicketkeeper was nowhere near the stumps and the ball races towards boundary.
20:04 IST: Rashid Khan into the attack. This will be an interesting battle.
20:01 IST: Timeout! What a start this has been. Stoinis at the opening order has worked brilliantly for the DC so far, as they've scored their highest total in powerplay in this edition.
19:57 IST: Nadeem to Dhawan, FOUR! Towards deep fine leg! This is excellent approach from Dhawan. Had already decided to play fine here and finds success.
19:56 IST: Nadeem to Dhawan, SIX! WHAT A SHOT! The 'Gabbar' has well and truly joined the party. That is a massive hit! Gets room outside off and Dhawan has slapped it over the long-on boundary.
19:53 IST: Sharma to Dhawan, FOUR! MISFIELD! Dhawan plays the flick and Natarajan should've had no difficulty in stopping it at fine leg. However, the ball goes past his hands. Poor fielding, SRH feeling the pressure here.
19:52 IST: Sharma to Dhawan, FOUR! A trademark square cut for Shikhar Dhawan. Finds the gap between point and fly flip and the ball races away for a four.
19:50 IST: Holder to Stoinis, FOUR! Cuts it superbly between backward point and fly slip. Excellent start from Stoinis, this.
19:49 IST: Holder to Stoinis, SIX! Holder goes a little full but bowls in the slot. Stoinis, however, was ready and has flicked it over midwicket! First six of the game.
19:48 IST: Holder to Stoinis, FOUR! SLAMMED! Charges down the track and slaps the short-pitched delivery straight of long-on. Stoinis doing his job well so far. 
19:47 IST: Holder to Stoinis, FOUR! Smacked it hard over towards deep midwicket. A brilliant pull shot from the Aussie.
19:44 IST: Sharma to Stoinis, FOUR! Make that two in a row! Goes towards the leg side again, this time a lot finer.
19:44 IST: Sharma to Stoinis, FOUR! Oh, this is going to sting Sandeep Sharma. Right after the drop, a powerful flick towards midwicket.
19:43 IST: Sharma to Stoinis, DROPPED! Warner had placed the fielder at silly-mid off because he knew Stoinis likes to play on the up. This was almost in Holder's grasp but he fumbles and drops. 
19:39 IST: Holder to Dhawan, FOUR! Comes down the wicket and cuts a short-pitched delivery square! Good start from the left-hander.
19:39 IST: Marcus Stoinis' stats as opener in T20s (Last 30 innings)
Runs: 1251 
Average: 52.10
19:37 IST: Jason Holder to bowl from the other end.
19:35 IST: Defensive approach in the first over by both, Stoinis and Dhawan. More importantly, no wicket for Delhi Capitals in the first over. They lost two in the last match!
19:28 IST: Shikhar Dhawan and Marcus Stoinis open the innings for Delhi Capitals. Sandeep Sharma bowls the first over for SRH.
19:25 IST: Ricky Ponting (DC coach): I think my mood goes up and down more than the players sometimes (smiles). Obviously we started so well. At one stage we were sitting with 7 wins and 2 losses I think. Over the last couple of weeks we have not been able to quite find our best cricket, haven't been able to put top order partnerships and we have been a little bit off with the execution with the ball. We have talked about those things. They boys have worked hard, hopefully everything falls in place.
19:16 IST: Will be interesting to see if the Capitals opt to open with Stoinis or go with the traditional pair of Dhawan-Rahane. Stoinis played an impressive knock against Mumbai Indians - but will Ponting and co. be inclined to experiment with the combination at this point of the tournament?
19:10 IST: No Prithvi Shaw for Delhi Capitals against Sunrisers. 
19:08 IST: PLAYING XIs
Delhi Capitals: Shikhar Dhawan, Ajinkya Rahane, Shreyas Iyer(c), Rishabh Pant(w), Shimron Hetmyer, Marcus Stoinis, Axar Patel, Ravichandran Ashwin, Praveen Dubey, Kagiso Rabada, Anrich Nortje
Sunrisers Hyderabad: David Warner(c), Shreevats Goswami(w), Manish Pandey, Kane Williamson, Priyam Garg, Jason Holder, Abdul Samad, Rashid Khan, Shahbaz Nadeem, Sandeep Sharma, T Natarajan
19:07 IST: David Warner: We would have bowled first, so happy with the toss. You can see a few indentations on the pitch too and hopefully we can take some early wickets in the powerplay. We are supposed to win close games, and that was a kick in the backside to perform and we have performed well since then. Everyone knows their roles in the team. It's a new wicket, new game, different kind of pressure. We have no changes (from the side which played against RCB).
19:04 IST: Wriddhiman Saha remains out for the match against DC.
19:03 IST: Shreyas Iyer: We had two outings against SRH and I think this is a better outfield to bat against them. Putting on a good total would be a responsibility, and it's a good surface too. You have to take the positives, and do the homework right and I think we have done that well. Rashid is an amazing bowler who can change the game. We have to be aware of him and play smartly. Pravin Dube and Hetmyer come in. It's important to keep things simple, and it's only a matter of executing our plan today.
19:02 IST: Pravin Dubey and Shimron Hetmyer in for Delhi Capitals.
19:01 IST: TOSS UPDATE! Delhi Capitals win toss, opt to bat against Sunrisers Hyderabad in Abu Dhabi
18:55 IST: We're five minutes away from the toss!
18:40 IST: Will there be changes in the DC XI after the loss against MI?
18:25 IST: 8-0-21-6
This is Rashid Khan's record against Delhi Capitals in this edition so far. Another match-winning performance from the Afghan spinner coming up?
18:10 IST: Shikhar Dhawan's last few innings have been either bang or bust. The opener has registered four ducks in this season, but also scored two centuries and played a half-century knock in DC's final game of the league phase. Will he step up against his former side?
18:00 IST: Hello and welcome to the live coverage of IPL 2020 Qualifier 2 Delhi Capitals vs Sunrisers Hyderabad on indiatvnews.com. The winner enters the final, the loser gets knocked out.
Brief Preview: In pursuit of booking a berth in the final and moving closer to the coveted IPL trophy, Delhi Capitals (DC) and SunRisers Hyderabad (SRH) are set to lock horns in the second Qualifier of the on-going IPL 2020. It has been a contrasting tale of both these sides, especially in the latter stage of the tournament. While the Capitals have been struggling to register a win, SRH have peaked at the right time. [BRIEF PREVIEW]