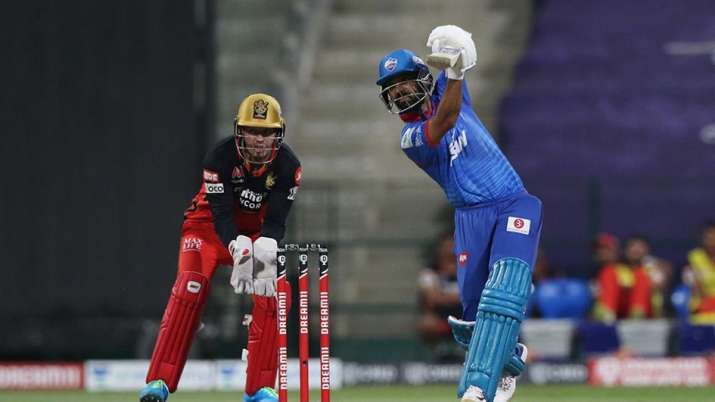 Highlights, Delhi Capitals vs Royal Challengers Bangalore IPL 2020
DC vs RCB: 
Hello and welcome to the live coverage of
IPL
2020 Match Delhi Capitals vs Royal Challengers Bangalore on indiatvnews.com. The winner tonight will secure a berth in the playoff stage, becoming the only second side after Mumbai Indians to proceed to the next round. The Delhi Capitals have lost their last four matches and
Virat Kohli
's men will aim to inflict another defeat to the side which is down on morale. The loser of the game will have to wait for the result of the league stage's final game, MI vs SRH tomorrow to find if they qualify for the playoffs. Here, you can find ball-by-ball updates and Live Cricket Score Delhi Capitals vs Royal Challengers Bangalore IPL 2020 Live Match Online on indiatvnews.com. 
LIVE STREAMING
Highlights, Delhi Capitals vs Royal Challengers Bangalore IPL 2020: DC (154/4) beat RCB (152/7) in Abu Dhabi
22:52 IST: Siraj to Pant, FOUR! DELHI CAPITALS WIN! Delhi Capitals finish second in the IPL table. RCB finish third and qualify for the playoffs too. 
22:48 IST: Siraj to Stoinis, SIX! Stoinis targets the square boundary and goes for the maximum. Kohli clearly doesn't look happy.
22:44 IST: UPDATE: BOTH DC AND RCB HAVE QUALIFIED FOR THE PLAYOFFS.
22:41 IST: Sundar to Rahane, OUT! Rahane plays the reverse-sweep and gives away the wicket. Rahane fails to adjust with the sudden bounce and finds an upper edge. Finds the fielder at fly slip.
22:35 IST: Ahmed to Iyer, OUT! There was no need for the aggressive shot here. Ahmed gives width but Iyer fails to connect it properly. Finds Siraj at long-on.
22:31 IST: Timeout! Delhi Capitals are close to securing the second place and setting up a showdown with Mumbai Indians in the first playoff. RCB need to ensure they don't concede the remaining 25 runs in the next 9 deliveries to ensure their NRR stays ahead of KKR's, which shouldn't be difficult.
22:27 IST: Ahmed to Rahane, 1 run, FIFTY FOR RAHANE! Ajinkya Rahane brings up is 28th fifty in IPL. What a time to bring it, too. The scenario for this chase has been perfect for someone like Rahane, who relies more on building the innings before going aggressive.
22:24 IST: REMINDER: If Delhi Capitals complete this chase in 17.3 overs or less, RCB's Net Run Rate will fall below Kolkata Knight Riders' (currently 4th).
22:18 IST: Ahmed to Dhawan, OUT! Plays the paddle sweep but fails to time it. Finds the top edge and caught at fine leg. Big wicket for RCB.
22:17 IST: Ahmed to Rahane, SIX! CHARGES DOWN THE TRACK! Rahane comes down the pitch and smacks the ball over bowler's head for a maximum.
22:15 IST: Udana to Rahane, FOUR! MAJESTIC! Wide outside off and Rahane goes on the front foot and slapped the ball over covers. The Capitals are cruising here.
22:12 IST: Udana to Dhawan, FOUR! FIFTY FOR DHAWAN! Dhawan returns to form -- and fifty, in style. 'Gabbar' reaches his half-century with a flick of the wrist towards deep fine leg.
22:07 IST: Ajinkya Rahane and Shikhar Dhawan are dealing in singles and doubles at the moment, keeping the scoreboard ticking. Good running between the wickets too, which keeps the pressure on RCB.
22:00 IST: Chahal to Dhawan, FOUR! A similar boundary to Rahane's against Chahal in his previous over. In line of stumps but Dhawan, like Rahane, was ready for the sweep shot. To deep square leg again
21:55 IST: Chahal to Rahane, FOUR! Goes for the sweep again. Not a bad ball but the shot is Rahane's strength. Marginally outside off and Rahane was in position to play the shot. Sends it to deep square leg.
21:50 IST: Timeout! Delhi Capitals have made a strong start despite the early blow. Rahane has started strongly and Dhawan is finding his groove after poor outing in the last three games.
21:48 IST: Udana to Rahane, FOUR! Slower deliery and the ball was in air for quite some time. Beats the mid-off and the ball races towards the long-off boundary.
21:46 IST: Udana to Rahane, FOUR! WHAT A SHOT! A little short from Udana and outside off, and Rahane goes on the backfoot and punches it towards deep cover.
21:42 IST: Sundar to Rahane, FOUR! Rahane has sweeped it past backward square leg. The ball remains in the air for some time but beyond Padikkal's reach. 
21:37 IST: Siraj to Dhawan, FOUR! A little overpitched from Siraj and Dhawan guides it away past mid-off. 
21:31 IST: Morris to Dhawan, FOUR! Morris gives Dhawan the width and the player intends ti cut it square, finds a thick outside edge and the ball races away to third man boundary.
21:28 IST: Siraj to Shaw, OUT! WHAT A COMEBACK! Excellent seam movement for Siraj on the occasion. Shaw completely beaten by the movement as he plays a defensive shot without any noticeable feet movement. 
21:28 IST: Siraj to Shaw, FOUR! Full again and on the pads. Shaw plays the flick towards deep midwicket. This is too easy for the opener.
21:26 IST: Siraj to Shaw, FOUR! Fuller on length and Shaw plays a wristy shot towards deep square leg. Confident start from the youngster.
21:21 IST: Morris to Dhawan, FOUR! Wide full toss and Dhawan has smacked it towards the cover boundary. Wha a start!
21:18 IST: The latest permutations and combinations for playoff qualification:
21:06 IST: INNINGS BREAK! Royal Challengers Bangalore will be rueing the regular fall of wickets -- especially after Padikkal was dismissed straight after his half-century. AB de Villiers (35) and Shivam Dube (17) did play a handy role to steer RCB's total past 150, but DC bowlers made a good comeback to put a halt to RCB's quick flow of runs.
21:02 IST: Nortje to Udana, OUT! No connection for Udana. Intends to pull it but finds an upper edge, the ball sails into the nightsky but doesn't find the distance. No error of judgment from Iyer now.
21:01 IST: Nortje to Udana, FOUR! Just about clears Shreyas Iyer at mid-off. Iyer fails to judge the distance of the distance at the position.
20:59 IST: Nortje to de Villiers, RUN OUT! AB couldn't connect it this time. A slower full toss and the batsman had to go to the bottom of the ball but fails to generate much power. Gets run-out at striker's end while trying to take a second as the ball goes towards long-on.
20:57 IST: Rabada to Dube, OUT! Pulls it again but this time, he finds Ajinkya Rahane at deep square leg. RCB will be happy with Dube, though. He has done his job.
20:55 IST: Rabada to Dube, FOUR! Shivam Dube is only dealing in fours and sixes here. Rabada offers width and keeps it a little full and Dube has lofted it over the covers.
20:54 IST: Rabada to de Villiers, SIX! SMACKED IT! Rabada aimed for a yorker here but to no avail. A leg-high full toss and AB pulls it away towards deep square leg
20:52 IST: Sams to Dube, FOUR! Slower delivery and a little short and Dube waits for it before pulling it hard toweards deep midwicket.
20:51 IST: Sams to Dube, SIX! Sams intended for a yorker but fails to nail it. Dube gets a full toss instead and he has flicked it between square leg and midwicekt for a maximum.
20:49 IST: Sams to de Villiers, FOUR! Poor delivery. Outside off from Sams and AB has slammed it hard over covers.
20:43 IST: Nortje to Morris, OUT! Game-changing over, this. Nortje pitches it short, but Morris intended to cut it square. Gets a big outside edge and Rishabh Pant takes the catch behind the wicket.
20:40 IST: Nortje to Padikkal, OUT! BOWLED! Virat Kohli isn't happy at all and he has a reason. 9 runs had come off this over in three deliveries already but Padikkal opts for a six over covers. Makes space for himself but fails to connect.
20:38 IST: Nortje to de Villiers, SIX! He hadn't timed the previous ball but this one is bang on target. Nortje gives width and in the slot and AB opens his arms, clears Iyer at mid-on.
20:34 IST: Sams to Padikkal, 2 runs. FIFTY FOR PADIKKAL! The youngster takes the risk and lofts the ball over cover but it falls in no man's land.
20:33 IST: Sams to Padikkal, FOUR! Brilliantly flicked from Padikkal on the occasion. Much needed boundary.
20:22 IST: Ashwin to Kohli, OUT! WHAT A CATCH! Ashwin dismisses Virat Kohli for the first time in 126 balls in the IPL and what a time to do it! Kohli looked dangerous, goes for the aerial hit over deep square leg but finds Stoinis.
20:17 IST: Axar to Kohli, SIX! This is going to sting Axar, Nortje more. Kohli finally connects the shot in the same direction where Nortje dropped the catch. Clears Nortje at long-on.
20:14 IST: Rabada to Kohli, FOUR! What a shot! Outside off and in the slot, and Kohli plays one of his trademark cover drives.
20:10 IST: Axar to Kohli, DROPPED! Oh my word, how costly is that drop going to be? Virat Kohli steps out and hits a length ball towards long-on. It was an otherwise regulation catch for Nortje but he fumbles and drops.
20:07 IST: Strategic Timeout! It has ben a good start for Delhi Capitals who are keeping RCB's run-flow in check. Devdutt Padikkal is keeping the pressure on the bowlers, however, and Virat will be hoping to join the party.
20:00 IST: Ashwin to Padikkal, FOUR! Cuts it majestically towards long leg boundary! Padikkal looks in good touch tonight.
19:57 IST: Nortje to Padikkal, FOUR! Marginally outside off and on length, and Padikkal simply places it away to perfection.
19:52 IST: Rabada to Padikkal, FOUR! WHAT A SHOT! Padikkal slams it towards the midwicket boundary.
19:46 IST: Rabada to Philippe, OUT! Philippe goes for the aerial route but fails to connect it completely. He finds Prithvi Shaw at point.
19:39 IST: Sams to Philippe, FOUR! First four in the 14th delivery. Short-pitched and width outside off and Philippe pulls it away towards deep midwicket.
19:37 IST: Padikkal and Philippe are yet to hit a boundary in the first two overs. Great energy from the Capitals' fielder so far -- they look charged up for this clash.
19:35 IST: Ravichandran Ashwin bowls the second over.
19:33 IST: Tidy over from Daniel Sames. Four off the first over.
19:28 IST: Josh Philippe and Devdutt Padikkal open for RCB. Daniel Sams to bowl the first over for DC.
19:22 IST: The fight for the second playoff spot commences in eight minutes!
19:16 IST: Virat Kohli (RCB captain): "Pressure in big games can be a funny thing. Whatever total you get the other team has to chase it. We have to play good cricket, consistently we have done well, we have had a few bad games which is acceptable and in a tournament like this it is competitive, but we still have good spirits as a side and looking forward to this encounter today. We have been in this situation before, the three finals we played before we probably had to go through like this in all those editions. The mindset was simple win the game, move ahead and you don't think of other possibilities."
19:12 IST: Shreyas Iyer (DC Captain): "We will bowl first. Dew is going to play a massive role. Looking at the previous games the surface was a belter. This track is also looking amazing to bat on. So chasing we would be having a certain total in our mind and we would be having a clear idea on the run rate as well - considering those factors we decided to bowl. We have three changes - Rahane, Axar and Sams come in. It's a complicated situation to be in but IPL is such an amazing tournament to be in, it can surprise you any moment, I personally feel this is a great opportunity for us to get into second place. We will keep those things in mind and go in with that mindset."
19:08 IST: Watch the toss, as Shreyas Iyer opted to bowl:
19:06 IST: PLAYING XIs
Delhi Capitals (Playing XI): Shikhar Dhawan, Prithvi Shaw, Ajinkya Rahane, Shreyas Iyer(c), Rishabh Pant(w), Marcus Stoinis, Daniel Sams, Axar Patel, Ravichandran Ashwin, Kagiso Rabada, Anrich Nortje
Royal Challengers Bangalore (Playing XI): Josh Philippe, Devdutt Padikkal, Virat Kohli(c), AB de Villiers(w), Washington Sundar, Shivam Dube, Shahbaz Ahmed, Chris Morris, Isuru Udana, Mohammed Siraj, Yuzvendra Chahal
19:03 IST: Ajnkya Rahane, Axar Patel and Daniel Sams come in for the Delhi Capitals. Shivam Dube and Shahbaz Ahmed replace Gurkeerat Mann and Navdeep Saini for Royal Challengers Bangalore.
19:00 IST: TOSS UPDATE! Delhi Capitals win toss, opt to bowl against Royal Challengers Bangalore in Abu Dhabi
18:57 IST: Delhi Capitals reached the playoff in the previous edition too, but they finished at third spot and were knocked out in the second qualifier. Shreyas Iyer's men will aim for the second spot this time.
18:50 IST: RCB are eyeing their first playoff qualification since the 2016 edition, when the side reached the final of the tournament.
18:35 IST: Delhi Capitals thrashed Royal Challengers Bangalore by 59 runs in their first clash this season. Can the DC put their losing streak behind and bring up their A game against Virat Kohli's men?
18:25 IST: What happens if teams are tied on Points and NRR? READ TO FIND OUT
18:00 IST: Hello and welcome to the live coverage of IPL 2020 Match Delhi Capitals vs Royal Challengers Bangalore on indiatvnews.com. The stage is set for a thrilling finale to the IPL league stage, and tonight, we will find the second team which qualifies for the playoffs.
Brief Preview: Both the sides were looking like favourites to clinch the trophy this year, at least in the first half of the tournament. However, a slump in their winning record has led to a 'virtual knockout' situation. The loser of the contest can still qualify for playoffs but it will depend on the performance of other teams. Hoping to join Mumbai Indians (MI) up top, both teams will work their fingers to the bone to book playoffs berth. [FULL PREVIEW]