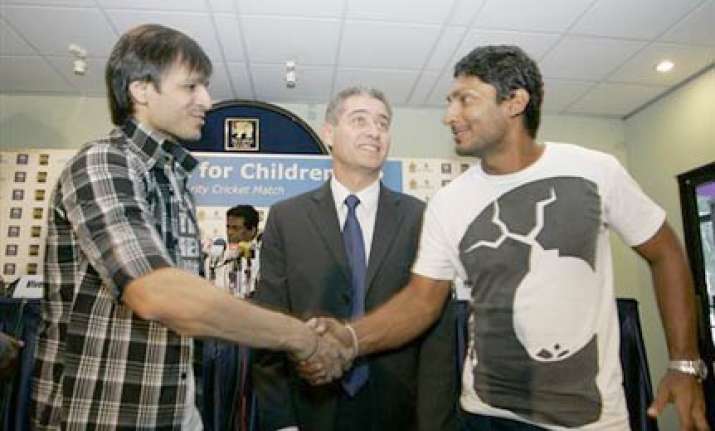 Stars of Indian cinema and Sri Lankan cricketers will play a celebrity cricket match on Friday to raise funds for reintegrating former child soldiers into their communities.
Bollywood stars Hrithik Roshan and Sunil Shetty are set for a celebrity cricket match involving Kumar Sangakkara's Sri Lankan lineup that will be one of the key features of the International Indian Film Awards scheduled to be held this weekend in Colombo.
Part of the proceeds from the match will be donated to "Cricket for Children," an initiative of the Sri Lanka Cricket authority and UNICEF, the U.N. Children's Fund.
Earlier this year, former child soldiers and other vulnerable children were trained as cricket peer leaders as part of a partnership between the International Cricket Council, Sri Lanka Cricket and UNICEF.
SLC and UNICEF are now supporting the peer leaders to organize cricket games among youth in their communities of origin.
Actor Vivek Oberoi told reporters Wednesday that he was delighted to join an initiative aimed at supporting war-affected children.
He explained that he has been "working a lot for children" throughout his life and stressed that it is imperative to "rehabilitate and heal" children caught in armed conflicts.
However, some film artists and directors have protested against Bollywood stars slated to participate in the IIFA, citing alleged killings by Sri Lankan forces of ethnic Tamil civilians in the final stages of the island's civil war.
Sri Lankan armed forces last year defeated the Tamil Tiger rebels, who were accused of forcibly recruiting child soldiers to fight for a separate homeland for minority Tamils.
The protesters are from the southern Indian state of Tamil Nadu, where residents have family and cultural links with Sri Lanka's Tamils.
Oberoi brushed off protests, saying, "I don't believe in building wars. Building wars divides the world further. We must build bridges for love and peace."
Among stars to play cricket are Salman Khan, Sanjay Dutt, Saif Ali Khan, John Abraham, Priyanka Chopra, Preity Zinta, Kareena Kapoor, Shipa Shetty, Lara Dutta, Ajay Jadeja, Irfan Khan.
Sangakkara said cricket could be used as a force for change, bringing hope and healing to vulnerable children. Sri Lanka test cricket stars Mahela Jayawardene, Sanath Jayasuriya and Muttiah Muralitharan will also play in the match.
Sri Lanka hopes the event, with an estimated 600 million viewers in India and televised in 110 countries, will promote the island as an attractive tourist destination. The IIFA weekend also includes a business forum and fashion show. AP