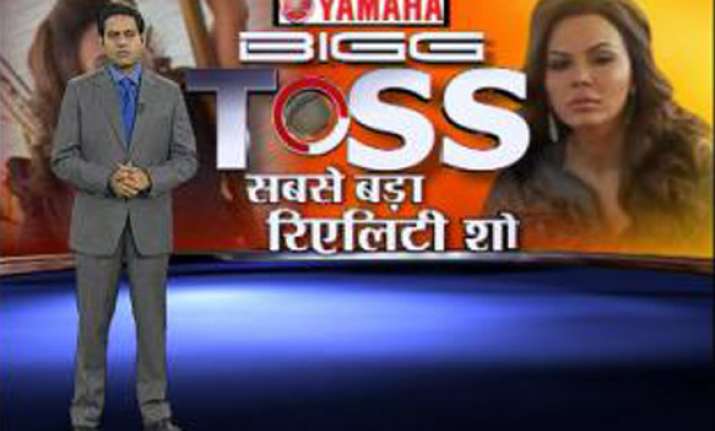 New Delhi, Feb 16 : Bigg Toss is India TV's  unique  concept, the  first time ever on any Indian news channel covering cricket.  
As World Cup fever grips the Indian subcontinent, India TV has assembled top notch celebrities, notably Veena Malik, Rakhi Sawant and Yuvraj Singh's father Yograj Singh,  to watch matches involving India and discuss the pros and cons of players in their inimitable style. 
 The guests have been housed in an exclusive villa.
Pre Match Episode: Around 14–15 celebrities will stay inside the  villa and will be divided in to two groups.  
In turn they will choose their favorite player out of the Indian squad.
They will also be given various "Bigg Toss Tasks" which one of the groups needs to win to get first chance for choosing the player.  
At the end of the episodes, both the teams have chosen players and wait for the next day to see their performance in the match.
Post Match Episode: All individual house mates and their teams will be awarded points on the basis of performance of players chosen by them.  
Whoever gets the highest points would be adjudged the winner.  
But here comes the "Master Stroke" which may overturn the whole process and whosoever gets higher points through Master Stroke may become the winner.
Bigg Toss Tasks: These are the tasks or small games given to inmates to make the whole programme interesting.  
These will be mostly cricket related small games for example flying off bails and stumps through balls.  
Whichever team would win get to choose the Indian player first. These will mostly be part of pre match episodes.
Master Stroke: Master stroke will be introduced in the post match episodes to give twists and turns to the proceedings in the house.  
Master stroke may throw an unexpected winner and may give rise very interesting situations among the inmates.  
For example when a winner is about to be declared based on the maximum points inmates will be given chance to earn more points by searching for miniature bats with point concealed in the house at various locations.
Telecast Dates (India's Matches): 17th Feb / 19th Feb / 27th Feb / 6th Mar / 9th Mar / 12th Mar / 20th Mar / Quarter Finals / Semi Finals / Final (Show will be aired day before and after the match days involving India)
Time Slot/ Duration: 8:00 – 9:00 pm / 1 hour