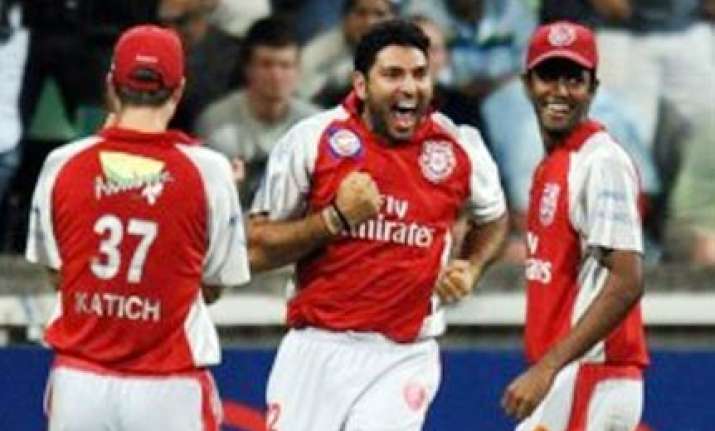 Middlesex county club has dropped Yuvraj Singh from their Friends Provident T20 scheme of things after the BCCI denied them a written approval.
Middlesex's chief executive Vinny Codrington said despite having received Yuvraj's signed contract, the county was not signing the Indian star batsman and he blamed BCCI for playing a spoilsport.
"We had received a signed contract from Yuvraj confirming that he was playing for us ... we had received full approval from a prominent member of the BCCI as to Yuvraj's signing and we had even agreed what squad number he would be sporting for the Panthers this year and what name he would be wearing on his back," Codrington wrote on the club website.
"We were quite rightly awaiting written approval from the BCCI before formally announcing the signing to members at large and to the UK media, which unfortunately despite much chasing on our part was never forthcoming," he rued.
Codrington said the club then received a notification from BCCI about the Asia Cup, scheduled in June, and a training camp preceding the tournament.
Repeated efforts to get a word from BCCI bore no result and the county further learnt that the Indian Cricket Board had scheduled a tri-series, also involving Sri Lanka, which ruled out Yuvraj's participation in any of the Friends Provident T20 matches.
"Calls to the BCCI to seek clarification on this point have proved fruitless. However, we have since been advised that Yuvraj will be required to represent India in this tournament ... leading to us make the decision to notify Yuvraj Singh's representatives that we will not be pursuing our interest in bringing him to Lord's," Codrington said.
"It goes without saying that we are extremely disappointed to announce that our endeavours have proved to be in vain and in the way in which this whole situation has progressed, as it has clearly set back our preparations for this season's Friends Provident T20 campaign," he added.