Follow us on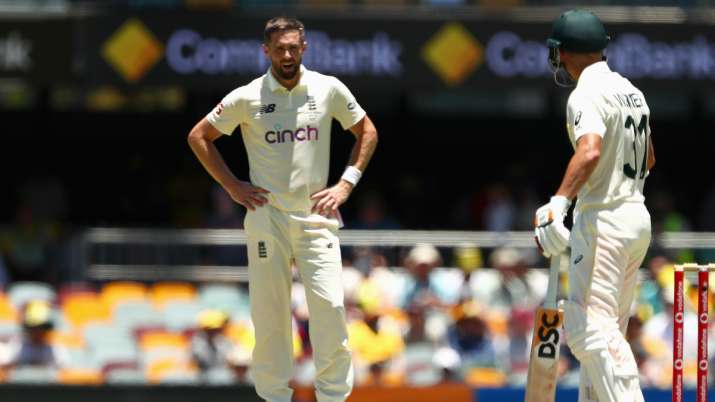 Australia vs England 1st Ashes Test, Day 2 Highlights: Australia 343/7 at Stumps, lead by 196 runs  
STUMPS on DAY 2! 
Australia 343/7 in 84 overs in 1st innings: The quick cameos from the centurion Travis Head guided Australia to a score of 343 at the stumps on Day 2. 27 runs gathered from the last five overs. 
Australia 317/7 in 79 overs in 1st innings: Travis Head is on a merry ride and is just a few runs away from his 100. 28 runs from the last five overs including a wicket of Pat Cummins. Cummins was castled by Joe Root. 
Australia 289/6 in 74 overs in 1st innings: 40 RUNS from the last five overs and 50 for Travis Head. Indeed the left-handed batsman is in some hot form and swelling up the lead. The other batsman- Cummins is lending supporting hands. 
Australia 249/6 in 69 overs in 1st innings: Head and Cummins rotating the strike well and gathering runs on the board. Head is looking in fine touch and is inching towards his fifty. 
Australia 239/6 in 64.4 overs in 1st innings: WICKET! A half-pitch delivery from Woakes does the trick. Carey attempts the pull from outside off but finds a fielder- Ollie Pope at midwicket.
Australia 212/5 in 61 overs in 1st innings: Carey and Head stabilize Australia after two quick wickets in the third session. The duo is keeping the scoreboard ticking as well. 16 runs from the last five overs. 
Australia 196/5 in 56 overs: DOUBLE WICKET! Robinson strikes twice in successive deliveries. Slower off-cutter delivery from Robinson, Warner spoons it into the air and gives a simple catch to Ben Stokes standing at mid-off. Warner misses the century by six runs. 
In just the next ball, Robinson bowled Gree. The angling in delivery from Robinson, Green shoulders arms but the ball hits the off stump. 
Day 2, 3rd session begins
TEA BREAK! Action resumes in Brisbane after 20 minutes
Australia 189/3 in 53 overs in 1st innings: WICKET! Wood gets the big fish and sends Steve Smith to the pavilion. A short of length from wide of the crease, bowled much outside the off-stump gets an edge from Smith's willow. Keeper Jos Buttler extends safe hands to grab the ball. 
Australia 185/2 in 52 overs in 1st innings: Warner, Smith rotating the strike well and keeping the scoreboard ticking. 19 runs accumulated from last four overs and four balls. 
Australia 166/2 in 47.2 overs in 1st innings: WICKET! Jack Leach gets the breakthrough and breaks the mammoth 150-run stand partnership between Warner and Labuschagne. A bit of extra bounce foxes Labuschagne and his attempt to cut down off the back foot finds Mark Wood at backward point. A sigh of relief for the visitors. 
Australia 160/1 in 47 overs in 1st innings: David Warner and Marnus Labuschagne look invincible.  The 150-run partnership is up between the two. The duo has smashed 29 runs from the last five overs. 
Australia 131/1 in 42 overs in 1st innings: Warner and Labuschagne are nearly frustrating the English bowlers who are running errands to get the breakthrough. Both look poised, well settled and acclimatized to the conditions. A 131-run partnership between the two so far. Just three runs amassed from the last five overs. 
An intruder obstructs the field during the second-day play in the ongoing 1st Ashes Test at the Gabba, Brisbane. The play is halted for a few minutes.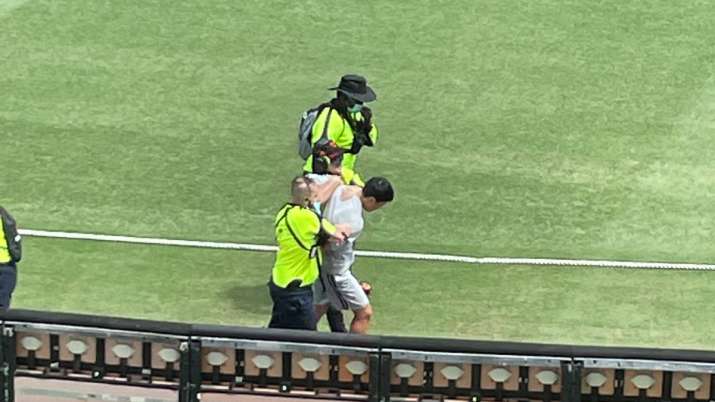 Australia 128/1 in 37 overs in 1st innings: David Warner gets another life, this time by a margin. Attempting a poor run, Warner tumbles and the bat slips while he was trying to get inside the crease. Hameed, who was standing at short leg misses the target by a narrow margin. Another life for Warner. Can he smash a century and leave England in regrets of their lose fielding? Overall, 13 runs gathered from the last five overs. 
Australia 115/1 in 32 overs in 1st innings: England misses on a chance to dismiss David Warner! Can this mistake fall heavily on them? A fuller delivery by Robinson, Warner attempts to drive it and gets a thick outside edge. The ball carried well and easy to Rory Burns in the second slips but fails to pocket the catch. Warner gets a life at 48 runs. 
Day 2, 2nd session begins
Day 2, 1st session David Warner twice edged through the slips and had a reprieve on a no-ball before settling down and sharing a 103-run second-wicket partnership with Marnus Labuschagne to lift Australia to 113-1 at lunch on Day 2 of the Ashes series. The Australians are just 34 behind in the first innings with nine wickets in hand and sunshine over the Gabba. Labuschagne joined Warner with the total at 10-1 and reached a half-century from 71 balls when he cut Chris Woakes to the boundary, his fifth of the innings. He hit a six in the previous over to take Australia past 100 as the scoring rate accelerated toward the end of an extended morning session. (AP)
Australia 113/1 in 31 overs in 1st innings (Lunch Break) Marnus Labuschagne has taken charge of the partnership now as he is first to reach 50 among the duo. Warner could finish his innings at 48 not out before the umpire signalled Lunch but not before Warner and Labuschagne added 100 runs for the second wicket. Australians have every reason to smile now as the rest of the day is expected to be batting friendly. If England doesn't come back strong in the second session, the game may very well go out of their reach.
Australia 105/1 in 29 overs in 1st innings Runs are flowing quickly out of the Australian duo bat now as the last six overs saw 48 runs. England borught Jack Leach and Chris Wood into attack but it hardly stopped the run flow. Both batters near their 50s now.
Australia 57/1 in 23 overs in 1st innings Warner slammed the lone boundary in the last four overs as he timed Robinson through the extra cover region after the pacer bowled a half volley. Both Warner and Labuschagne have spent a long time on the crease now and are looking more at comfort.
Australia 42/1 in 19 overs in 1st innings Warner and Labuschagne batting mights are getting tested here by the quick pace of Chris Wood and Ollie Robinson, who are bowling at express pace with the conditions tilted in bowlers' favour. If they manage to keep their wickets intact through the next three-four overs, rest of the day could turn relatively easier.
Australia 30/1 in 12.4 overs in 1st innings OUT! Ollie Robinson bowled out Warner with an unplayable out-swinger. Oh no! Wait, that's a no-ball. Robinson missed the popping crease by an inch there. Warner gets to walk back and continue with his innings at 17 not out.  
Australia 20/1 in 9 overs in 1st innings With the match beginning half an hour before the regular scheduled time -- after game time was lost due to the thunderstorm; washing out the final session on Day 1 -- Australia suffered early trouble with pacer Ollie Robinson dismissing Marcus Harris (3).