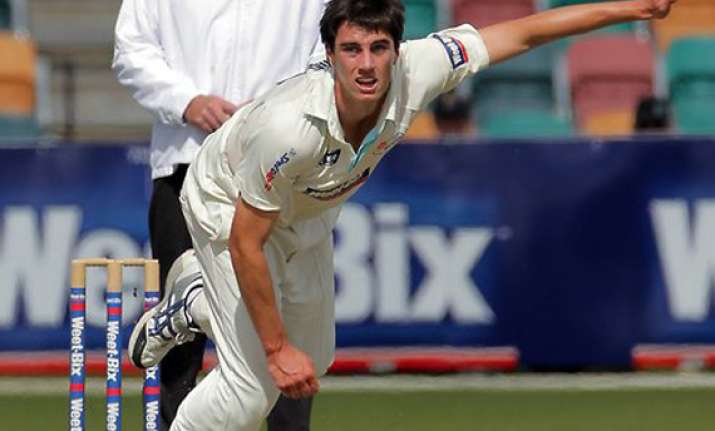 Hobart, Dec 7:  Teenage paceman Pat Cummins will miss the start of Australia's test series against India after scans revealed his heel injury is more serious than initially diagnosed.

The 18-year-old Cummins injured his left heel in the second test against South Africa last month when he took six second-innings wickets and hit the winning runs in a man-of-the-match performance on debut at Johannesburg.

Cummins was originally thought to have a soft-tissue injury but Australia team physiotherapist Alex Kountouris on Wednesday said a specialist had detected a bone stress injury. That means Cummins is unlikely to resume bowling until early to mid-January.

After already missing the two-test series against New Zealand, Cummins has resigned himself to missing at least the first three tests against India in the series starting Dec. 26 at Melbourne, but is confident of returning for a limited-overs and Twenty20 series after that.

"It will only make a few weeks difference," Cummins said. "We thought there might have been something more to it because it took a bit longer to heal.

"Obviously it's disappointing but hopefully it doesn't make too much of a difference."

Pat Howard, the manager for team performance, said it was important for Cummins' development to ensure that the young fast bowler wasn't rushed back before the injury had fully healed.

"Scans have revealed a bone stress injury which pushes out his recovery by a few weeks. This wasn't picked up in the initial scans done in South Africa," Howard said. "Unfortunately this, when combined with Patrick's young age, means that he will miss much of the Indian series."

With bowlers Cummins, Mitchell Johnson, Shane Watson and Ryan Harris all out with injuries, 21-year-old James Pattinson and left-armer Mitchell Starc made their test debuts in the series-opener against New Zealand in Brisbane last week.

Pattinson's second-innings haul of 5-27 inspired Australia's nine-wicket win in the first test.