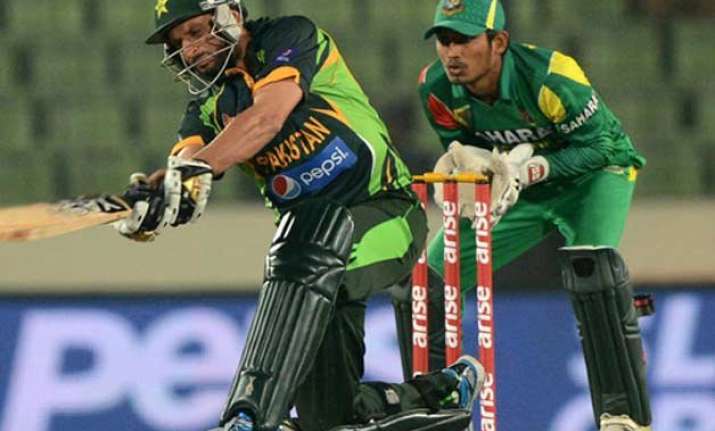 Mirpur: Pakistan will take on Bangladesh today in the eighth match of Asia Cup 2016 at Sher-e-Bangla Stadium here in Mirpur.
Today's match is a do-or-die contest for Pakistan because a loss would mean that Bangladesh would face India in the finals and Pakistan's next match against Sri Lanka would become inconsequential.
Bangladesh has got 4 points from 3 league matches while Pakistan has got 2 points from 2 matches. A win for Bangladesh would take its points tally to 6 and the final positions will be closed. India has already reached finals with three consecutive victories.
After getting walloped by India, Pakistan opened their account in their second match against UAE with a 7-wicket victory. The only way left for Pakistan to reach to the finals is by beating Bangladesh in today's contest.
Bangladesh, on the other hand, is ahead of Pakistan by two points after winning over UAE and Sri Lanka. It will be easier for them to reach to the finals if they win today's match.
Pakistan's victory  will depend a lot on their bowling attack, particularly Mohammad Amir who bowled fiery spells against India and UAE in the last two matches of Asia Cup.
Batting line-up will be the main concern for Pakistan as their top order did not do well in the first two matches. However, Umar Akmal, Shoaib Malik and Shahid Afridi can at any point take the game in Pakistan's favour.