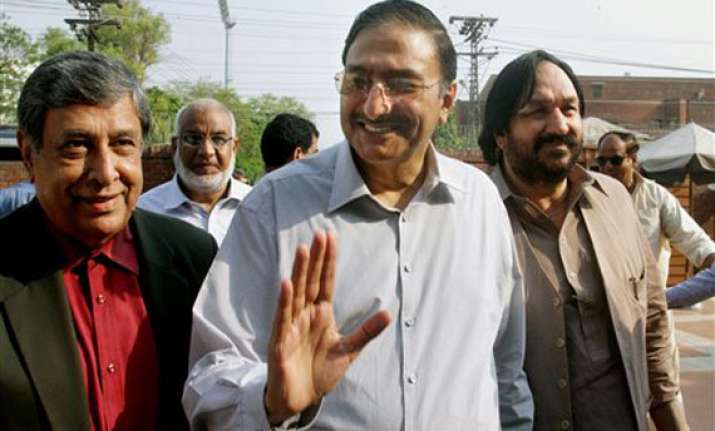 Islamabad: The restored chairman of the Pakistan Cricket Board said Monday he will review the decisions of the previous setup, including the appointment of the chief selector.
Zaka Ashraf took charge Monday after the Islamabad High Court issued a 28-page judgment that annulled the government's decision to remove Ashraf for the second time and formed a management committee with Najam Sethi as PCB head.   
Sethi had appointed Moin Khan as chief selector and manager, Waqar Younis as head coach, Mushtaq Ahmed as spin bowling consultant and Grant Flower as batting coach.   
Younis and Ahmed were fined in 1999 by Justice Malik Mohammad Qayyum for not cooperating with a match-fixing inquiry while Khan replaced Ashraf's appointed chief selector Aamir Sohail.   
"Those who are convicted, we have to think about them because it's a serious concern for us," Ashraf said, without naming any players.   
IHC judge judge Noor-ul-Haq Qureshi observed in his judgment that "(the government's) notification for supersession of Pakistan Cricket Board is purely an arbitrary exercise which is entirely based upon mala fide."   
Qureshi had also said that all the long-term appointments made by the management committee of Sethi "are also struck down being excessive of their powers."   
Sethi said it would bring more disorder if Ashraf nullifies all his decisions as he gave jobs to professional cricketers and removed all the unnecessary staff of the PCB.   
"It will be chaos if they derail all the steps taken by us," Sethi told private television channel Geo News, on which he also does his political program. "Islamabad High Court gave us a list of all those who should be removed ... I would like to ask had we done wrong by removing all those?"   
During his brief restoration in February, Ashraf attended an all-important ICC meeting and abstained from voting in favor of bringing sweeping administrative and financial changes in the game's governing body.   
Later, Sethi conditionally agreed to support the amendments in the ICC which gave more powers to the cricket boards of India, Australia and England. Sethi had also claimed that he had signed a Memorandum of Understanding with the Board of Control for Cricket in India to play at least six full bilateral series in between 2015-23, with Pakistan hosting four of those series.   
When asked whether he believed frequent changes in the top brass of the PCB was hurting Pakistan's image in international cricket fraternity, Ashraf said he should not be blamed.   
"I am an elected chairman and the board is also elected," he said. "If someone tries to obstruct it, it's he who is bringing bad name to the (Pakistan) Cricket Board, not the one who is going according to the law."   
Last year, Ashraf was suspended in May by the IHC on the grounds that his election process as chairman PCB was "polluted."   
Sethi still hoped he could make a final comeback and hold fresh elections for the PCB chairman before June 9 as he claimed the government will file an appeal against Ashraf's restoration in the IHC.   
"My mission was to remove corruption from the PCB and conduct fresh elections," he said.   
"It was a challenge which I accepted and as soon as I fulfill this challenge I will go."