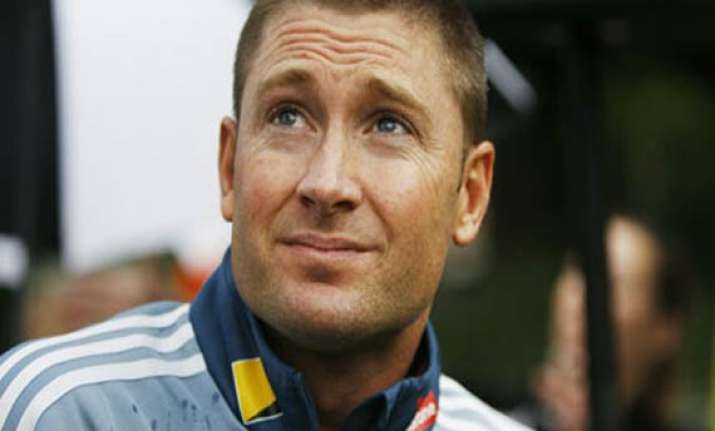 Johannesburg: Michael Clarke hadn't even arrived in South Africa before his first dig: Ready to depart from Sydney airport, the Australia captain said he was unaware top-ranked South Africa had beaten No. 2 India to extend its unbeaten run to 14 series.
"I didn't watch one ball of that series to be honest," Clarke said. "Did they win?"   
In South Africa, Clarke had more: He called Australia's fast bowlers the best in the world, better than the South African attack led by No. 1-ranked test bowler Vernon Philander and No. 2
Dale Steyn
. Clarke qualified his comments by saying he was of course "biased" toward his own bowlers. It was still a direct challenge to South Africa's famed fast men.   
Clarke has every reason to rate his quicks after their leading role in the 5-0 Ashes demolition of England. With left-armer Mitchell Johnson in lethal form, and Ryan Harris and Peter Siddle backing him up superbly, Australia has the weaponry to become the first team to beat South Africa in a test series in five years, the first since the 2009 Australians won in South Africa.   
The Ashes whitewash also restored some of the traditional values of the Aussie cricket team under coach Darren Lehmann. A team that has always liked to play hard and look its opponent square in the eye, Australia revived its old ways and intimidated England's batsmen throughout the Ashes and the opposition crumbled. It's a basic tactic that the Aussies will likely try to continue on a pacey pitch at SuperSport Park in the first of three tests starting on Wednesday.   
"I think short-pitched bowling can work against anyone," Siddle said. "When you've got Mitchell Johnson bowling at those speeds, I don't think it matters who you're playing or how good the batsmen are. It's hard work. Yes, we do play aggressively."   
With the Aussies rightly bullish over their chances, and hinting the home team won't be able to handle their pace, the South Africans have said they won't react with rhetoric ahead of the series.   
"When you've played against Australia enough, you learn to sift through a lot of the bull," South Africa captain Graeme Smith said. "We know that this series is going to be decided by the cricket that's played over the 15 days."   
The South Africans are aware though they will have to stand up to a resurgent Australia.   
"The most important thing when you're playing Australia is you've got to show a lot of character," Proteas coach Russell Domingo said. "They're a side that if they get on top of you, they're very difficult to stop. They can be very abrasive and confident if they get a lead or get a sniff."   
While Australia's preparations involved a vigorous practice match among the squad -- where the quick bowlers peppered their own batsmen with the short-pitched stuff -- South Africa retreated to a wildlife reserve for two days of team bonding around campfires.   
"It's really good for my soul," wicketkeeper-batsman AB de Villiers said of the home team's more relaxed, Zen-like preparations.   
De Villiers said the team was "playing better cricket than ever now," but it has undoubtedly had its balance upset by the retirement of allrounder Jacques Kallis.   
Replacing Kallis is complex for South Africa, and will likely involve moving
Faf du Plessis
up to bat at No. 4 and bringing in a new allrounder, either Ryan McLaren or Wayne Parnell, down the order. Then there's the loss of 18 years of test experience from Kallis, recognized as one of the greatest players of the modern era.   
Australia will have to make at least two changes after George Bailey was dropped for the tour and Shane Watson was ruled out of the first test with a right calf injury. Batsmen Alex Doolan, Shaun Marsh and Phil Hughes are the contenders for those two spots.   
Whatever the changes, it seems Australia has been eagerly anticipating this contest as a chance to prove its revival since fast bowler Harris wrapped up the Ashes whitewash a month ago.   
"You talk about motivation. We're coming up against the number one team in the world," Harris said. "That's probably enough motivation for me. I know it is for the 14 other blokes in the change room. If you're not motivated for that, you probably shouldn't be here."