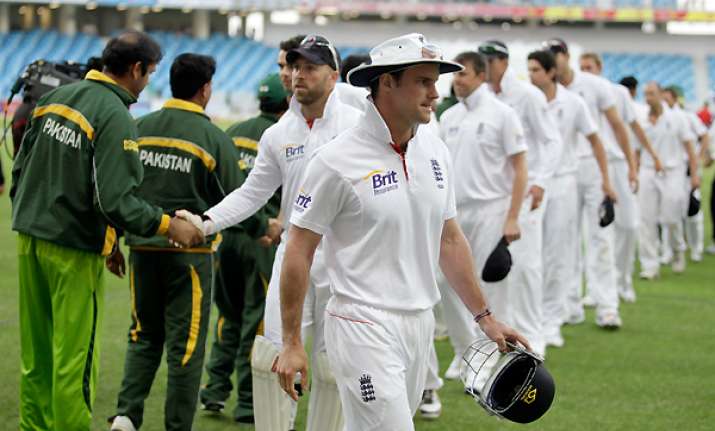 Dubai, Jan 20: England captain Andrew Strauss said on Thursday his team could not recover from the early loss of five wickets in the first test against Pakistan as his top-ranked side slumped to a 10-wicket defeat.

"We were caught off guard in the first session of the first day on a very flat wicket," Strauss said. "Then on Pakistan was in front and never let us back into the game and you need to congratulate them for the way they played."

England fell to 5-43 within the first two hours of the match before stumbling to scores of 192 and 160 in its innings.

Pakistan held a solid first-innings lead of 146 after replying with a solid 338.

Strauss looked to have made the right call after electing to bat first when he won the toss, but his top order crumbled as offspinner Saeed Ajmal took three of the five wickets before lunch.

"Obviously we are disappointed by the way we batted in both innings — primarily in the first innings — because it was not a 50 for five wicket on day one," Strauss said. "You need to learn some lessons from that and move forward.

"The most important thing is not to be too carried away by the result and obviously learn the lessons from that and make sure you don't make those mistakes."

England has five days to recover from its first loss in a test match in 13 months before it takes on Misbah-ul-Haq's Pakistan in the second test at Abu Dhabi starting on Jan. 25.

"Most important is that batsmen are very clear of their message," Strauss said. "The feeling of disappointment is a good motivation to make sure that it does not happen again."

Strauss said the key to success against Ajmal is to avoid allowing him to take early wicket when he comes on to bowl.

"I think we — a couple of us — contributed and allowed him to put even more pressure on the batsmen coming in the first innings," he said.

Strauss said it was too early to think about his team's top ranking being under threat after Pakistan, the No. 5-ranked team, finished off the first test inside three days.

"Look, this is not the time for us to be worrying about the No.1 ranking or anything like that. What we need to do is make sure we don't play the type of cricket we played in this game in the next test match and that is what our focus is on."

It was England's first test match since taking over as the top-ranked side after whitewashing India at home in August last year.

But Strauss did not accept that the team had gone too long without playing.

"There was nothing in the back of our mind that we were undercooked or underprepared and to that extent we are all surprised by how things turned out," he said.

"But it has happened, it is done and finished ... I am certainly determined to come back strongly in Abu Dhabi and I am sure the rest of the guys are too."