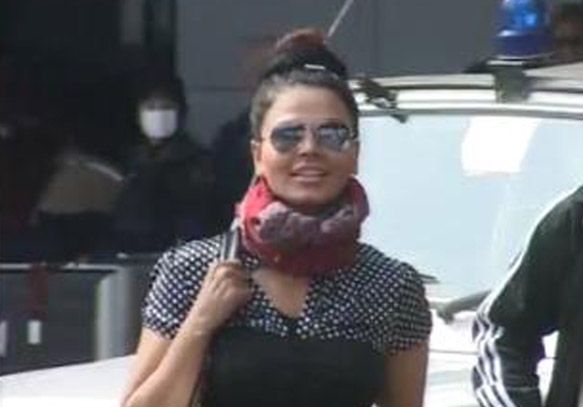 New Delhi, Feb 16 : Bollywood item girl Rakhi Sawant arrived at Delhi's Indira Gandhi airport on Wednesday morning  from Mumbai to take part in India TV's Bigg Toss reality show during the World Cup cricket.
 Rakhi Sawant told India TV correspondent Sarita Singh that Team India will definitely win the World Cup this time. 
"It has been a long time since 1983 when Kapil Dev won the World Cup for India. We want Dhoni, Sachin and others to win the cup for India this time", said Rakhi Sawant. 
The Bollywood hottie said, "I want to see Pakistan and Australia lose. Everything depends on Dhoni and his boys". 
Asked about his favourite Team India player, Rakhi Sawant was not at all hesitant. "It's Yusuf Pathan. He is fabulous. He is tagdaa(strong) and visphotak (explosive)", said Rakhi. A crowd of onlookers gathered impromptu at the airport to watch the item girl.  
Shouting Chak De India, the item girl said: "I am Rakhi Sawant, India's original one. Veena Malik is after all from Pakistan. We however welcome all our guests. The rest I will see when I land in Bigg Toss house. Main dhamaal machane waali hoon (I am going to create a buzz)".   
The flamboyant item girl  also said: "If Sachin, Dhoni are the big boys of cricket, then Rakhi is the big girl of Bigg Toss.  Mumbai ki mulgi aa gayi hai Delhi (the girl from Mumbai has come to Delhi)". 
India TV reality show, the first on any news channel on World Cup, titled Bigg Toss  will be telecasted at 8 pm onwards everyday from Thursday (Feb 17).