Follow us on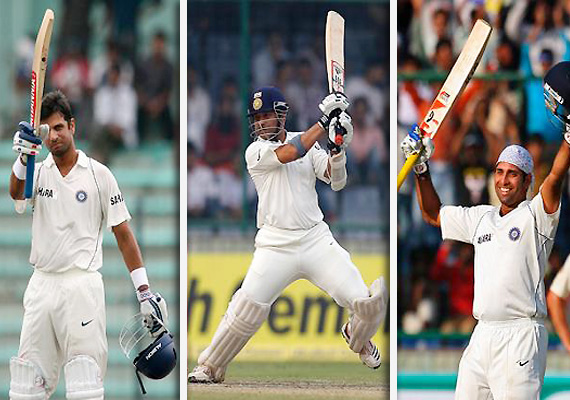 Bangalore, Feb 10: Former New Zealand cricket great Richard Hadlee believes that India should persist with the veteran trio of Sachin Tendulkar, Rahul Dravid and VVS Laxman for some more time. 

"You can't be talking about Tendulkar, Laxman and Dravid's retirement. You can't afford to lose all these players in one go. You need to see the young players go through," Hadlee said in an exclusive interview on Friday.

The veteran cricketer, however, said the final decision rests with the Indian selectors and insisted that they would take a call on the issue anyway.

Hadlee said Tendulkar has still got some time left in his hand, but pointed out that the champion batsman was under pressure to get the historical 100th international hundred.

"When you are in search of a major milestone, like I was trying to beat Ian Botham's world record of maximum Test wickets, it creates a lot of pressure. I am sure Tendulkar might be feeling the same way," he said.

The New Zealander, who has 431 Test wickets to his credit, said if Tendulkar gets that elusive century he would probably get two or three tons in quick succession.

"As far as Indian team is concerned, all they want is he gets to that hundred and they can all relax and get on with the game," he added.

"I remember people talking about Tendulkar's retirement during 2007 World Cup in the West Indies, but he went on to amass runs for the next five years.

"It may be a year since Tendulkar hasn't scored a hundred, but he has still batted pretty well and scored some good sixties, seventies and eighties and held the Indian innings together," Hadlee said.

Asked what was the reason behind India's miserable run in England and Australia, the Kiwi all-rounder felt that Indian batters failed to negotiate the swing and bounce there.

Hadlee insisted that India need to prepare bouncier pitches, which would help its batsmen perform well on foreign soil.

"The Indian batsmen traditionally perform well in home conditions, but struggle to cope with bouncing and swinging balls on foreign soils," Hadlee said.

"Technically they have been exposed and that is the common denominator. English and Australian conditions may differ, but there were similarities with the way the ball moved and bounced around," he added.

When asked, whether IPL was one of the reason behind Indian batsman's poor technique against swinging ball, Hadlee said shorter format in general was a threat to Test cricket.

"I won't say IPL, but T20 cricket in general has destroyed Test cricket. Test cricket for me is the ultimate challenge.

"You can't have consistency in one-day cricket, consistency comes in the longer version of the game when you are tested," he said.

Hadlee added that cricket administrators around the world, particularly the ICC, should not saturate the game with too much of T20.

"It is alright to get spectators, generate revenue for players and cricket bodies... but there should be a balance. There is a big job ahead for administrators around the world, particularly the ICC to get that right," he said.

The former fast bowler said the frequent burnouts were one of the reasons why the game is being bereft of fast-bowling all-rounders, like Botham, Kapil Dev and Imran Khan.

"Current players are playing in all forms of cricket, so they burnout quickly. An all-rounder's role is the hardest role in the game because you have to bat, bowl and field to a set standard.

"If you need fast bowling all-rounders you need to have bowling conditions that suits their style of bowling," he concluded.