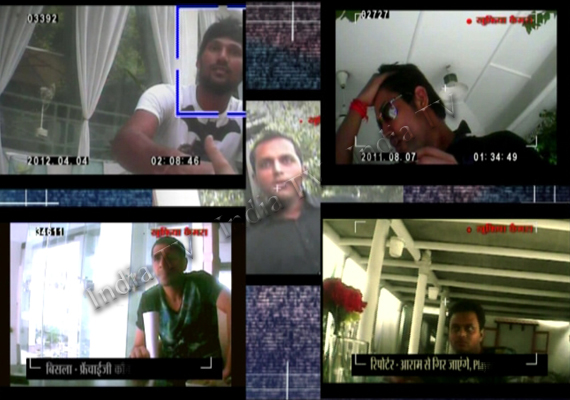 New Delhi, May 14: India TV sting blows the lid off murky deals among players, organizers, owners and big guns of Indian cricket.  
Many
IPL
players confessed on hidden camera that they get much more than their prescribed auction amount under the table as black money.
Shockingly, it was also revealed that big players of Indian cricket are involved in fixing the matches. 
Some players even disclosed that they attempt to negotiate a larger financial contract with some of the other IPL franchises that is a serious non-adherence to the IPL player guidelines. Once deal is finalized the players are paid under the table.
The governing council of Indian Premier League earlier had imposed a one-year ban on
Ravindra Jadeja
and four-match ban on
Manish Pandey
for negotiating with other team owners for a larger financial contract.
India TV sting also revealed that spot-fixing is not only prevalent in IPL but First class matches are also fixed and beautiful ladies played an important role in match-fixing.
T Sudhindra, one of the Deccan Chargers player, had bowled a no-ball in last year's first class match on India TV reporter's insistence. He also assured to change his team in future if he was paid Rs. 60 lakhs.  
Kings XI Punjab player Shalabh Srivastava demanded Rs. 10 lakh for bowling a no-ball in a IPL match.  
Mohnish Mishra, playing for Pune Warriors India, confessed that he was getting 1.45 crore from its owner Sahara whereas he was in the 30 lakh slab. According to BCCI guidelines uncapped players were not to get more than Rs. 30 lakh.
Transcript:
Reporter:
Sahara mein kitna matlab…? 1 crore bataya than a aapne..? nahi dedh crore?
Mohnish:
1.45
Reporter:
Ek crore paintalis lakh?
Mohnish:
Han
Reporter:
Usmein se kitna 30 lakh Aapko?
Mohnish:
Maine ek black mein liya hai bus. paintalis lakh liya hai white mein. paintalis lakh mein 30 lakh wala slab hai wo unke hisab se aayega jo BCCI ka rule hai.
There were many more other revelations in the sting operation that probably for the first time in cricketing history, senior and junior cricketers playing in rival teams jointly fixed the outcome of matches.  
A clear pattern has supposedly emerged where a particular bowler has bowled easy deliveries and dropped catches, while his 'partner in crime' went on a scoring spree.
Watch It On Youtube:
Part 1
Part 2
Part 3
Part 4