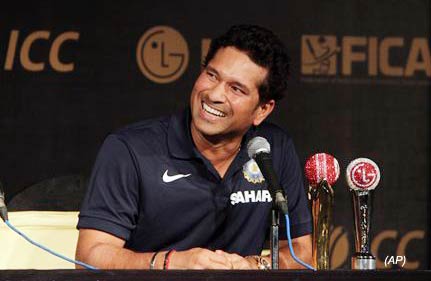 Bangalore, Oct 6: Indian batting icon Sachin Tendulkar, who was today won the ICC Cricketer of the Year award, credited his and the cricket team's recent success to the efforts put in by coach Gary Kirsten.
"Gary has been instrumental in making our batters play a plenty of deliveries in the practice session. During net practice, he himself bowls thousands and thousands of balls," Tendulkar said after accepting the ICC Player of the Year Award at a glittering function here.
"Gary has been an important member of the Indian squad and along with the other support staff. I have enjoyed my game under him. He is really putting a lot of efforts," he added.
The master batsman said he is hopeful of India winning next year's World Cup, which will be jointly hosted by India, Sri Lanka and Bangladesh. It is a trophy that Tendulkar has not been able to win in his more than two-decade career and he is desperate to guide the team to the title triumph this time.
"It is a big tournament. It is not only my dream but of the entire country. We are working really hard for it. We still have five months to go, we will focus on tournaments before the World Cup and would like to carry the good form to the World Cup."
A Padma Bhushan awardee, Tendulkar, declined to compare the first ICC award of his career and India's second highest civilian award saying, "I don't want to compare any award which I won."
However, he maintained that to be honoured with Padma Bhushan was "really special." PTI