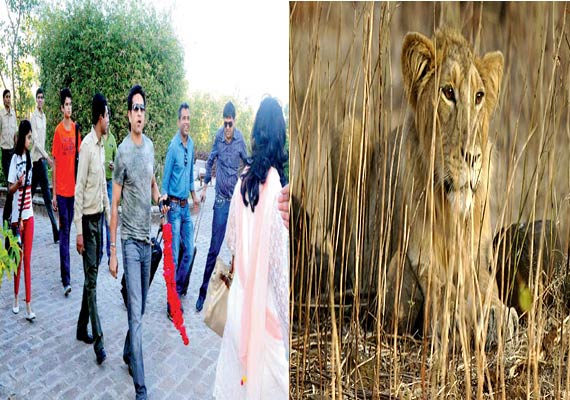 Rajkot:   Legendary cricketer Sachin Tendulkartoday visited Gujarat's Gir forest, the abode of Asiatic lions, along with his family members and friends.
During the visit, Tendulkar appreciated the steps taken by Gujarat Forest Department for protection and conservation of wildlife species, especially the lions.     
Tendulkar, his wife Anjali, daughter Sarah, son Arjun along with a couple of family friends are on a two-day visitof Saurashtra region.
"They arrived in Union Territory of Daman and Diuyesterday and from there went to Gir forest in Junagadh district early this morning," Forest Department officialssaid.
"Tendulkar, his family members and friends were taken to nearly 15 spots in Gir where lions can be easily spotted," a senior official said.
Later talking to the media, the iconic cricketer, who is also a Rajya Sabha MP, said the visit was a "nice experience" for him.     
"Since my school days I had heard that this forest is the only abode of Asiatic lions. It was a nice experience to visit the sanctuary," said the 40-year-old, who retired from international cricket in November last year.     
He complimented officials of the department and local villagers for taking good care of the wild animals.     
"I was told by the forest officials that population of lions had been increasing in this forest. Credit for this must go to the Forest Department and people of the nearby villages.
"It was because of their commitment and hard work, thatpopulation of lions is increasing," Tendulkar said.