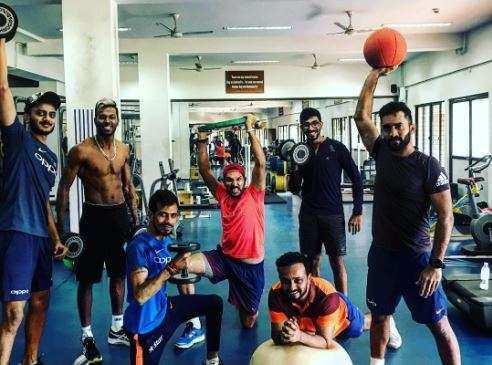 The fitness regime continues as the Indian players have now taken to heart to make themselves as fit as they can to get back into the Indian squad and it is Yuvraj Singh who is now taking it upon himself to get into shape to make it into the national team. Yuvraj Singh, India's warhorse was not selected for any of the tours since West Indies in June this year. India visited Sri Lanka and hosted Australia, New Zealand and Sri Lanka (ongoing) since the 35-year old last played for the Indian team. 
With the Indian players being around one of the fittest cricketers in the world, skipper Virat Kohli has established himself as an epitome of fitness and expects the players to follow suit. Yuvraj was not selected in the squad because he wasn't exactly in shape. The determination has got to the Indian veteran to become fit and is seen alongside Indian players who have been rested for the ongoing Test series against Sri Lanka. 
Yuvraj is seen alongside Axar Patel, Hardik Pandya, Yuzvender Chahal, Jasprit Bumrah and Dinesh Karthik in the gym with the caption -  "Get up get up and #doitagain,"
Earlier on Jasprit Bumrah flaunted his six-pack abs which sent the Indian fans into a different frenzy. 
The BCCI has made it mandatory for the players to pass the Yo-Yo test to get selected into the national senior side. Former cricketer Ashish Nehra was able to make it into the team before he bid adieu in the New Zealand tour but it was Yuvraj and Suresh Raina who weren't fit enough to clear the much-hyped test.
Many former cricketers have backed Yuvraj and Raina's inclusion in the team. The Indian players have been able to perform consistently well because of their fitness. Bhuvneshwar Kumar who was adjourned of ' Man of the Match' in the 1st Test against Sri Lanka, said that it was simply because of his fitness that he was able to do well in the m
India wishes to see their Punjabi power-house back in action soon as India gear up for long tours from next year as they face South Africa, England and later on a tri-series between Sri Lanka and Bangladesh before they kick-off the IPL.