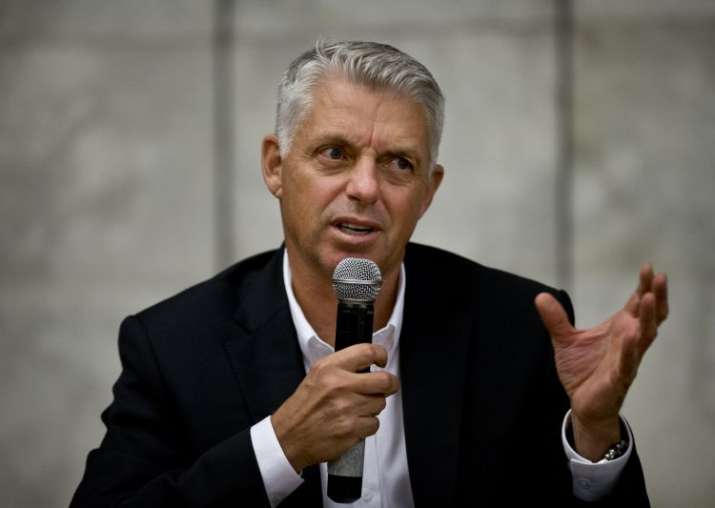 The International Cricket Council (ICC) Chief Executive David Richardson said he is not convinced with the idea of introducing soccer like red and yellow card to curb the players' boorish on-field behaviour.
The ICC plans to revisit its players' 'Code of Conduct' in the wake of ball tampering issue that has rocked world cricket with Australian captain Steve Smith and his deputy David Warner being banned for one year for their involvement in the scandal.
The custodians of the game Marylebone Cricket Club (MCC) has suggested the introductions of yellow and red card which will empower the umpires to check poor player behaviour.
When Richardson was asked a specific question, he said discussions are still on but did give a few pertinent counter-points.
"This has been a suggestion from a number of corners. Suggestions of using yellow and red cards maybe. It has been discussed previously by the ICC. I think it will be discussed again in the future. (Personally) I am not convinced it will help the situation," Richardson said during a telephonic interaction organised by the ICC.
The former South African wicketkeeper then provided perspective as to how use of cards can be counter-productive as cricket in its essence is an individual sport.
"Often many of these offences fall into the bracket of whether the comments made were insulting or not. Yes, if it is an obvious thing happening in-front of the umpires and it is very clear that it is illegal, I can see there won't be much argument if players were sent off the field or whatever.
"But you can imagine where they felt disputed or whether the umpires got the wrong end of the stick or not. Especially, when it comes to ball tampering and offences which are difficult to prove. I can imagine the arguments that will happen if a key bowler of a key batsman is sent off the field for disciplinary reasons," he said.
Richardson spoke about how the game can be impacted if the yellow or red card is used wrongly.
"Cricket in a funny way is an individual sport. If your key batsman is sent off incorrectly, if the umpire misheard him, or if a key bowler is sent off when he wasn't actually tampering with the ball, in the end it could affect the game. I can imagine there would be even more controversy. I think it is something we need to consider and I am sure it will be debated," he said.
The ICC CEO however defended umpire Nigel Llong, who has been the on-field umpire on two controversies involving Smith. First was in Bengaluru in 2017 against India, when he was trying to seek help from the dressing room and now the one against South Africa.
Asked about the evaluation of Elite Panel umpires, Richardson said: "We conduct reviews all the time on umpires' performance. Their decision making, their reactions etc. They have a tremendously difficult job. This is not about Nigel Llong or any individual umpire. What we need to do is also help them.
"If we are unclear what we regard as acceptable behaviour and what is not, then obviously it becomes difficult for them to enforce it because it is unclear in their mind. If we do the review well, if we come out defining more clearly what is acceptable and what is not, it will make their job considerably easier, and they will be able to be more consistent going forward.
(With PTI inputs)