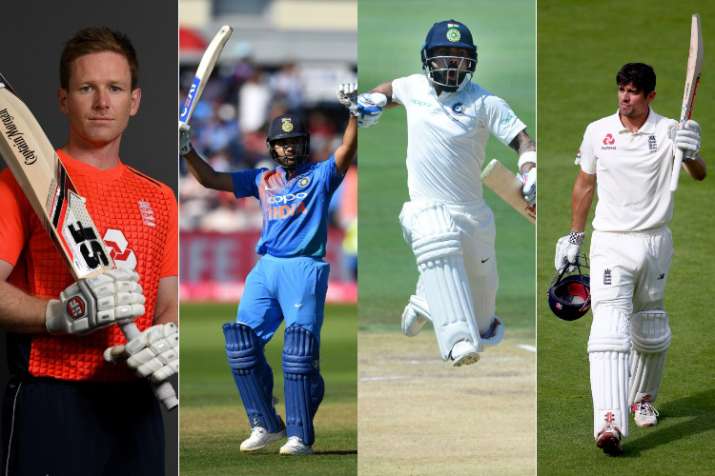 It has been a golden year for world cricket as the game's popularity only went higher with time and with T20 format gaining more attention it grabs even more attention from fans.
With each passing year, we witnessed many cricketing records getting broken and it happened in 2019 also. On an individual level, Virat Kohli continued his top show from last year while in teams England was the dominating force in international cricket as they thrashed top teams like India and Australia at their home.
In the sight of ODI World Cup next year, all three formats got some special records and milestones for other players to follow. In the past year, we witnessed the low of Australian cricket after their key players Steve Smith and David Warner involvement in the ball-tampering fiasco that led to their suspension in international cricket for one year. Whereas despite overseas Test failures Indian team maintained their top position in Test cricket with Kohli leading the charge with no. 1 rankings in ICC Test and ODI batsman.
A rookie team like Afghanistan and Ireland also started their international Test career where they faced India and Pakistan respectively. Whereas both the teams lost their matches, but they surely got the exposure their players deserved.
As we say, 'Records are meant to be broken', here are some astonishing records that were broken in 2018.
1. The most fascinating record that got shattered this year was the highest team total in ODI cricket history. England bettered own record of 444/3 against Pakistan in 2016 to 481/6 against Australia in third ODI of the five-match ODI series in June 2018. The dominating English side thrashed Aussies by 242 runs in that match.
2. Pakistan cricket team was part of various ups and down in 2018 but one of the things that went in their favour was their ODI opening pair of Fakhar Zaman and Imam-ul-Haq. The dynamic left-hand duo smashed the record of highest partnership in ODI cricket and scored 304 runs for the first wicket Zimbabwe in July 2018. They overhaul the tally of Upul Tharanga and Sanath Jayasuriya opening stand of 286 which they scored against England in 2006.
3. This year started on a golden note for Virat Kohli as the Indian captain was in great form on the South Africa tour and smashed 558 runs in the six-match ODI series. He broke the record of most runs by a batsman in the bilateral series with the astonishing numbers.
4. 2018 was the golden year for Kohli - 'The Batsman', he achieved many milestones in the year but the reaching the fastest 10,000 run mark in ODI cricket was the most talked about thing. The Indian skipper surpasses Sachin Tendulkar's tally who reached the 10k mark in 256 innings while Kohli just took 205.
5. Former England skipper Alastair Cook bids adieu to international cricket and achieved an unbelievable feat by playing most consecutive Test matches as a player. He played 159 straight Tests till his last one.
6. The Indian cricket team got his new star player in Rishabh Pant who has abilities to replace Mahendra Singh Dhoni after his retirement. He instantly made a name of himself by equaling the record of most catches in a Test match by a wicketkeeper. He took 11 catches in Adelaide Test against Australia to equal the tally of Jack Russell who achieved the feat against South Africa in 1995 and AB de Villiers matched the achievement against Pakistan in 2013.
7. Rohit Sharma's dream run in the limited over cricket continued in 2018, as a result now he holds the record of most centuries (4) in T20I cricket by overhauling the tally of Colin Munro.
8. Babar Azam broke the record of the fastest player to breach the 1000-run mark in T20I cricket.
9. In the same match where England broke the record of highest runs in ODI innings, they also broke several records like breaching the fastest 300, 400 and 450+ mark in ODI cricket.
10. The Indian cricket team recorded its best win in Test cricket when they defeated West Indies by an innings and 272 massive runs in 2018.