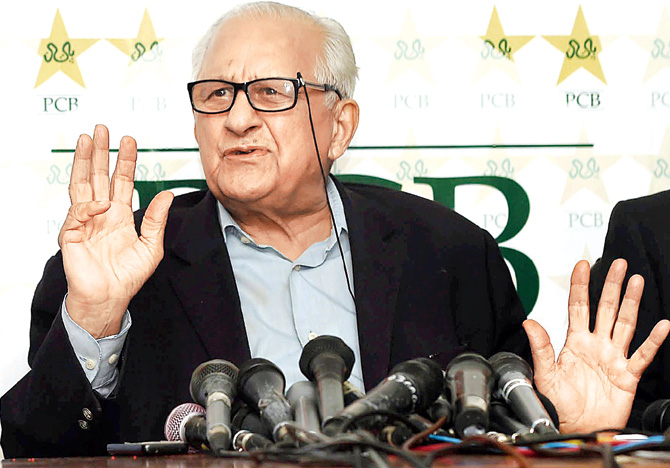 Pakistan Cricket Board Chairman Shaharyar Khan on Saturday made it clear that the PCB will not follow in the footsteps of Pakistan Hockey Federation (PHF) which earlier announced that it would boycott future international events in India.
PHF secretary Shahbaz Ahmad has said that in order to register its protest with the International Hockey Federation (FIH) for dropping Pakistan from the Junior World Cup in India this month, it would not take part in any competition in India.
But Khan, a career diplomat, made it clear that the PCB would not follow in the footsteps of the PHF.
"Look, we will not take any such decision because it will be unfair to millions of people who want to watch Indo-Pak matches. Secondly, whenever we play against each other it means big financial benefits for the Boards and players and any boycott will only hurt us financially," said Khan who had earlier made threats of boycotting India in ICC events.
"By boycotting matches with India, we will only hurt ourselves," he said.
Khan said Pakistan was looking forward to having constructive discussions with the BCCI officials later this month during the Asian Cricket Council meeting in Colombo.
Meanwhile, arch-rivals India and Pakistan have been placed in the same pool in the 2016-17 Men's FIH Hockey World League (HWL) Semi-Final to be held in London next June.
According to the tournament schedule announced by the International Hockey Federation (FIH) here on Saturday, the pool clash between the two sub-continental rivals will take place on June 18.
The tournament, which is one of the qualifying events for the 2018 Hockey World Cup, will take place on June 15-25 at Lee Valley's Hockey and Tennis Centre in Queen Elizabeth Olympic Park. 
The event will feature 10 of the world's best men's hockey teams.
(With Agencies Input)