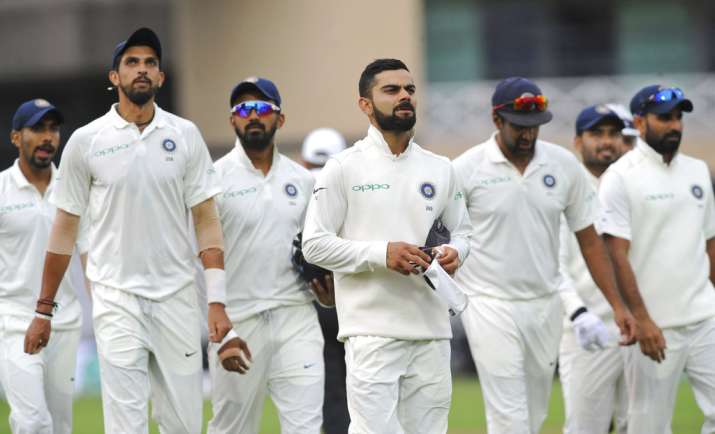 Veteran spinner Harbhajan Singh feels that India has a glorious opportunity to script history by winning a Test series in Australia as they are without their two best players - Steve Smith and David Warner. India have never won a Test series in down under and can use Australia's poor form to their advantage. 
Harbhajan is confident of India's attacking unit to collect wickets in Australia and feels that the Virat Kohli led team have to bat well in order to win matches. 
"If we bat well there, we have got the bowling to get them out. Without Smith and Warner, this is our best chance to win a series there," Harbhajan told IANS.
The duo along with Cameron Bancroft were banned by Cricket Australia after they pleaded guilty in a ball-tampering scandal earlier this year in Australia's tour of South Africa. While Smith and Warner were handed a one year ban, Bancroft was given nine months. Coach Darren Lehmann had also stepped down after the infamous incident as well. 
Under new coach Justin Langer and captain Tim Paine, Australia have had a poor run since. They were thrashed in the limited-series format when they toured rivals England and are currently on the verge of losing a two-match Test series to Pakistan. 
India recently hammered West Indies in a two-match Test series and Harbhajan felt that the outcome was a 'one-sided affair'. The Virat Kohli led team recorded their biggest ever Test win - by an innings and 272 runs. 
"The result shows that this was a one-sided affair. More than how well India played, the West Indies was not even competing," said Harbhajan, who has 417 Test wickets in 103 matches.
Harbhajan feels Kuldeep Yadav has the ability to go the distance and become the 'No.1 spinner in the future and will a deciding factor going forward.
"Kuldeep has shown glimpses of what he can do on a first-day wicket. He is slower in the air and gets the ball to turn both ways. Going forward, he should be India's key and deciding factor. He will be the No.1 spinner in future," said the veteran spinner.
Kuldeep was the second-highest wicket-taker against the West Indies in the just-concluded two-match series, picking up 10 wickets. Earlier, Kuldeep played just the second Test in England and was wicketless, bowling nine overs and leaking 44 runs. India lost by an innings and 159 runs.
Harbhajan, a lethal and celebrated off-spinner in his time who was part of India's World Cup-winning team, did not want to read too much into that performance.
"In England, the conditions were seaming and the day he bowled, it was the coldest day in summer. So, for a wrist spinner, it is very difficult. He could not do the things he wanted. He has time and again proved his credentials and the team depends a lot on him and will in the future," said Harbhajan, who was commentating during the England tour and watched Kuldeep from close quarters.
Lauding 18-year-old sensation Prithvi Shaw, who ended the series as the highest run-getter and was adjudged the Man of the Series, and young wicketkeeper Rishabh Pant, Harbhajan said while the former has played fearless cricket, the latter is ready to take over in all three formats.
"He plays a fearless brand of cricket which is great to see. His confidence is beyond his years and that is due to the number of runs he made in school cricket and Ranji Trophy. This is where credit should go to our infrastructure and the BCCI.
"As far as Pant is concerned, the way he played in the IPL, he took the game away from the opposition. He has got power, balance and everything what you need as a batsman in the modern era to score runs. He deals in fours and sixes with so much ease.
"He is someone who is ready to play in all formats. MS (Dhoni) is playing which is great as he will learn a lot from him."
(With IANS Inputs)