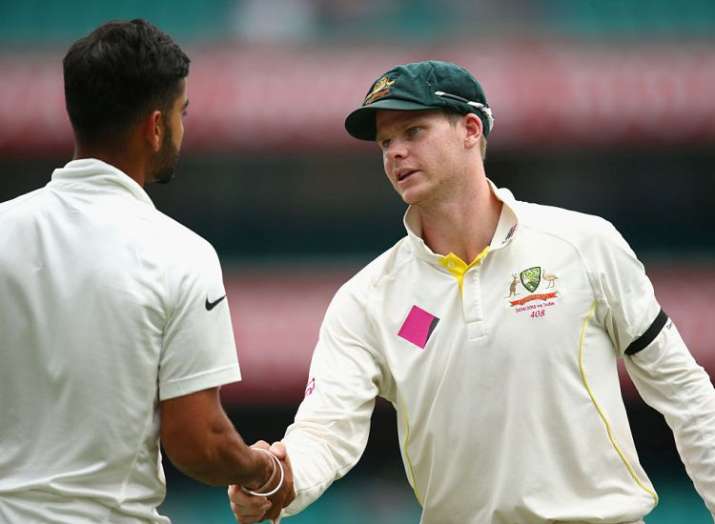 Despite leading his side to the No.1 position in ICC Test team rankings, Indian skipper Virat Kohli remained in the second spot behind Australia's Steve Smith in the concluding year's last released rankings.
England batsman Alastair Cook also made a rise, jumping nine places to be eighth in the latest ICC Test rankings after his unbeaten double century in the ongoing Ashes. 
A magnificent double century by Cook has helped him to finish the year inside the top 10 batsmen in Test rankings, which were released on Sunday following the conclusion of the Melbourne and Port Elizabeth Tests. 
The 33-year-old left-handed opener scored 244 in his sides first innings score of 491. He will now start 2018 with South Africa's seventh-ranked Hashim Amla firmly within his sights, who is 17 points ahead of the former England captain. 
Cook had begun the year in 15th position, while he had entered the Ashes in 10th position.
Meanwhile, Steve Smith's contributions of 76 and 102 not out has strengthened his position at the top of the table. 
England captain Joe Root is the other batsman to improve his ranking, when he moved up one place to join his opposite number from New Zealand, Kane Williamson, in fourth place. Root and Williamson had started 2017 in third and fourth positions, respectively. 
Australia opener David Warner is sixth, 24 points behind Root and Williamson, after his scores of 103 and 86 earned him 30 points. Warner had started 2017 in the fifth position. 
In the bowlers' rankings, there is no change in the top nine with England's James Anderson leading the field. Anderson had started the year on 810 points in sixth position and has finished on 892 points in number-one spot. 
The spin trio of Ravichandran Ashwin, Ravindra Jadeja and Rangana Herath had started 2017 in the top three positions, and have finished at third, fourth and sixth places, respectively, while Australia's Josh Hazlewood started and finished in fifth spot. 
The only change in the top 10 is the return of South Africa fast bowler Morne Morkel in 10th position. The 33-year-old claimed five for 21 in Zimbabwe's first innings for which he has been rewarded with a rise of three places, which has now put him one place ahead of Dale Steyn. 
It is for the first time in nearly two years that Morkel is within the top 10. 
Morkel's team-mate Keshav Maharaj, who took five for 59 in Zimbabwe's second innings, has gained two places and is now at a career-high 16th position. 
Outside the top 20, Chris Woakes of England and Australia's Pat Cummins have moved up three places each. Woakes is now in 28th place, while Cummins is now ranked 36th. 
Shakib Al Hasan of Bangladesh is the number-one ranked al-rounder and he is followed by India's Ravichandran Ashwin.
(With PTI inputs)