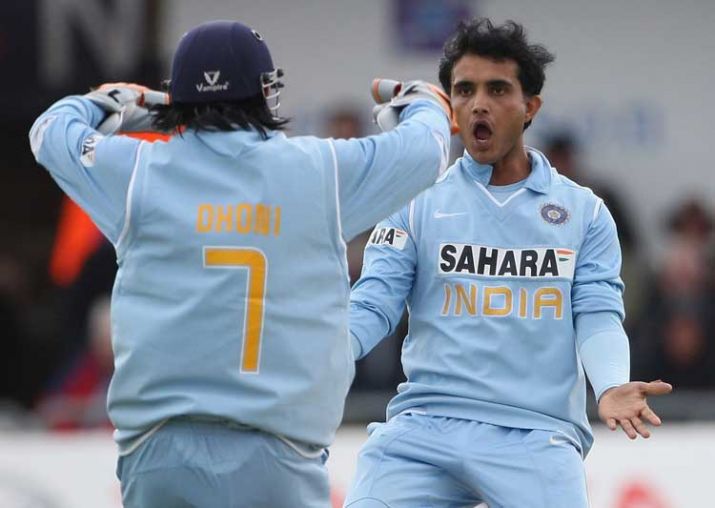 Team India's 'Dada' Sourav Ganguly has revealed in his autobiography 'A Century is Not Enough' that he wished he had Mahendra Singh Dhoni in his side in the ICC 2003 World Cup. The former Team India skipper was instrumental in helping a young boy from Ranchi developing into one of the best modern-day finishers in limited-overs cricket. 
Known as one of the greatest Indian captains, Ganguly in his book acknowledged Dhoni as an 'assessment' that was proven right as the Ranchi man made his debut in 2004 when 'Dada' was in charge.
Ganguly has seen Dhoni mature as a player and as a captain as well when he took over the captaincy from Rahul Dravid in 2007 and led Team India to win the inaugural ICC T20 World Cup. The 45-year-old knew for a fact that Dhoni possessed the qualities that could change the entire outcome of a match at any time despite the pressure sitting on one's shoulders, Ganguly knew he could rely on Dhoni.
"I had over the years constantly looked out for players who remain steady under pressure and possess the capability to change the course of the match. Mahendra Singh Dhoni, who came to my notice in 2004, was a natural progression of this thought. I was impressed with MS Dhoni from day one," Ganguly wrote in his autobiography.
Ganguly reminisces the time when he knew Dhoni as a ticket collector and now it is the TC from Ranchi who is the only captain to lead India to win all three ICC trophies - ICC T20 World Cup 2007, ICC World Cup 2011 and the ICC Champions trophy 2013.
Ganguly now yearns if he could have had Dhoni in the squad for the 2003 World Cup.
"I wish I'd Dhoni in my 2003 World Cup team. I was told that when we were playing the 2003 World Cup final he was still a ticket collector with Indian Railways. Unbelievable!," added the former India skipper.
Ganguly is proud to have had Dhoni by his side and the stature that he has achieved in current times with Team India.
"Today I am happy that my assessment was proven right. It is amazing how he broke through the ranks to become what he is today," added Ganguly.
Ganguly played his final international match for Team India in 2008 and it was Dhoni who had requested Ganguly to take charge for one last time when Australia was playing India in a Test series at Nagpur. It was a fitting farewell for the decorated cricketer and renowned captain.