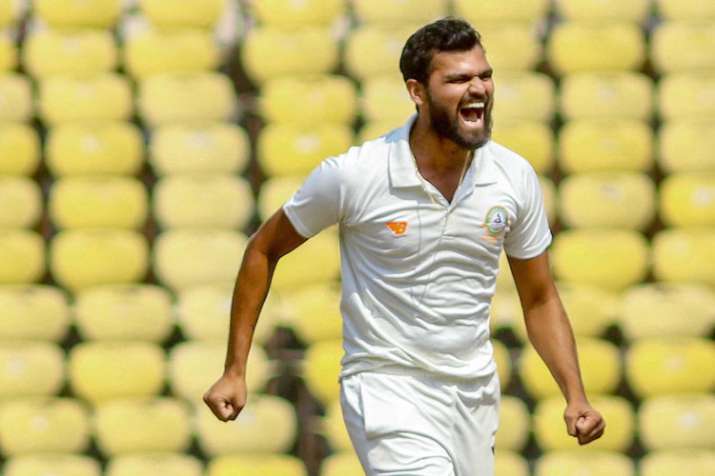 Left-arm spinner Aditya Sarwate picked up eleven wickets to go along with his dogged 49 in Vidarbha's second innings to bring home his team's second Ranji Trophy title in two years as the defending champions beat Saurashtra in Nagpur today. It was for his all-round performance that Sarwate was adjudged the Man of the Match. Although his rise to fame might not come as a surprise to the ardent followers of the game, Nagpur-born Sarwate's impressive showing in the domestic competition is not just about a lot of hard work but also overcoming personal loss.
Sarwate's father who was paralyzed after a major accident almost two decades ago, due to which the responsibility of the family fell upon his mother and Aditya's young shoulders. His mother Anushree though is full of praises for her son as she claims that he helped her with everything along with focusing on his studies as well as cricket.
"He has seen so much struggle in life. In personal life with his father and then on the cricket field also. But he was so focussed – and all that trouble matured him early. He understands life. The accident changed him completely. That's why when any young boy consults him, he always tells them to focus on studies. He too completed his graduation, a diploma in financial management that he topped," his mother told The Indian Express (TIE).
Even though the family was struggling financially, Aditya declined to work at a bank, saying that he was meant to do bigger things. He continued serving his father and helping Anushree while nursing his dream to play the Ranji Trophy and for India someday. Anushree told TIE that Aditya never lost hope in even the most terrible situations and wished that everyone has a son like hers.
"He is the one who gives me the courage, hausla, sometimes I lost hope but he never did. He is more positive than me. He never gave up, always kept trying and it has reflected in his cricket too. All I can say is that I wish every mother gets a son like him. Whenever he is home, he would tell me to rest and that he will do the work. When I had to take his father for physiotherapy, young Aditya used to run the house, taking care of everything. Aisaa bacha, bhagwan sabko de (Wish God gives everyone a son like him)," said Anushree to TIE.
While Aditya was juggling with a lot of things in his personal life, his talents on the field failed to bring him a Ranji Trophy selection. Even while performing decently at the U-23 level, he had to wait till 2015 for the premier domestic call-up when former India spinner Narendra Hirwani spotted him.
"I saw him bowl, his control, and I thought he could be a good spinner — and all I gave him was that self-belief," Hirwani told TIE.
Since then, Sarwate hasn't looked back claiming 131 wickets in 28 matches at an average of 18.81 and a phenomenal strike-rate of 43.6. On his way, he has also notched up two centuries and six fifties to prove himself as a genuine all-rounder in the past four years. In this year's Ranji Trophy alone, he has taken 55 wickets.
But what stood out the most during the just-concluded Ranji Trophy final, was his plotting the dismissal of India's Test No.3 Cheteshwar Pujara, that too twice! While in the first innings he crammed Pujara by stationing a silly point and a forward-short-leg to sgo along with the regular slip, in the second he trapped a tentative Pujara in front of the stumps with the same attacking field. Having got a batsman of the calibre of Pujara twice in the same match including a duck was bound to give immense pleasure to anyone, let alone a domestic spinner. We don't know when the India call-up will come for the Vidarbha all-rounder but it couldn't be too far if he keeps producing such awe-inspiring performances on the field.