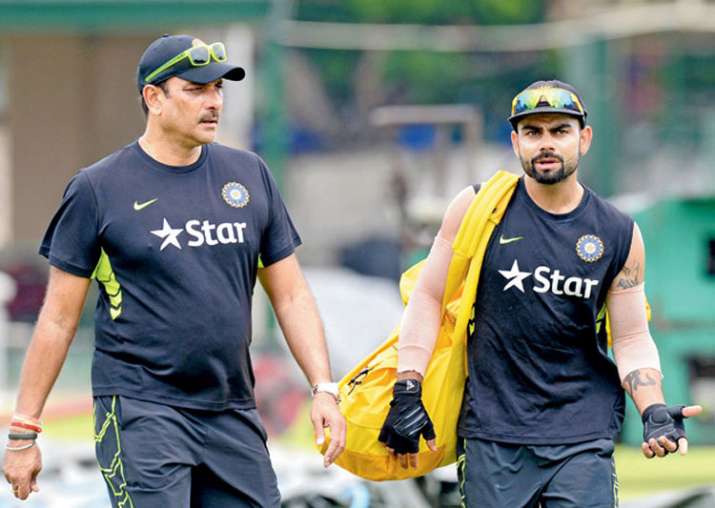 Coach Ravi Shastri has said that the Indian players will not stay quiet if they face any kind of verbal volleys from the Australian players in the upcoming limited-overs series, starting in Chennai on Sunday. Shastri said the series, which includes five one-day internationals and three T20Is, will be closely-contested and there might be some intense moments following up from the four-match Test series earlier this year, which saw a lot of flare-ups between the two teams. "If the Australians sledge us, we will not stay quiet. We will also retaliate," Shastri told India TV in an exclusive chat.
Shastri also spoke about the rivalry between India and Australia.
"Any series between India and Australia is a big one. Since we don't play Pakistan much often, the series between India and Australia is one of the biggest rivalries in cricket. Both teams are similar. In the Test series, we saw a lot of flare-ups between the two teams and it might be possible that we can see some reactions in this series as well," he said.
The 55-year-old Shastri also said that captain Virat Kohli's work load should be managed properly.
"The boys are playing too much cricket these days. It is difficult for a guy to play three formats consecutively. Virat, Rohit Sharma, Shikhar Dhawan should all get timely rest," he said.
The chief coach said the current team was not dependent on Kohli to score runs.
"This team is not dependent on one person, when Virat doesn't score, Rohit does. And when these two fail, then Shikhar scores or Hardik Pandya bats well in the deep. Then we have MS Dhoni and even Bhuvneshwar can bat," he said.
Shastri, who took over as India coach in July this year after Anil Kumble resigned from his post citing differences with Kohli, said he has spoken to the Board of Control for Cricket in India (BCCI) to keep more gaps in between the series so that the players can get proper rest.
"I have asked the BCCI to keep more gaps between the series. Players should get proper rest as they get mentally tired and it can affect their performance on the field," he said.
The coach also lauded the likes of Kuldeep Yadav and Yuzvendra Chahal, saying that the two spinners are good enough to take wickets against any opposition.
"Kuldeep Yadav and Yuzvendra Chahal have the ability and talent to take wickets against Australia or any other team in the world. They are good bowlers," he said.